In collaboration with our friends at Flock, we surveyed over 800 people (including around 150 business leaders and HR professionals) about their experiences and feelings around perks. The data is here, so let's dive in to some of the report highlights!
The good news
Around 9 out of 10 people (who aren't in HR) agree that the perks that are offered should suit everyone!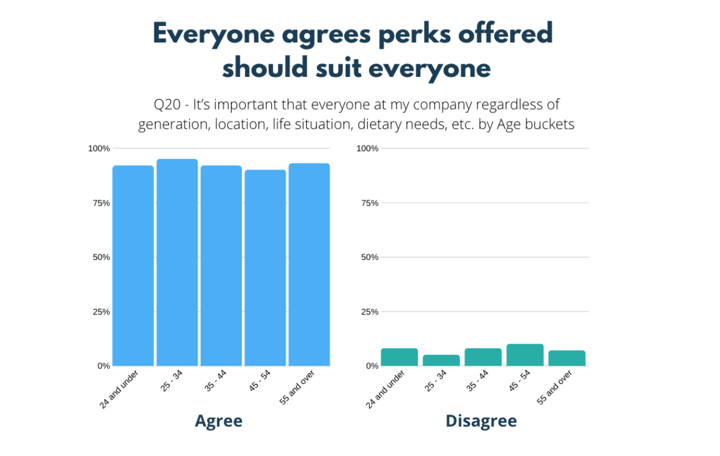 And who wouldn't agree (well, nearly 10% apparently)? Ideally everyone should find value in the perks they're offered since this is great for business as well as employee happiness. After all, what's the point of offering them if they only satisfy some of your team?
Which brings us to the...
The not-so-good news
Leaders at all levels rate employees' satisfaction with their perks higher than the employees do themselves.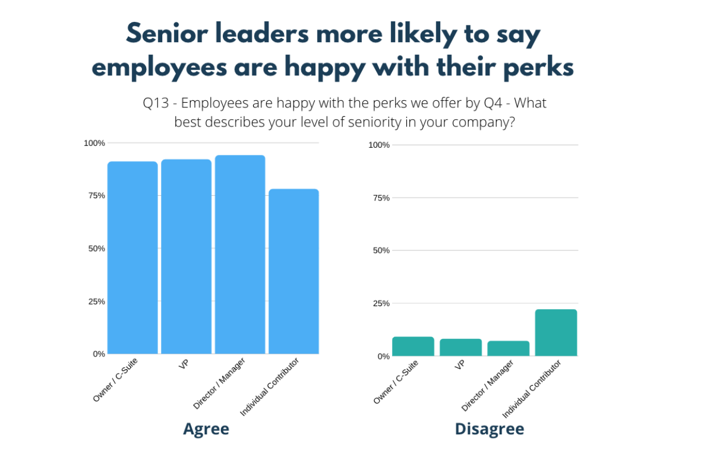 Why the disconnect? Maybe it's the same reason C-level executives are so much happier with their perk tools than the managers who deal with them every day: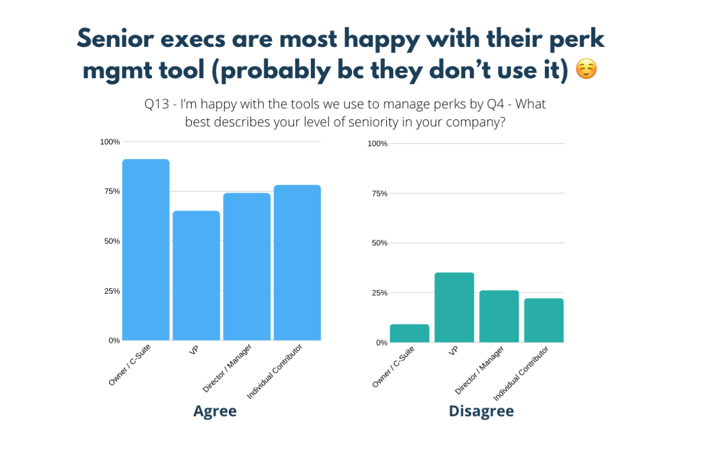 The people who actually use the perks and software aren't as satisfied with them as their leadership imagines. It's like the classic Dunning-Kruger effect, where those with the most confidence have the least amount of knowledge.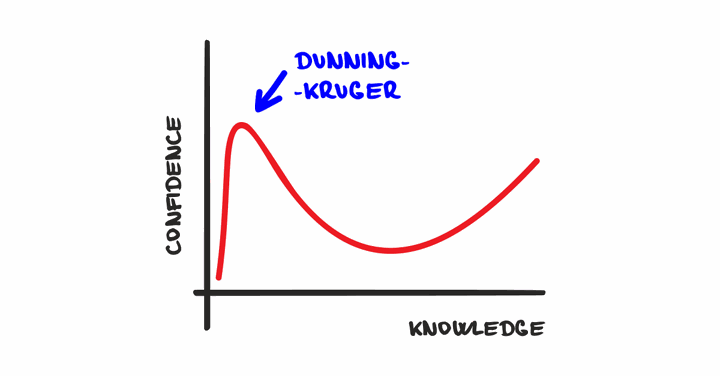 And if executives don't see the problems their team has with perks then those issues won't be focused on and resolved. 
The facts are that 91% of C-level executives and vice-presidents think their employees are happy with their perks though nearly a third (31%) of their employees said they weren't. Obviously, it's harder than most executives realize to provide great perks that work for everyone.
So what's behind this executive blindspot?
Figuring it out
Are they in denial? Do they just not care? 
Probably not. 
95% of C-level executives agreed that offering perks aligned with their business goals. Executives know the value that perks provide to their businesses in attracting, engaging, and retaining top talent in a competitive labor market. Because of this, they have a strong incentive to correct any issues with their perk programs.  
It's more likely that they can't clearly see how their perks are working or how to improve them. 
When asked whether it was difficult to measure their perk's adoption or engagement, 44% agreed it was. Similarly, 45% said it was difficult to know whether their investment in perks was worth it.  
This theory seems to fit with the data when we see some of the outdated and inefficient ways some companies still manage their perks: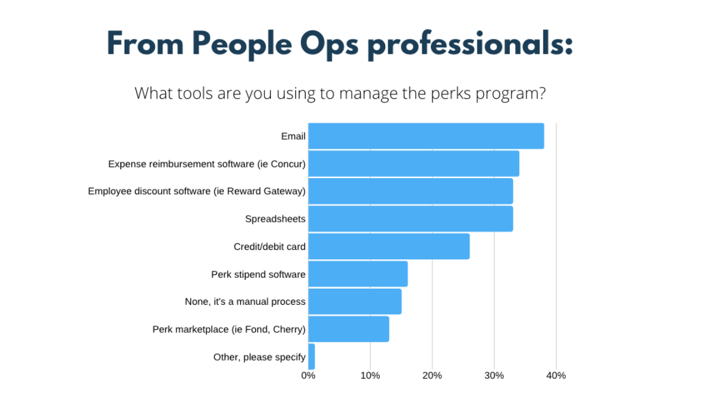 If you're just using email (38%), spreadsheets (33%), a credit/debit card (26%), or even simply a manual process (15%), it's very challenging to see the big picture about the engagement rate and ROI of your perks. And without this kind of data, it's easy for the executives at the top to misjudge their employees' satisfaction with perks and the tools they use to manage them. The right perk software gives you the data and tools you need so your business can remain competitive in the job market.
At Compt, we believe there's a better way to do perks. We are helping people leaders to streamline, track, and increase employee engagement so that everyone gets the perks that suit them best. Try Compt and discover how perks can improve your people and your business!
How Compt & Flock help your business: 
Your people, their messages and files -- all in one place
Manage your conversations and their notifications
Integrate tools to boost your productivity
Learn more about Flock
Offer a variety of perks that your team will actually use
Organize and build your benefits package
Easily comply with taxes 
Learn more about Compt
---
Compt is the #1 employee stipends platform that gives your people the freedom to choose the lifestyle perks that are best for them and their always evolving needs, even when remote. Interested in learning how Compt might benefit your company? Consult with our team or request a demo.