With tens of thousands of employees using Compt to access and enjoy their employee perks, we're fortunate to have firsthand and timely insight into one of the biggest questions that HR and people teams have - especially now that remote work has changed employee work-life needs:
What employee perks do employees actually want? 
We already explored this question once when we rounded up the top employee perks for the month of January, but since we learned so much in the process (and so many people found it valuable) below we'll share an even deeper dive into employee perk data so far this year. 
Using real, anonymized employee data across tens of thousands of perk purchases on Compt in Q1 of 2021, we'll answer: 
What are the most popular perk categories among employees?
What are the most popular perk vendors? 
What health & wellness vendors do employees love? 
What professional development vendors are employees using most for learning? 
What specific perk items and purchases are employees most interested in?
Understanding these areas is invaluable information for anyone who manages employee benefits and compensation, and it's even more crucial if you - as a company - are deciding on how you'll adapt your employee perks to fit a hybrid or remote work model.
Top Employee Perk Categories 
The top five spending categories we're seeing people take advantage of are: 
Health & Wellness (26.8%) 
Productivity (15.9%)
Food (11.7%)
Cell phones (7.4%)
Professional Development (7.3%) 
Tech (5.64%)
Family (4.96%)
Internet (4.41%)
Travel (3.94%)
Student Loan Repayment (3.20%)
The percentages represent how much out of the total amount of employee perk purchases in Q1 were made in that specific category.
Here is a more comprehensive breakdown of all of the perk categories on Compt and how perk spending was spread across all of them.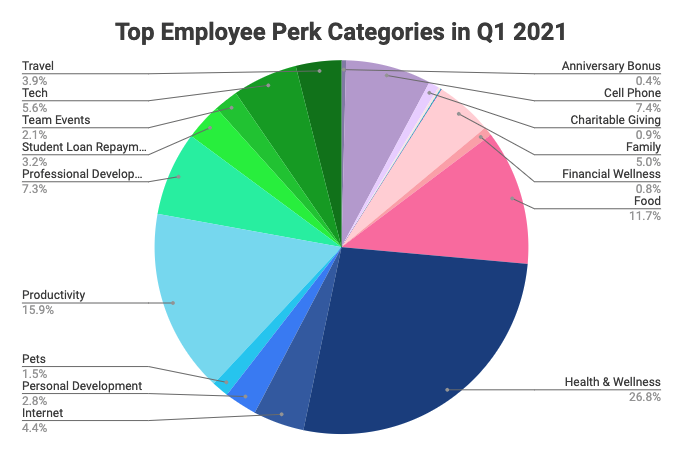 Top Employee Perk Vendors 
Beyond the category overview above, one of the best ways to slice employee perk spending data is to take a look at where employees have actually spent their perk funds.
While there are some popular vendors that come out as employee favorites (think: Amazon, Peloton, Whole Foods, etc.), employees on Compt spent their perk funds across more than 6,000 unique employee perk vendors overall.
Among them, these 30 vendors were used the most frequently, accounting for over 40% of perk expense claims.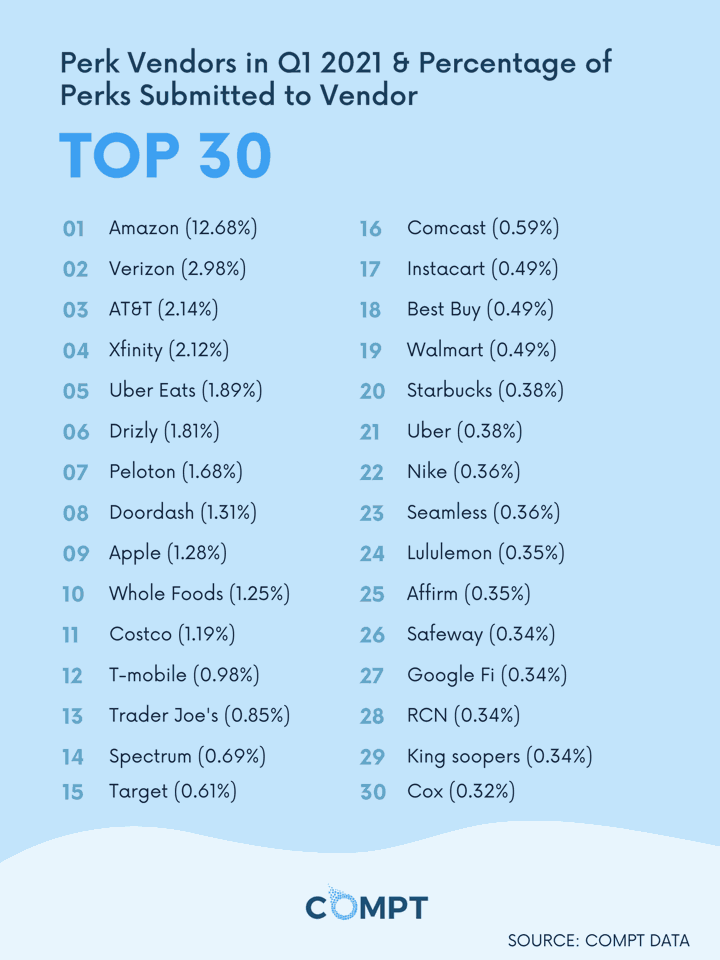 There are a number of internet providers in this top list and that's because many companies have been reimbursing remote employees for their home internet usage. If that's something you're wondering if you should be doing, this post about employee reimbursement for home office expenses can help you figure that out. 
To see more popular vendors beyond the internet and cell phone providers, here's a full list of the next 30 perk vendors employees chose most often last quarter: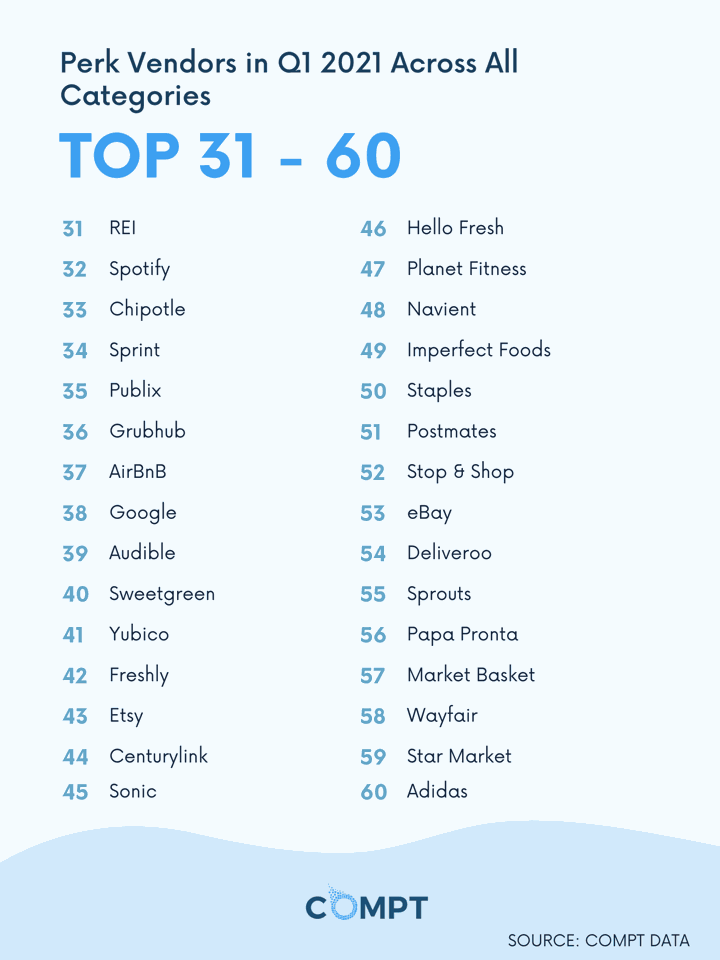 Top Health & Wellness Vendors 
Health & Wellness is consistently a priority topic for all of the companies we work with, and likely your company too. Its popularity shouldn't come as a surprise to anyone given the sharp rise in employee burnout in the past year and the subsequent emphasis on providing meaningful employee wellness support.
It is then also unsurprising that health & wellness was the top employee perk category out of all other employee perk categories, representing over ¼ of all reimbursed perk expenses on Compt so far this year.
To get a better understanding of what health & wellness means to employees today, we broke out the top health & wellness vendors that employees most frequently purchased their perks from: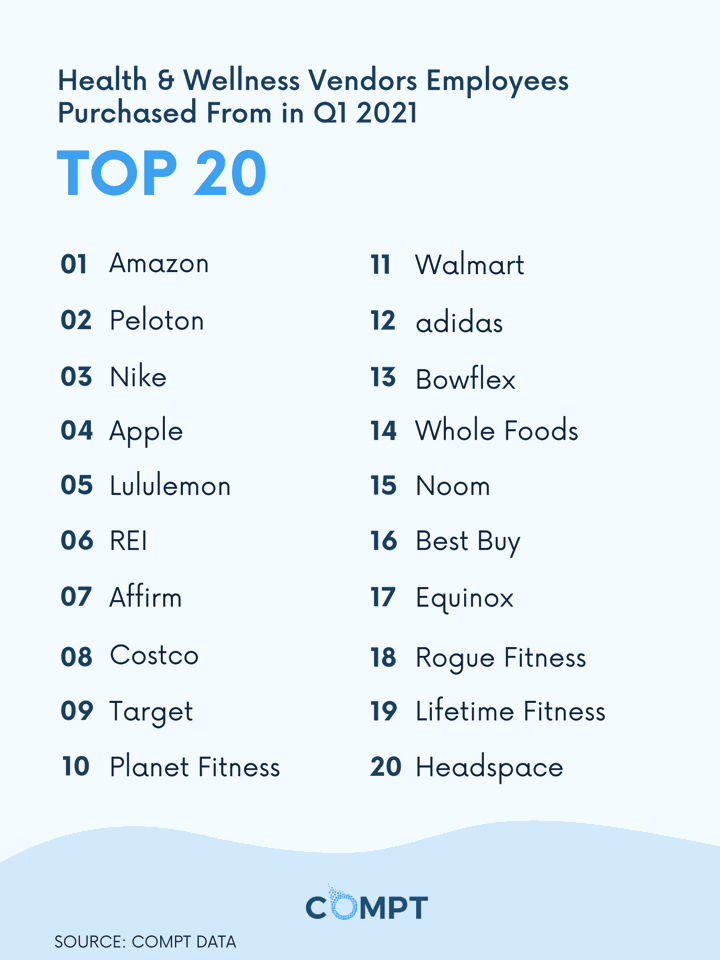 In this category, we saw over 1,900 unique vendors (with Amazon leading). Note that this top health and wellness vendor list is based on how often employees made purchases from them and not how much in perk funds was spent on each store or business. 
Since the breadth of vendors in this category was so powerful, below are even more vendors employees made purchases from across the most common wellness categories we typically see on Compt:
Fitness classes: Barry's Bootcamp, Blink Fitness

,

Broadway Jiu Jitsu

,

Club Pilates

,

Everybody Fights

,

Pure Barre

,

Rumble Boxing

,

Sweat Fixx
Mental health & wellness apps: Mindset Health, Simple Habit, BetterHelp, Runkeeper, Calm App, Headspace, The Sculpt Society
Supplements & skincare: Care/Of, Curology, Flo Vitamins, Lucky Vitamin, MoonJuice, Skinspirit
Food: Fruit Guys, Imperfect Foods, Magic Spoon, Soylent
Just look at the variety!
Keep in mind that all of these different types of perk stipend purchases from different vendors, large and small, can be done seamlessly and with 100% tax-compliance on Compt with virtually no administrative effort for your HR & operations team.
Vendors aside, below are all of the descriptors for employees' perk purchases using their health and wellness stipend. You'll notice there's a huge range from items related to yoga and meditation, classes and training, fitness gear and apparel, home gym machines and so much more. This serves as a great overview on what employees can spend a wellness stipend on: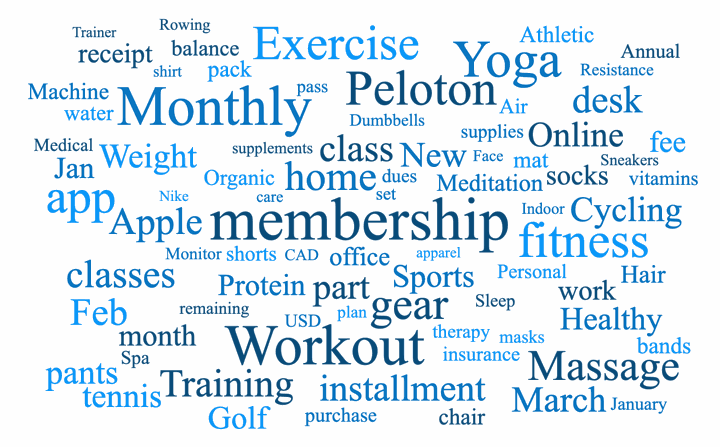 Top Professional Development Vendors
The fifth-largest spending category for employee perks was professional development. Since this category is so crucial for companies today when engaging, attracting and nurturing talent, we wanted to explore it deeper as well.
Looking at the top professional development vendors can help us understand how employees are actually using their employer-provided learning stipend, which is key piece of intel to help you foster a culture of learning and growth in the workplace. 
Below are the top 20 vendors employees spent their Professional Development perks on: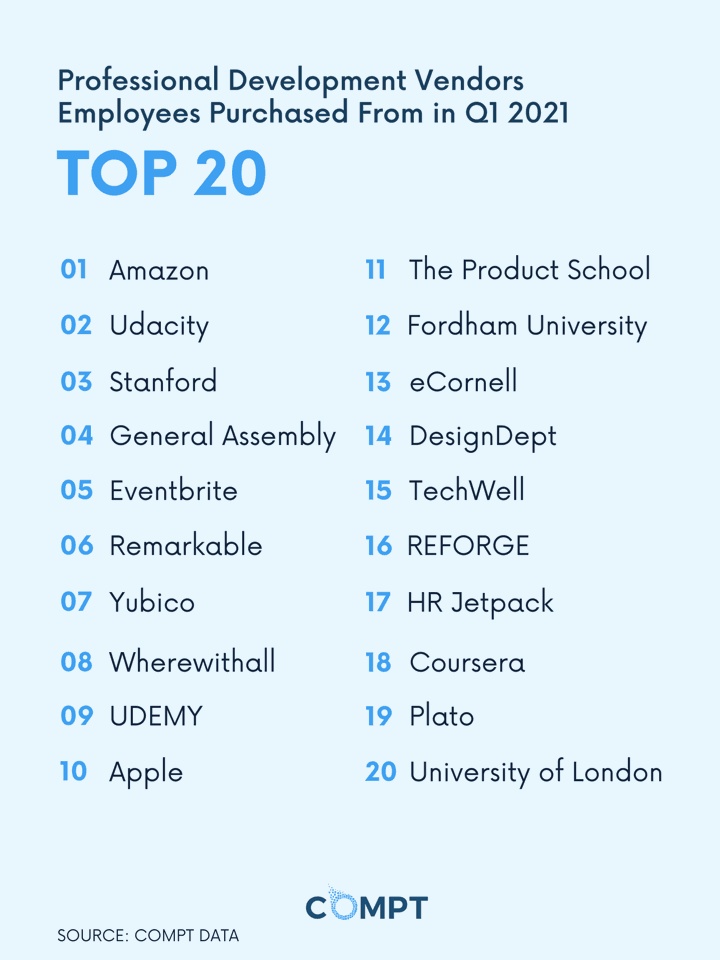 In this category, we found there were over 800 vendors people purchased from in total.
While the top 20 vendors are listed above, the rest of the list of vendors include a giant list of learning platforms, programs, tools, events, memberships and more:
Learning platforms: GetSmarter, Skillshare, edX, Mimo, Preply

,

Teachable
Courses & certification programs: Atechup

,

CodeAcademy

,

DataCamp

,

Frontend Masters, Offensive Security, She Runs It, Writing Mastery Academy
Editorial subscriptions: The Atlantic, The Boston Globe, The New York Times, The Washington Post, Time Magazine
Tools: Basecamp, Cloudapp, Duolingo, Superhuman
Professional events & organizations: Ascend, QCon Development Conference
Networking & community membership: AfroTech, Patreon, Scrum Alliance
Vendors aside, we again shared below the most common descriptors of the items people purchased with their Professional Development (or "learning") stipend.
This serves as another great overview, this time of what employees can spend their professional development and learning stipend on: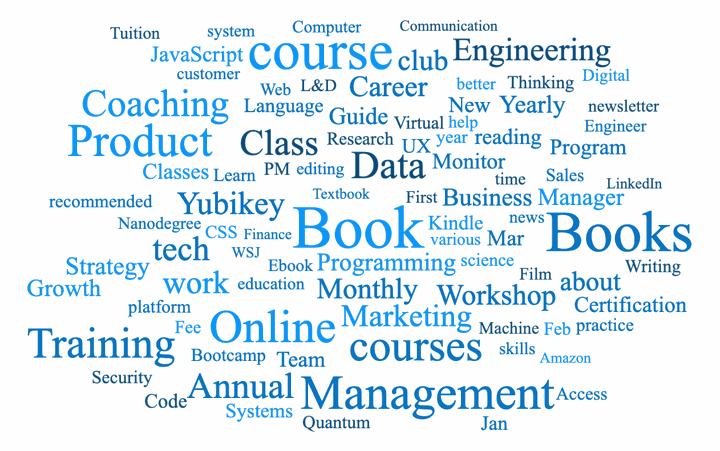 Employee perks have, in the past, been looked at as simple, frivolous or optional benefits that don't make an impact on employee satisfaction. That's all changed. Today, when companies offer perks that are tailored to employee needs and preferences and are designed to support them and their whole lives (most effectively through a flexible perk stipend), employee lifestyle perks can be life-changing - for both employees and the entire organization.
For more information about this employee perks study and how we gathered the data, drop us a note!
---
Compt is the #1 employee stipends platform that gives your people the freedom to choose the lifestyle perks that are best for them and their always evolving needs, even when remote. Interested in learning how Compt might benefit your company? Consult with our team or request a demo.