We recently took a trip down memory lane at Compt to see the actual perks people wanted were in 2020. 
While getting current data around the most popular employee lifestyle perks might typically mean setting up and conducting a large survey, we didn't have to do that: we have first-hand data on exactly that, right in Compt. Peaking into our own Compt data on what perks tens of thousands of employees purchased in 2020 through their employer's stipend program gave us invaluable insight into things like:
What are the most popular perk categories among employees?
On what are employees spending the most of their stipend funds?
What are the most popular vendors among employees?
What are the most popular health & wellness vendors? 
The video below is just a snippet of what we found in 2020.
How does this relate to what's in store for 2021, you ask?
Quite a bit! We're only one month into 2021, and the top five spending categories we're seeing people take advantage of are: 
Food
Health & wellness (hello New Years' resolutions!)
Productivity
Cell phones
Professional Development
Below is data we gathered about where people spent their employee stipend funds in January 2021 (through Compt).
Note: This data is a representation of the employee stipends offered, as well as where people spent their funds. Meaning, some stipends are more popular than others from the perspective of what companies offer and the one's employees take advantage of.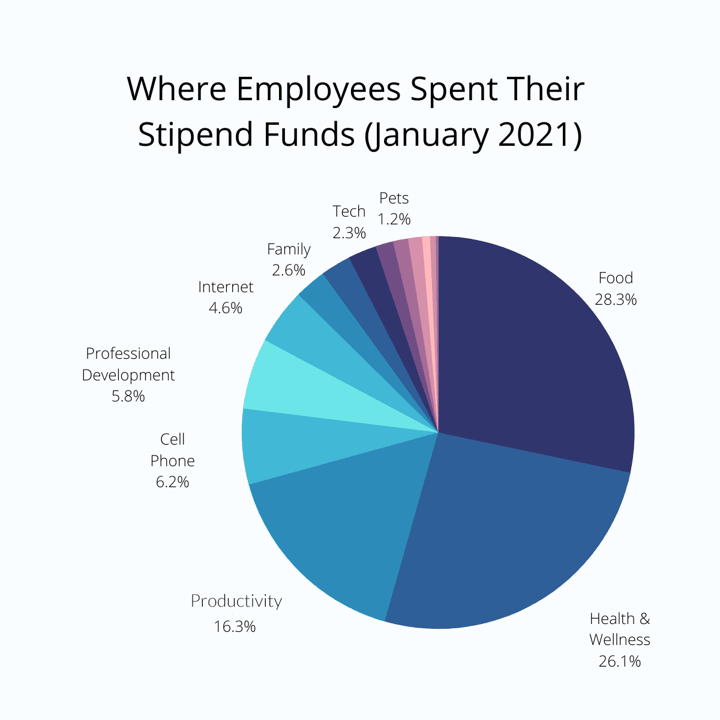 The categories included that don't have labels were Travel (1.41%), Student Loan Repayment (1.10%), Charitable Giving (.61%), Commuter (0.46%), and Financial Wellness (0.18%).
What companies did employees buy from?
At Compt, we're able to see the vendors people chose to buy from, and in January alone, there was a significant number of total companies/vendors - well above 2,000! 
Amazon led the pack by far, as you'll see below. However, the full list was incredibly varied, ranging from employees' local favorites like restaurants, gyms, bookstores, and specialty brands for food, coffee, learning, and clothing. 
We even saw some well-known consumer products that we wouldn't have guessed employees' would be interested in right now, and emerging brands like Simple Habit, Nourish Meals, Imperfect Foods, and Good Eggs.
Below are the top 30 companies giving us a sense of what exactly is top-of-mind for employees right now.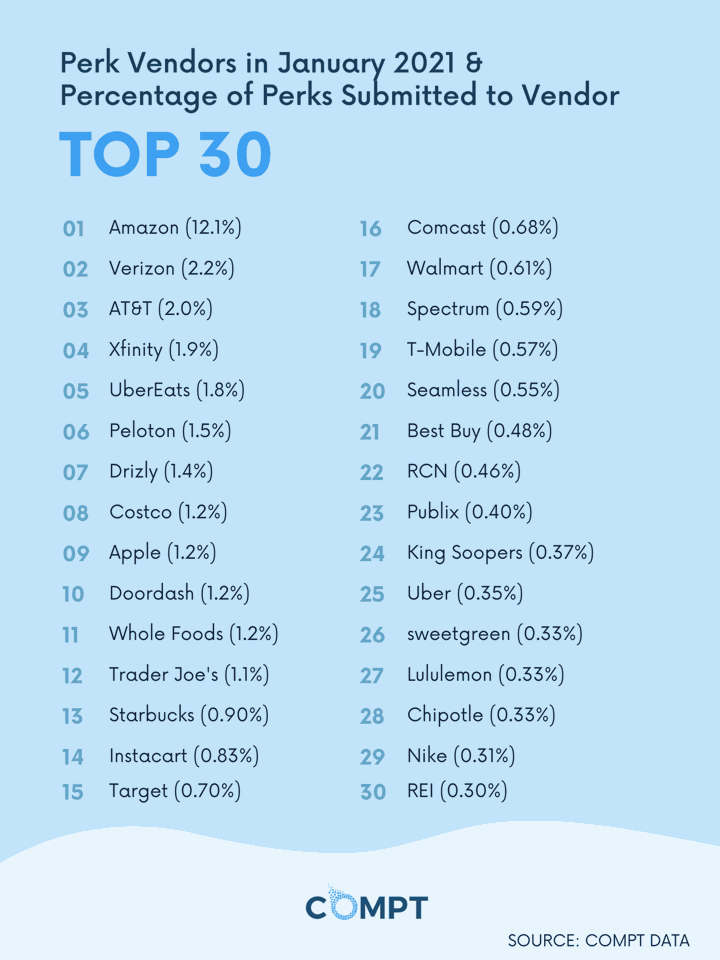 You might notice that this top list of perk vendors includes many internet providers, and that's because many companies are now choosing to reimburse employees for their home internet usage now that they're working remotely. This post can help you figure out if you have to pay for your employees' home internet.
Because this list above contains so many internet and cell phone providers (cell phone was the third most popular category), here are the next 30 top vendors for January perks.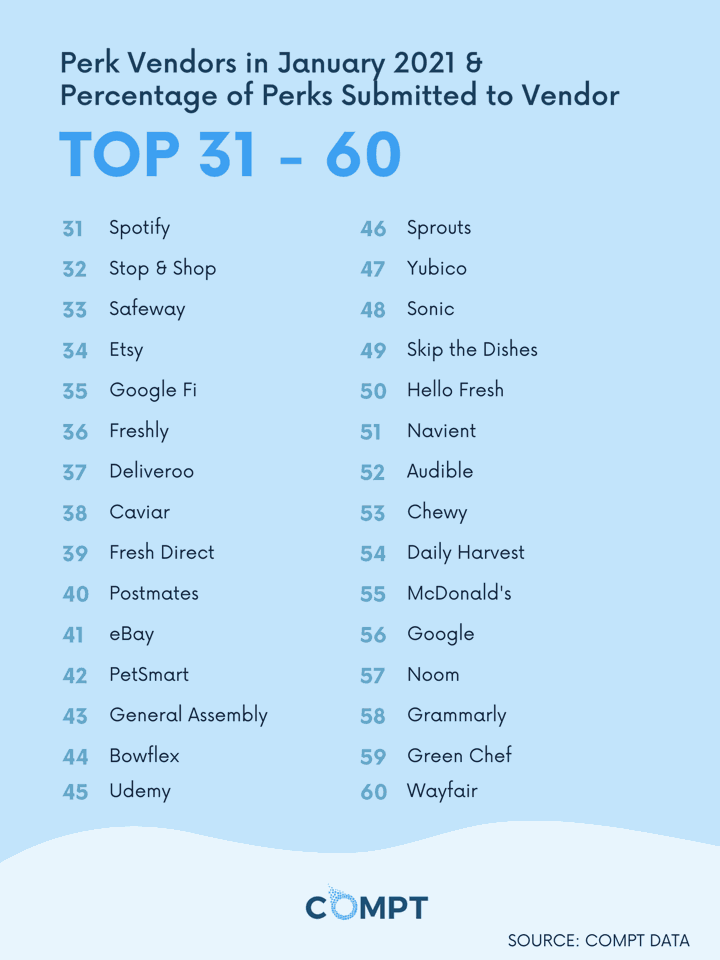 What were the top companies for Health & Wellness spending?
Heath & Wellness was the second most popular vendor in January, so we broke out the top vendors that employees most frequently purchased their perks from.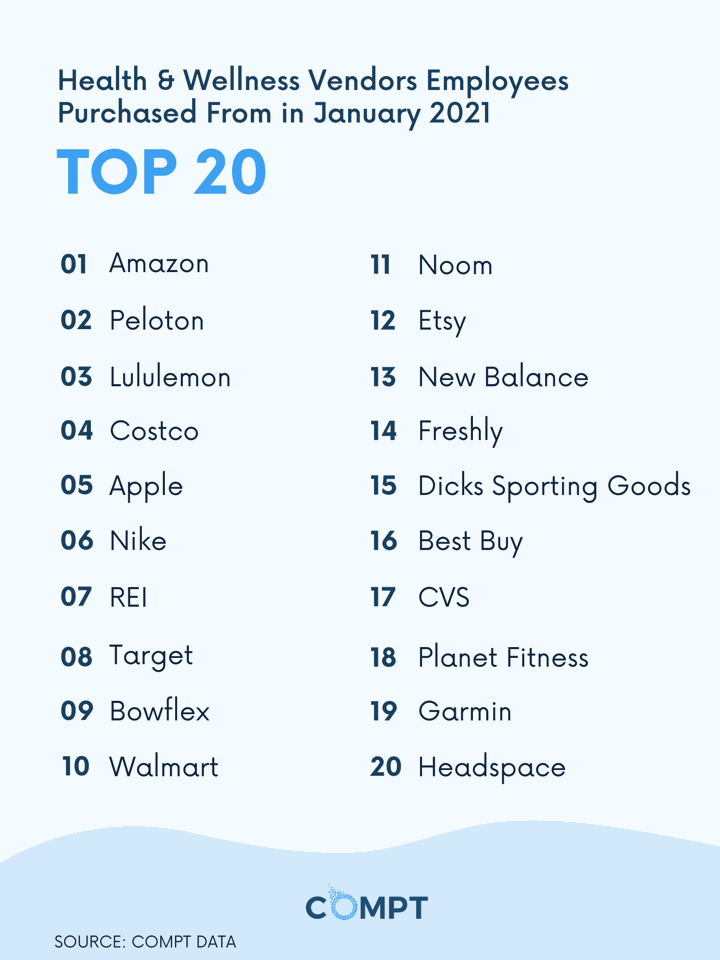 In this category, we saw over 600 unique vendors with Amazon leading. 
To reiterate, this top health and wellness vendor list is based on how often employees made purchases from them and not how much in perk funds was spent on each store or business 
Since the breadth of vendors in this category was so powerful, below are even more top vendors employees purchased from in January across the most common wellness categores we typically see employees use their Compt health and wellness stipends on:
Vendors aside, below are some of the most common lifestyle perks people purchased with their health and wellness stipend: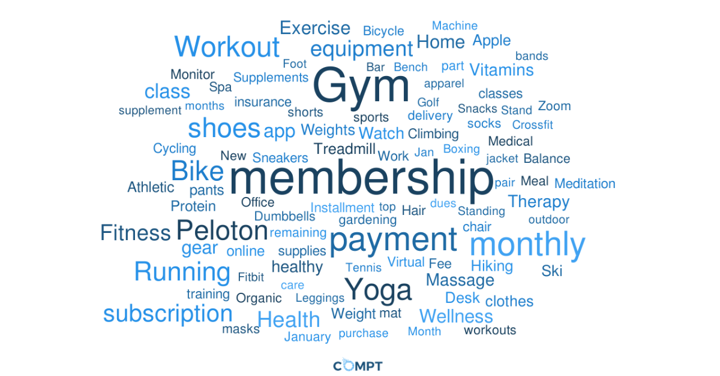 What were the top companies for Professional Development spending?
The fifth-largest spending category was professional development. Since this category tends to be wide-ranging, we also broke down the various vendors. 
Below are the top 20 vendors for January employee perk stipends in Professional Development: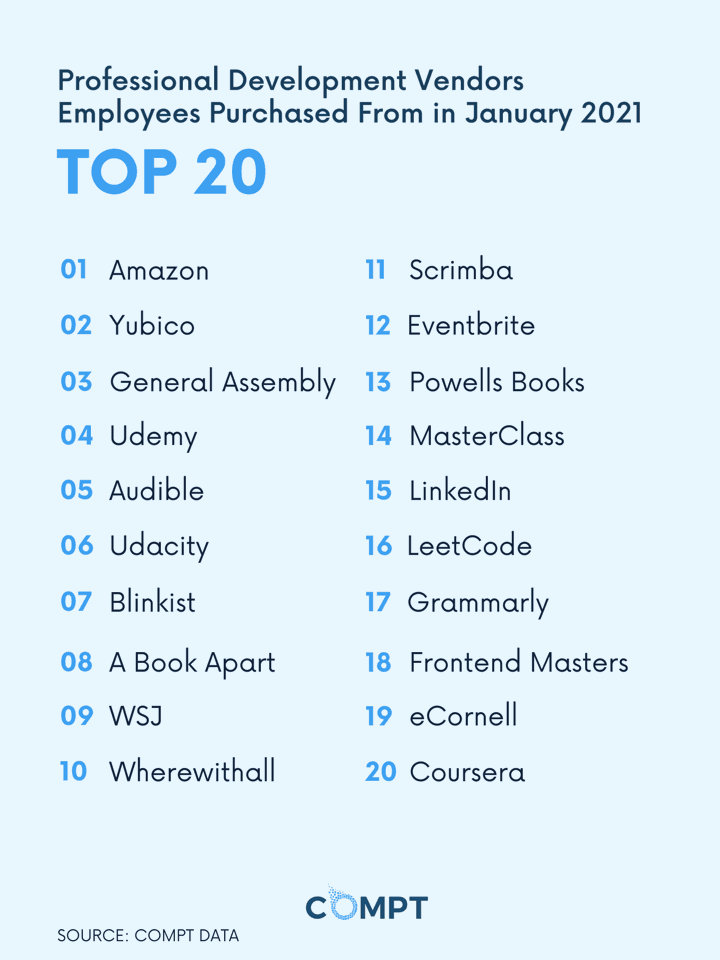 In this category, we found there were over 250 vendors people purchased from in total.
While the top 20 vendors were found above, the rest of the list vendors include:
Regardless of vendors, here are some of the most common items people purchased with their Professional Development stipend: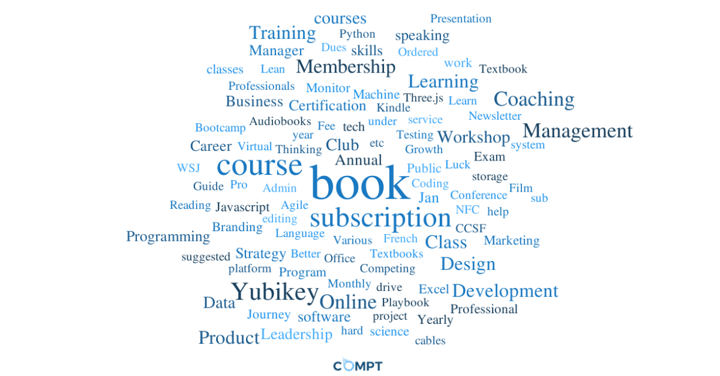 What's ahead for 2021?
While this was the spending data for January 2021, it might give us some insight into what's in store for the rest of the year. But if 2020 taught us anything, it's that we don't actually know what's ahead. With employee stipends, these companies and their people can weather any storm as their perks are flexible and evolve with their changing needs.
Want to see another category break-down or different spending data? Contact us to let us know what you'd like to see next!
---
Compt is the #1 employee stipends platform that gives your people the freedom to choose the lifestyle perks that are best for them and their always evolving needs, even when remote. Interested in learning how Compt might benefit your company? Consult with our team or request a demo.