During 2019, we worked hard to write informative and interesting pieces so all our readers could learn more about the People Focused topics they were intrigued about. We decided to create this blog to highlight our top viewed content of this year in hopes that you could find exactly what you need and might have missed during the year. We have some more comprehensive pieces and then blogs so you could pick what kind of content you're most interested in reading.
Comprehensive Resources:
With the unemployment rate at an all-time low and employees demanding more personalized perks, it's crucial that perks programs be made with the needs of the employees in mind. We picked the perks and vendors listed in this guide to help you create the ideal perk program for your team. This list can help your employees create a work-life balance, encourage them to learn career skills, and give them flexible schedules, are the ones at the forefront of attracting and retaining top talent. If you're searching for ideas and categories of perks that you can give to your employees to best support them, check out this extensive list! 
If you're searching for a way to offer perks that will make your employees engaged & happy, reduce the HR administrative burden, & decrease money wasted on under-used perks then Lifestyle Spending Accounts (LSAs) could be exactly what you need. LSAs help HR experts put the money they would spend on perks in the hands of their employees, this way each employee can use his/her/their budget to buy exactly what best suits their wants and needs. In the graphic below you can see how Buffer uses a Learning & Development Stipend (a category of LSAs) to offer their employees the 15 unique platforms they each chose to learn from. This way, Buffer highlights each employee's unique skillsets and interests and supports them in their journey to being their best selves. 
You can see in the graphic below how Webflow uses a Health & Wellness Stipend through Compt to deliver their employees a level of personalization that would otherwise be impossible for any normal perk program to offer. Every person needs something different to be their healthiest and happiest self, so why give all your employees the game perk?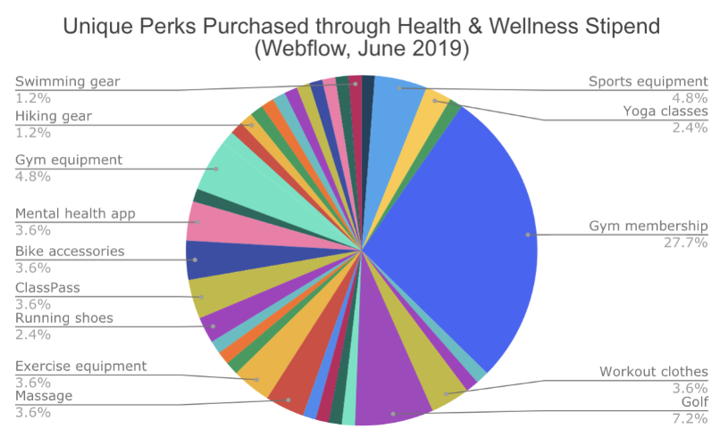 Blog articles:
General Work Blogs: 
We all hate going to a meeting that isn't orchestrated well and that ends up being a waste of time. This is why we've created the POPPP method to help you run more efficient meetings. For every meeting, you want to have the purpose, outcome, process, people, and preparation figured out beforehand so everything runs according to the plan and you can reach your goal.
Want to make name your conference rooms but not sure where to begin? These names can be a perfect way to strengthen your company culture and what you stand for. If you're stuck finding a creative name to get your teammates a little more excited about the prospect of going into your conference room, check out this blog for some ideas!
Remote Work Blogs:
Make your remote employees feel just as a part of the team as you in-house employees by giving them the perks that best support their needs. This is a great way to strengthen your company culture across all employees and make them all feel more connected and appreciated. Read some methods and ideas of perks you can give your remote employees today that will genuinely make them feel included and thought about.  
With remote work becoming more popular with each passing year, the amount of information and resources available about the topic can be pretty daunting. That's why we worked on this list of resources you can use to learn how to best support your remote team. This list includes our top choice of articles, podcasts, guides, websites, research studies, events, and resources for your team/employees all about remote work. Read it now and be there for your remote employees. 
Perks 101:  
Perks were made to increase employee engagement but are they really doing their job? Or are they making the lives of HR experts harder while not exciting many employees? In this blog, you will read about the three biggest hidden costs associated with perks: the Opportunity Cost of Perks, the Employee Isolation Cost, and the Reputation Cost. Read now how to make these issues a problem of the past. 
The truth for many HR professionals is that they invest time, money, and resources into creating a perk program for their employees but normally only get 10-15% employee participation rates. We know this is discouraging because it may feel like all your hard work is going to waste, but that's why we've written this blog for you. We want to help you increase your employee perk participation rates. 
If you're trying to figure out what the best way to give your employees a personalized approach to perks, debit cards or Lifestyle Spending Accounts, this guide is just what you need to read. This blog compares the pros and cons of both and some extra questions you should ask yourself before choosing one or the other.  
With 2019 coming to a close, we thought this would be the perfect opportunity to recap on our most viewed content of the year. We focused on creating informative pieces to best support you in your journey of helping your employees reach their full potential. 
If you enjoyed reading through this content, subscribe to our People First Newsletter to be informed when we come out with new content each month.