The year 2021 will forever be known as the year after COVID-19, the start of the Great Resignation, and one of the most pivotal years for remote and hybrid work.
And although all employees and company leaders are working through these changes together, the task of "figuring it all out" is typically falling in the laps of one group—HR and People Ops teams.
What will work look like in the future? 

How do we attract,

recruit

and retain talent in this new climate? 

What do employees actually want?
Those are some of the biggest questions HR and People Ops teams need to find solutions for.
Read on to see what Compt's latest employee perks data reveals about what employees care about most today, and what major trends are emerging in the world of employee perks.
Overview of this new perks data
We've previously published similar analysis in January and at the end of Q1, and below is the newest data from Q2 of 2021, which highlights the best from over 8,000 unique perk vendors!
Using real, anonymized employee data across tens of thousands of perk purchases on Compt, we'll answer: 
And diving into specific employee perk categories, we'll share: 
HR teams have a lot on their plate right now in deciding on, creating, adapting, and communicating new programs for their people across all of the above categories and more.
This data will give you confidence that you're making the right decisions and creating a healthy and supportive culture for your team.
Top Employee Perk Categories 
As more and more companies are working to adapt employee perks to fit a hybrid or remote work model, knowing what perks employees are both using and enjoying the most is invaluable.
It helps HR teams: 
Understand what employees would prefer to spend their money on if given a choice, and 
See what trends are emerging when it comes to employee benefits and remote work.  
Here are the top 10 categories employees spent their stipends on: 
Health & Wellness 24.9%

Food 22.6%

Productivity 17.3%

Cell Phone 6.5%

Internet 6.3%

Professional Development 4.8%

Family 3.6%

Personal Development 3.2%

Travel 2.8%

Tech 2.7%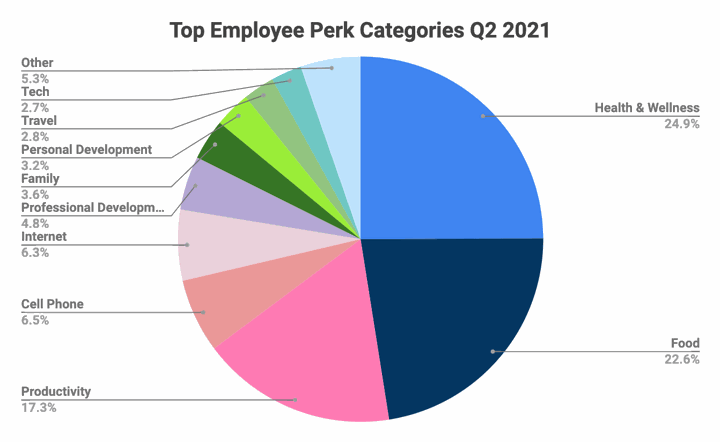 Top Employee Perk Vendors
Instead of only being able to choose from a short list of perks and perk vendors for things like wellness, food, or tech, employees who used Compt were able to use 8,000 unique employee perk vendors overall (up from 6,000 last quarter).
Among those thousands, these were the top vendors employees purchased from in Q2: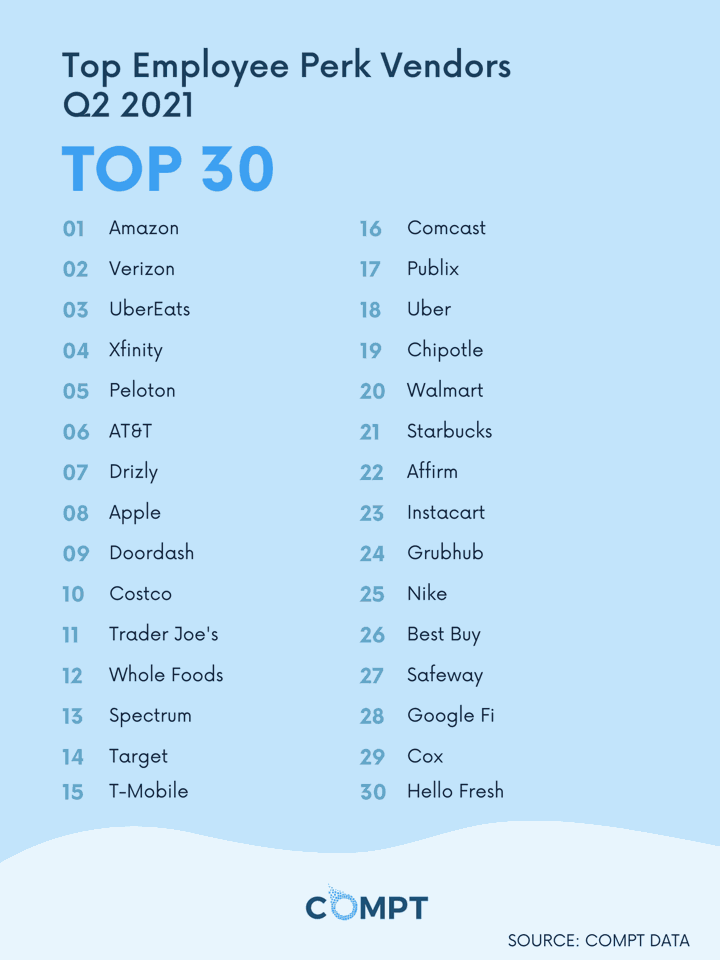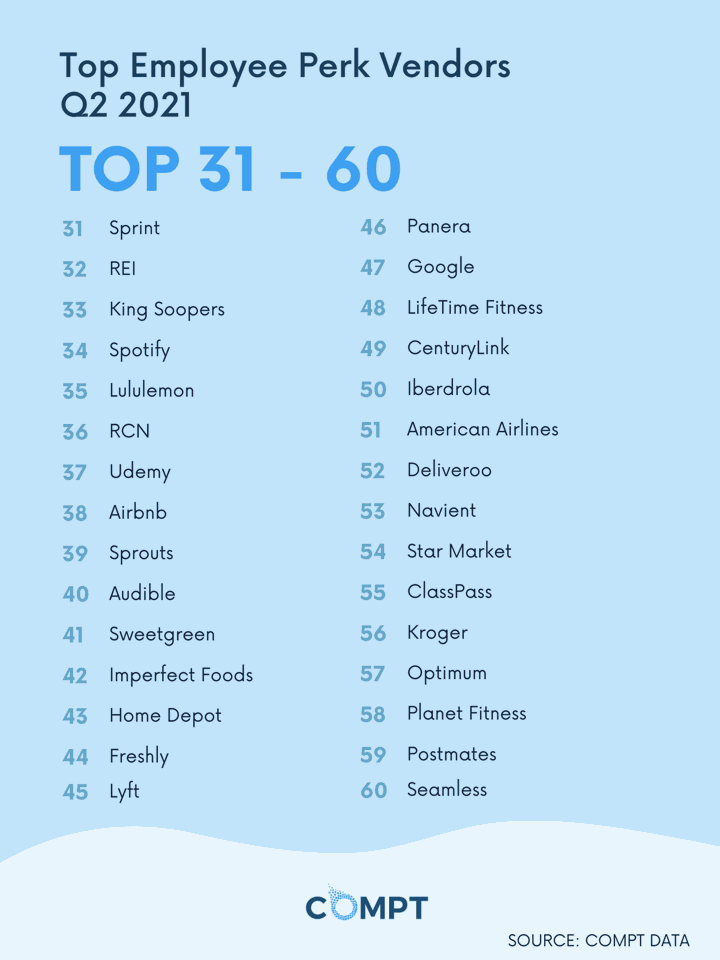 Top 60 employee perk vendors in Q2 2021:
Amazon
Verizon
Uber Eats
xfinity
Peloton
AT&T
Drizly
Apple
Doordash
Costco
Trader Joe's
Whole Foods
Spectrum
Target
T-Mobile
Comcast
Publix
Uber
Chipotle
Walmart
Starbucks
Affirm
InstaCart
GrubHub
Nike
Best Buy
Safeway
Google Fi
Cox
Hello Fresh
Sprint
REI
King Soopers
Spotify
Lululemon
RCN
Udemy
Airbnb
Sprouts
Audible
Sweetgreen
Imperfect Foods
Home Depot
Freshly
Lyft
Panera
Google
LifeTime Fitness
CenturyLink
Iberdrola
American Airlines
Deliveroo
Navient
Star Market
ClassPass
Kroger
Optimum
Planet Fitness
Postmates
Seamless
4 Trends in Employee Perk Spending in the First Half of 2021
As we mentioned before, this isn't the first time we've pulled this type of data (and it isn't the last!)—we also looked through thousands of employee perk stipend purchases in Q1 of this year to see what perks were popular at the start of this year.
To save you the trouble of comparing the information from that article with new data in this article, we picked out the top trends in employee stipend data that we've seen from all of it:
1. Health and wellness is consistently the most popular perk spending category
Perhaps this doesn't come as a surprise, but employees spent more in wellness perks than in any other perk category all throughout 2021.
What's important to note about this is that this wouldn't be possible if employers were only offering a corporate gym membership, or the choice of only one meditation app or class package. Doing that limits how much employees can define their own wellness journey. This type of freedom to decide on their own wellness journey is only possible when you offer employees something like a flexible wellness stipend.
2. Covering the costs of food is the next big essential employee perk
Food as a specific perk stipend category rose to 2nd most popular in Q2, which shows its popularity as a standalone perk among employees this year.
What you'll also find is employees will find a way to get their food cost covered, even when the stipend their employer has given them is marked as a different category.
For example, 40% of the top vendors listed above are food-specific retailers, meaning it's a restaurant, food or drink delivery service, or grocery store.
Also, in the family and productivity categories' top vendors lists featured later in this article, restaurants and grocery stores appear high and frequently on those individual lists as well.
So what's the key takeaway?
If you haven't already, you should think about setting up a meal stipend or a flexible all-inclusive stipend that allows your employees to get reimbursed for food costs. That's something they'll absolutely use and appreciate.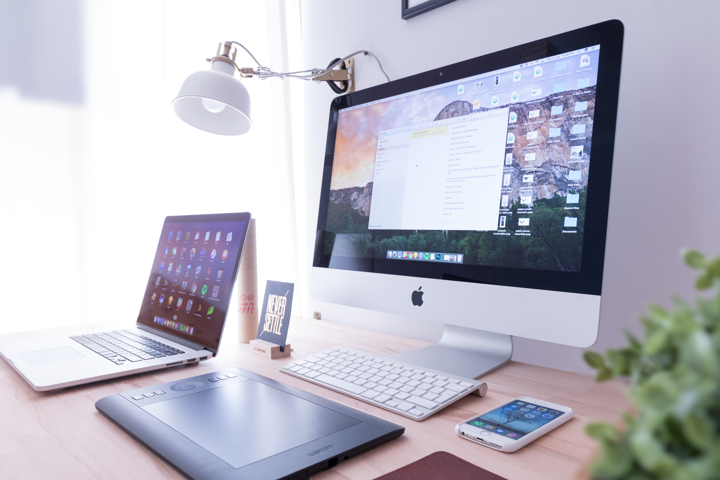 3. Employers are finally paying for internet and technology
This whole time that we've been working remotely, most employees have been footing the bill for their own internet and technology needs that are crucial for them to sustain their work. Employees have been doing this regardless of whether their company has reimbursed them for those expenses (with the exception of a small percentage of companies). This is even true in CA where, under state labor laws, employers must reimburse employees for any expenses necessary to fulfill their job duties.
More than one full year into remote work and we're finally seeing a trend of employers providing monthly internet stipends, cell phone allowances, and technology reimbursements. Cell phone and internet reimbursements were in the top 5 categories for employee perks in both Q1 and Q2 of 2021.
4. Family stipends cover all costs associated with the home
Another huge trend that has emerged this year is family related perks. Employers have recognized that supporting families isn't just about parental leave and childcare, and have answered the call by offering family stipends that can cover a wide range of employee expenses. This way, it's not just parents of children that get any sort of family support.
As it turns out, employees have used their family stipends on everything from groceries, internet, tech, utilities, home improvement, moving expenses and more.
Top Health & Wellness Vendors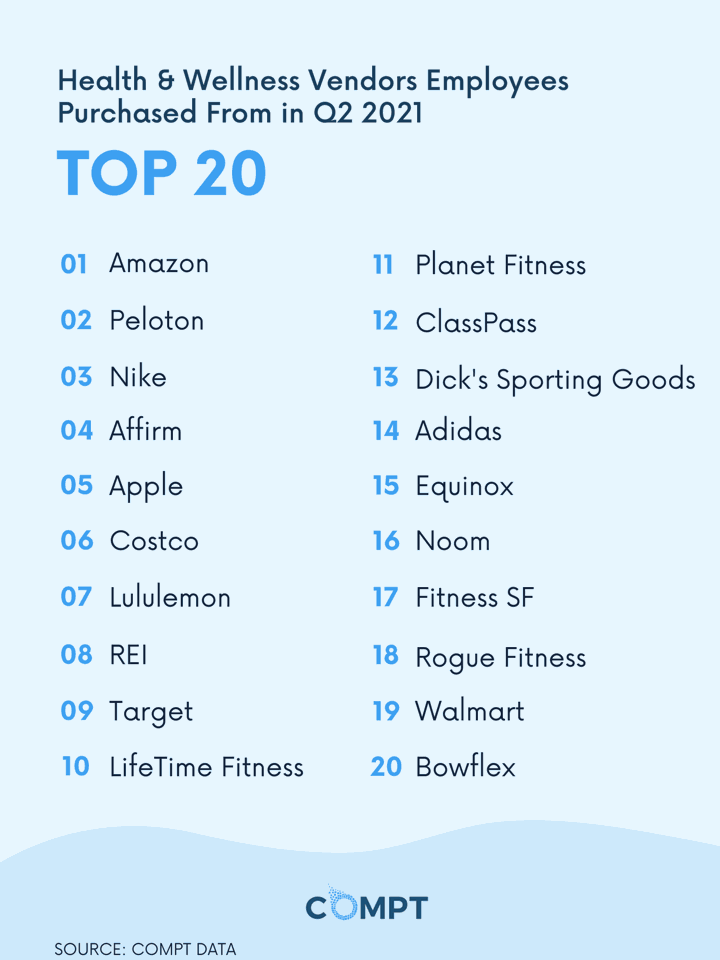 Total Health & Wellness Vendors: 2,528
Amazon
Peloton
Nike
Affirm
Apple
Costco
Lululemon
REI
Target
LifeTime Fitness
Planet Fitness
ClassPass
Dick's Sporting Goods
Adidas
Equinox
Noom
Fitness SF
Rogue fitness
Walmart
Bowflex
Top Family Vendors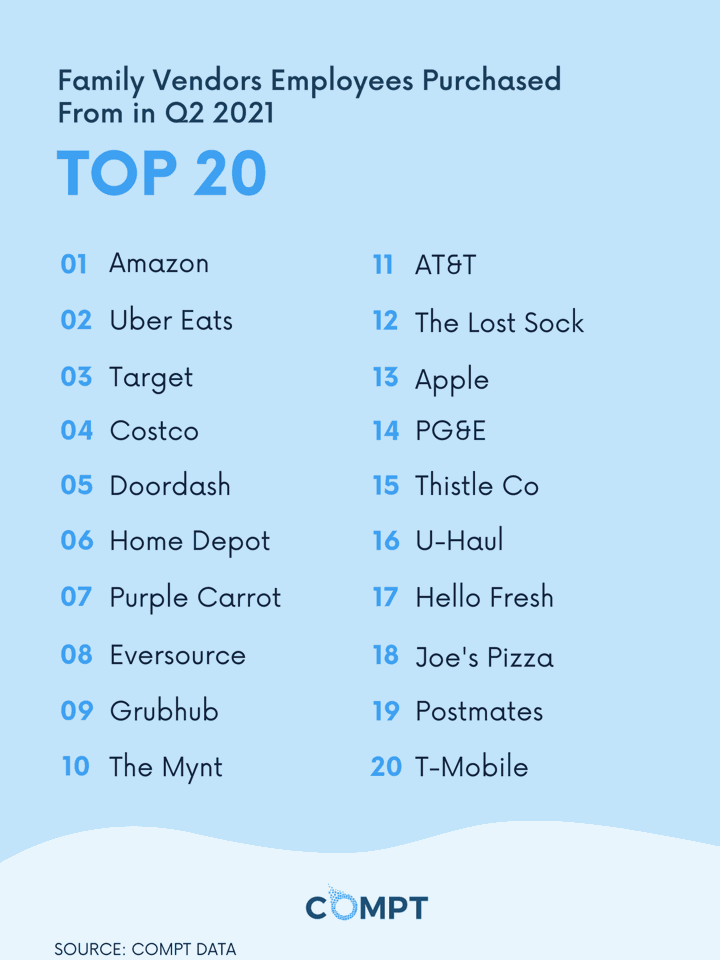 Total Family Vendors: 515
Amazon
Uber Eats
Target
Costco
Doordash
Home Depot
Purple Carrot
Eversource
Grubhub
The Mynt
AT&T
The Lost Sock
Apple
PG&E
Thistle Co
U-Haul
Hello Fresh
Joe's Pizza
Postmates
T-mobile
Top Food Vendors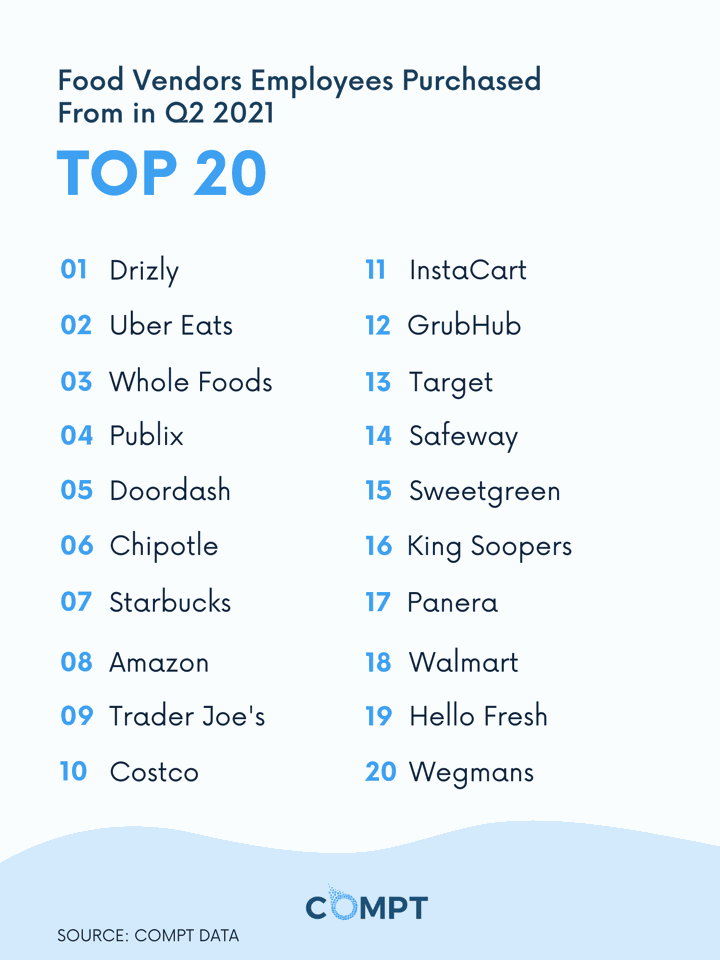 Total Food Vendors: 2,239
Drizly
Uber Eats
Whole Foods
Publix
Doordash
Chipotle
Starbucks
Amazon
Trader Joe's
Costco
InstaCart
GrubHub
Target
Safeway
Sweetgreen
King Soopers
Panera
Walmart
Hello Fresh
Wegmans
Top Professional Development Vendors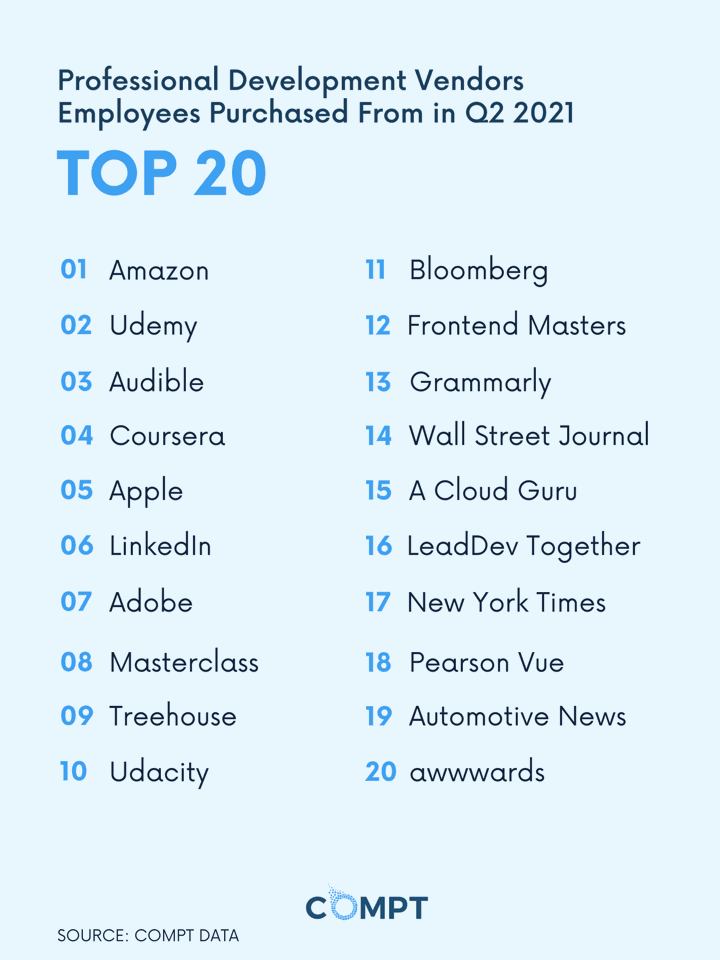 Total Professional Development Vendors: 478
Amazon
Udemy
Audible
Coursera
Apple
LinkedIn
Amazon
Adobe
Masterclass
Treehouse
Udacity
Bloomberg
Frontend Masters
Grammarly
Wall Street Journal
A Cloud Guru
LeadDev Together
New York Times
Pearson Vue
Automotive News
awwwards
For more information about this employee perks study and how we gathered the data, drop us a note!
---
Compt is the #1 employee stipends platform that gives your people the freedom to choose the lifestyle perks that are best for them and their always evolving needs, even when remote. Interested in learning how Compt might benefit your company? Consult with our team or request a demo.