Here's how to set up a remote work stipend:
1. First determine how much you want to offer your team members, within what timeframe.
Some examples include offering $100/month, $500/quarterly, or $2,000 annually. If you are interested in getting insight into what the most successful companies do, we can share some insider information. You can also decide you want to offer a stipend only to remote team members, or one to them in addition to what you offer all employees.
 2. Secondly, select your perk spending categories.
In the examples above, you'll notice that they most often surround a category of spending like health and wellness, continuous learning, family, or travel.
Doing it this way allows you to create a custom program for your team, and then allows 100% personalization for them. 
If you're looking for ideas for spending categories beyond a remote stipend, consider tying them to your company's culture, goals, or important culture initiatives.
3. Once you have this information determined, now it's time to decide how you'll manage the process.
Your options include:
Managing the perk allowance manually. If you choose this option, be prepared to set up a process to track purchases, receipts, balances, approval and paid perks, as well as rejections or ones which need further review. Consider using Google forms to track submissions, excel or Google sheets to track progress, and be sure to create a process to track the nontaxable vs taxable (for IRS compliance).
Choose a software to help you manage this. Options like Compt can help communicate your programs to your team members, track balances and spending, and scale the process for you which eliminates a large portion of work, and provides valuable metrics. Plus, Compt is 100% IRS compliant which makes you and your finance team's job much, much easier.
Ready to learn more about Compt?
We help people-first companies like yours to build, streamline, and scale their employee perk allowances. You get all of the personalization, without any of the headache of managing them.
Our customers are the best, and here's a few quotes on what they have to say about us:
"I'm SO excited to use Compt! In 2020 I am going to actually attend a holiday party AND have my hair and nails done rather than all of the manual stuff I did in 2019 to manage wellness stipends in Expensify." - Toni, a new Compt customer. 
"We had 330 perk receipts submitted in the month of June. Just imagine if we tried to do this manually or use an expense software, then it would be going through finance, cost more money, and it also wouldn't be an accurate line item. It's just much easier to manage this way." Heather Doshay, Webfow. (Check out their case study here)
And below is a piece of (unsolicited) feedback we received from a customer of ours, Josie Joling.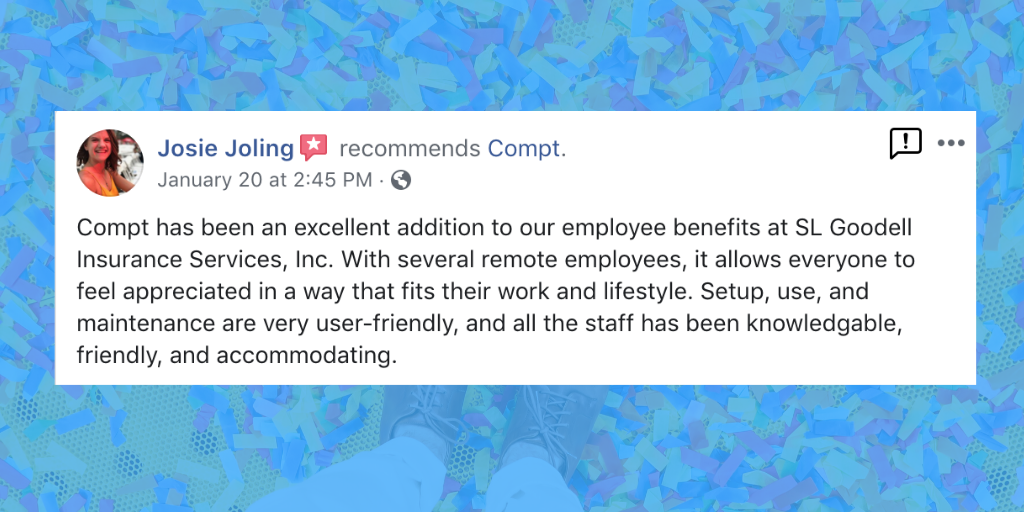 Ready to take the next step? Dip your toes in by scheduling a preliminary call with a Compt perk expert or request your personalized demo.