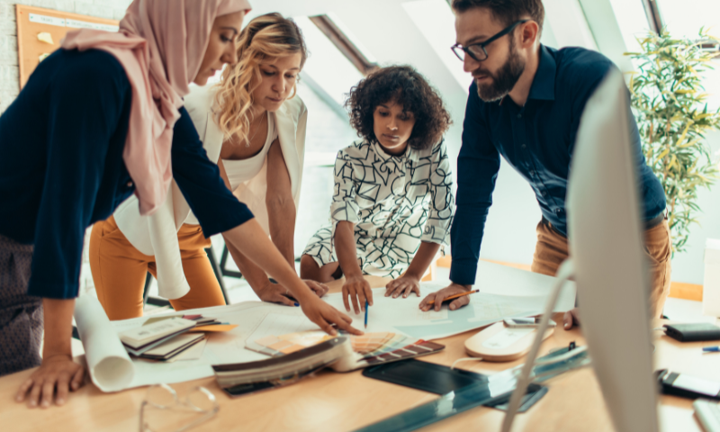 Planning on hiring diverse talent soon? Need a system in place to help you get there? 
We've got you covered!
In today's article, we've put together five strategies you can use to hire diverse talent. 
They are:
Have a diversity, equity, and inclusion specialist review your hiring process 

Partner with recruiters that have experience hiring a diverse talent pool 

Use HRIS software to facilitate a blind recruiting initiative and reduce unconscious bias

Network at diversity-focused job fairs

Create job postings tailored to hiring diverse talent
Let's take a deeper look.
1. Have a diversity, equity, and inclusion specialist review your hiring process 
If you're new to the diversity, equity, and inclusion (DE&I) world, you're bound to have practices in your hiring process that don't support hiring diverse talent. 
A DE&I specialist can audit your current hiring process to help you uncover weak spots and opportunities for change. 
When working with a specialist, get clear on your hiring goals and why having diverse workers is important to you. You'll also need to consider how your current company culture is promoting or hindering your hiring initiative.
Be honest about where you can and should change, and ask the specialist to help you put a hiring plan together. You might also consider having them audit your internal company policies, long-term objectives, and company culture values to make sure you're taking a holistic approach to DE&I.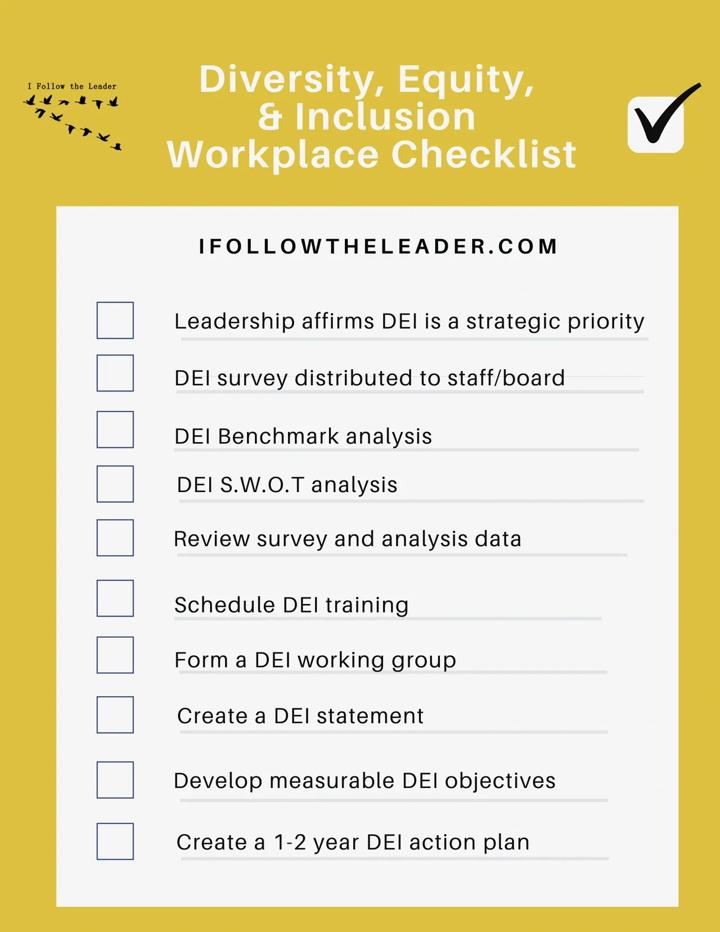 Important note: Hiring diverse employees when your organization doesn't promote DE&I on all fronts can lead to ethical concerns and potential HR issues. Before going on a hiring spree, pause to examine where your company falls short. Then, start taking action toward becoming DE&I-friendly as a whole. In other words, don't implement your hiring plan until you can officially call yourself an inclusive organization. 
2. Partner with recruiters that have experience hiring a diverse talent pool 
Sometimes the time and effort it takes to hire diverse candidates can feel like a full-time job. If you have a strict hiring deadline, don't have an HR team, or don't have the ability to put in the muscle yourself, reach out to experienced DE&I recruiters for support. 
Check out a service like Korn Ferry or search for DE&I recruiters on LinkedIn. You can also opt to use DE&I recruiting software, such as SeekOut, RippleMatch, or Joonko.
If you decide to reach out to a recruiter, be sure to give them the following information:
Your hiring deadline

The roles you're hiring for with accompanying job descriptions and qualification requirements

Any DE&I-specific goals — i.e., "We'd like to hire four black engineers that specialize in Artificial intelligence robotics"

Your company values 

The core pillars of your company culture

Facts that show you're a DE&I-friendly organization. For instance, hiring stats, proof that you have an inclusive workforce, and common DE&I practices your organization follows

The pay, benefits, and perks you're offering 

The hiring process each candidate will be expected to go through, such as the number of interviews they'll experience, how onboarding works, and any training requirements 
3. Use HRIS software to facilitate a blind recruiting initiative and reduce unconscious bias 
Have you ever heard of anonymous hiring or blind interviews?
You essentially use HRIS software to remove personal information from resumes that could lead to unconscious bias throughout the recruiting process.
This method of hiring, often referred to as blind recruiting or anonymous hiring, focuses on placing the emphasis completely on a candidate's credentials, skills, and experience, rather than on their personal traits or demographic data.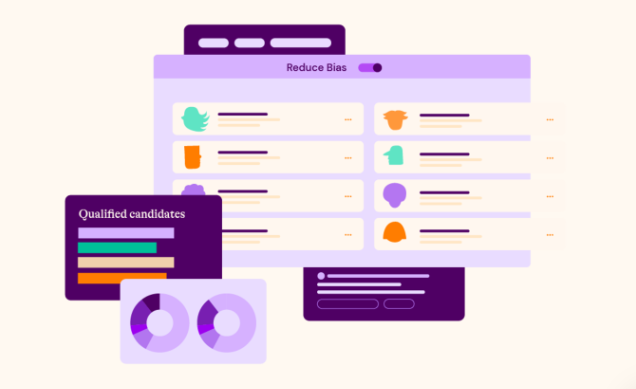 The best part? You can automate the anonymization process to make sure recruiters only see each candidate's pertinent credentials and experience when they're conducting their evaluations. 
Personal information, such as names, addresses, dates of birth, and even profile images will be automatically removed. This promotes equality and lessens the possibility of unconscious bias based on traits like gender, ethnicity, age, or nationality. 
4. Network at diversity-focused events and job fairs 
Network at events hosted by minority professional organizations and diversity-focused job fairs to spread the word about the career opportunities you're offering.
Consider highlighting your DE&I hiring initiative on your business cards so you have a better chance of connecting with like-minded people, HR reps, and recruiters at these events. This helps shift the focus from a mere contact information exchange to your mission and commitment to hiring diverse talent.
This goes without saying, but when speaking with people at these events, get vocal about your DE&I hiring plan and why you're passionate about it. Do your best to find people that can help you support your goal or connect you with others who can. 
5. Create job postings tailored to hiring diverse talent 
And finally, make sure to tailor your job postings so candidates know you're serious about hiring diverse employees.
Here are a few quick tips:
Make it clear that you're seeking diverse talent
In order to attract a diverse spectrum of applicants, start with inclusive job descriptions that eliminate biased terminology.
Include a clause that specifies that you don't discriminate against people with various sexual orientations, people of color, or people with disabilities. Be sure to also note that you don't discriminate based on religious background, socioeconomic status, or gender.
Here's an example of a non-discrimination statement from the National Environmental Education Foundation, or (NEEF):
"NEEF is an equal opportunity employer. We will not discriminate and will take affirmative action measures to ensure against discrimination in employment, recruitment, advertisements for employment, compensation, termination, upgrading, promotions, and other conditions of employment against any employee or job applicant on the bases of race, color, gender, national origin, age, religion, creed, disability, veteran's status, sexual orientation, gender identity or gender expression.
Please direct any questions concerning NEEF's nondiscrimination policies to nondiscrimination@neefusa.org."
Check out NEEF's full non-discrimination statement here. 
Write inclusive hiring qualifications  
Being flexible with your hiring qualifications is pivotal to becoming a more inclusive workplace. 
For decades, people without degrees or high school diplomas have been passed over for job opportunities, even if they had skill sets in line with the roles they were applying for. (Note that we're not referring to careers that legitimately need degrees and certifications, such as the medical field.)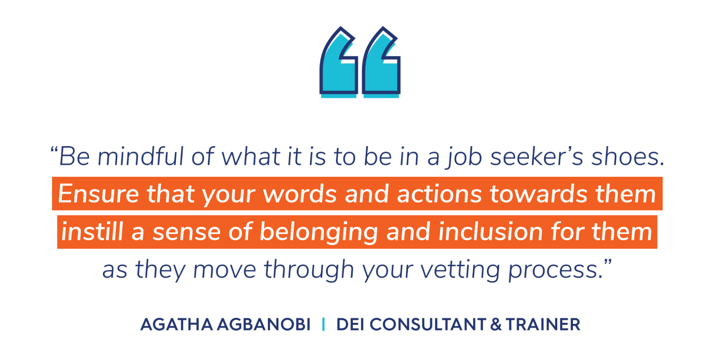 To truly open your organization to diverse talent, you need to be willing to train people that don't have degrees, diplomas, or experience in the roles you're hiring for.
When writing the qualifications section, focus on asking about unique attributes that show off the candidates' personalities and experiences. 
Here's an example:
"We love working with REAL people with cool and diverse experiences. 
So tell us … 
Have you ever lived abroad? Do you know how to make the best pistachio macarons? Do you play multiple musical instruments? Can you speak a foreign language? Do you love knitting in your free time? 
We want to know about it! Take a few minutes to share some of your hobbies and experiences with us:
________________________________________________________
________________________________________________________
________________________________________________________
________________________________________________________."
Eliminate barriers to entry by offering to mentor people with zero or little experience 
Be willing to train people that have skills but no experience. 
Everyone starts somewhere. Imagine never getting the chance to start from the ground up in a particular role because a job posting requires three to five years of experience for an entry-level position! Sadly, this happens way too often. Just take a quick look at the job postings on LinkedIn or Indeed to see what we mean.
For instance, if you run a real estate firm and are looking to hire new agents, consider creating mentorship programs to help aspiring real estate agents from underrepresented groups ‌get into the industry. 
Pair them up with knowledgeable agents who can offer support, direction, and practical advice on how to generate real estate leads, bring more traffic to their listings, and grow throughout their career journeys. 
Mentorship programs not only promote professional development, but they can also generate a sense of community and closeness within your organization.
Wrap up 
And there you go! Today we covered five simple ways you can hire diverse talent for your organization. 
Ready to get started? Meet with your HR team or hiring panel to discuss next steps. Don't forget to save this article for reference during your meeting. 
That's it for now. 
To your success!
PS: Looking for perks that are designed for diversity and inclusion? At Compt, we create an environment of belonging so everyone can live their best lives. In fact, we're 45% female, 36% BIPOC, 18% LGBTQIA+, and female-founded! We're the only perks software that offers truly inclusive perks for ALL employees needs. Request your personalized tour, today.
Author Bio: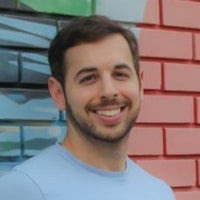 Jeremy Moser
 Jeremy is co-founder & CEO at uSERP, a digital PR and SEO agency working with brands like Monday, ActiveCampaign, Hotjar, and more. He also buys and builds SaaS companies like Wordable.io and writes for publications like Entrepreneur and Search Engine Journal.