There's no worse feeling for an HR professional than investing time, money, and resources into creating a perk program that only gets 10-15% employee participation rates. 
The low participation rates hurt, sure, but it's what they signify that is the genuine cause of pain. Employees who aren't engaged are often not happy, and unhappy employees lead to turnover. And turnover, as reported by WorkInstitute in 2018, is costing employers $600 billion annually.
So how can a company get employees engaged again? How can we decrease our turnover rate? If the goal of these perks is to support and empower employees and make them happy, then we must be honest with the programs we've developed. 
Sometimes all it takes is a little communication update, and other times it takes an overhaul to bring a perk program into modern times. Either way, below are seven ideas to get employees engaged and increase your employee perk participation rates:
Survey your employees
Remove or decrease outdated & under-utilized offerings
Communicate your current offerings better, or differently 
Decrease the number of systems employees need to use
Have executive sponsors
Distribute perks better
Make perks more inclusive 
1. Survey your employees.
When battling low utilization rates for your perks, it's best to go straight to the source.
Looking at the most recent eNPS surveys or creating a perks-specific survey to send to your team will surface the thoughts, needs, and preferences of your employees.
If you're putting a survey together, consider asking questions like the following:
What are your favorite three offerings our company provides.
What offerings/perks would you recommend we cut?
What perk(s) would you like us to offer?
Depending on your culture, you may want to finesse these questions a bit.
Don't be surprised if you need to overhaul your existing perks program since offering perks that everyone wants is more difficult than ever before. Employees expectations for perk offerings have increased, and so have the variations and preferences from employees want and need. Everyone is different, and this is perfectly illustrated by the five generations currently at work today, who are also at different life stages, and live in different locations (some remote, some in satellite offices). If you have to make some big changes, that's okay.
2. Remove or decrease outdated and under-utilized offerings.
Company culture and rituals aren't the only things that change as a company grows in size and age. 
The perks a company offers its employees in the beginning when it's new and small vary dramatically from the perks they provide at each stage of the scale-up process. The reason being, the size of an organization in its early days intimates an intimacy that isn't possible when employee count increases from the hundreds to thousands.
That's why it's essential for HR professionals and the business to complete an audit of all perks periodically. It's easy to get lost in the "it's what we've always done" cycle, but being honest and objective will pay off. 
As part of the audit, HR should review whether a perk is outdated for one or both of the following reasons:
the company rituals have changed,
or they aren't getting the expected participation rates anymore. 
Consider whether each one of these perks is still adding value to the lives of your employees.
Let's look at an example in practice, using a somewhat common employee perk and ritual—Bagel Fridays. 
Bagel Friday can be a fantastic initiative that employees love and that helps tell your company story. Maybe your founders met over bagels the first time they met. But if nobody is eating them, and people are taking stale bagels home to their families, then it's worth it to your company to revisit it.
However, somtimes, doing the math can help put the perk into perspective too. 
It doesn't seem like a significant investment at first, but if you do the math, it's easy to see just how much the organization is investing.
200 employees with 52 weeks a year at $25/18 bagels with cream cheese
That comes out to $278/week or $14,450 a year. 
Keep in mind this number doesn't account for the increased growth in your team. It also doesn't acknowledge the effort it takes for an HR team member to increase the order regularly.
How many "Bagel Fridays" that need to be dropped do you have floating around your organization?
3. Communicate your current offerings better or differently.
A study from AICPA in 2018 found that only 28% of employees are very confident they're fully using their benefits.

(Tweet this!)
Employees are aware that there is likely more being offered than they realize. Sometimes, all you may need to do to increase employee participation rates is to communicate your perks and benefits to your employees. Confusion around what's available and when can be a big reason you do not see the turn-out you'd expect.
Put on your marketing hat, and try to identify ways that could help you get the word out. 
Depending on the size of your team, locations (distributed vs. all in-house), and the complexity of your program, your efforts may change. 
Below, we've compiled a few ways you may want to communicate your company's benefits to increase adoption:
Have a comprehensive but well-designed page built out on your internal wiki or intranet.
Send a quarterly all-staff email.
Create a Slack channel, and pin them at the top of the channel.
Create a company "perks & benefits" calendar for everyone to access. 
Include a link to perks and benefits provided in your email signature.
Hang a poster advertising the perks programs in a spot for all to see.
Send a quarterly all-staff email.
Host 'Office Hours' so that people can contact you and ask questions.
Print out the perks and benefits page from your intranet and include it in new-hire packets, and present the information to new hires, too.
Print out the calendar of events and put it on employees' desks each month.
Whatever you do, make sure they're written out in one place for all to see. You don't want any potential fires creeping up because of poor communication.
4. Decrease the number of systems employees need to use to take advantage of perks.
Let's face it; our lives are already mostly online. I have three email addresses, five social media accounts, six software subscriptions that I pay for regularly, and upwards of 10 bank accounts, each with a unique login.
While we've come to expect this experience as consumers, that doesn't mean we want it for our lives as employees.
According to

Health Advocate

, more than 40% of employees found dealing with multiple benefits vendors to be confusing.
The fewer accounts or places your employees need to go to access their perks, the better.
5. Have executive or leadership sponsors for the perks.
An executive sponsor can be especially powerful if this is a cultural initiative that they believe in; it can shape employee behavior and want employees to recognize that this is important.
An organization I once worked at had big annual goals that they'd share with the team. For each annual goal, they'd create a culture initiative or perk which would have an executive sponsor. 
Executive sponsors range from leading the diversity and inclusion hiring or identifying ways to help employees skill-up, like through Toastmasters.
6. Distribute perks better.
Another common barrier to adoption is that perks aren't in their ideal form or location.
Sure, your employees might love yoga, but that doesn't mean you need to bring yoga on-site. Not everyone has the time or comfort level required to work out in front of colleagues. Employees also might prefer doing yoga with their partner, via an app on their phone, or they may prefer a different workout style altogether.
Instead of trying to offer every perk on-site, remember that these employees are consumers in their everyday lives and already have many preferences developed. Having your employees get healthy in a way that suits them is better than offering on-site physical activities or specific gym memberships because it's easier for you.
7. Make perks more inclusive.
A topic not often discussed when it comes to perks is the fact that the process of purchasing them and offering them to employees has become inherently exclusive. 
The reason being, it' s usually a few employees selecting perks for the entire company. However, we often neglect that these few perks don' t come in one-size-fits-all packages and do not support employees with different needs, preferences, life stages, locations, etc.
The needs of a single employee living in the city are different from a married employee with three children in the suburbs, which are also different than the needs of a remote employee.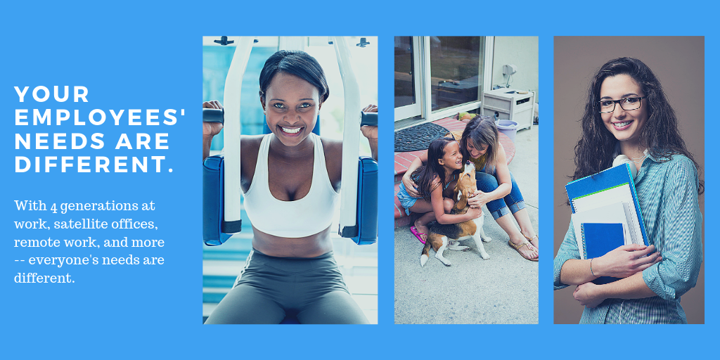 The best way to increase the adoption or participation of your perks is to offer something for everyone. The best way to do this is through a lifestyle spending account.
Lifestyle spending accounts are employer-funded accounts set up for employee perks. They support employees in purchasing the perks they want and need most, within a budget and categories pre-defined by the company.
In the yoga example above, the company can support every employee's journey toward a physically, mentally, and financially fitter version of themselves by giving every employee money to spend in a health and wellness category.
To learn more about lifestyle spending accounts, download our ebook.
There you have it, seven ways to increase your employee perk participation rates. If you have any ideas or suggestions to add, we'd love to hear them! Send them our way on Twitter (@ComptHQ).
---
Compt is the #1 employee stipends platform that gives your people the freedom to choose the lifestyle perks that are best for them and their always evolving needs, even when remote. Interested in learning how Compt might benefit your company? Consult with our team or request a demo.