If you're focused on employee wellness at any organization, this interview is for you. 
Meet Julie Paris, Wellness Program Manager at Akamai.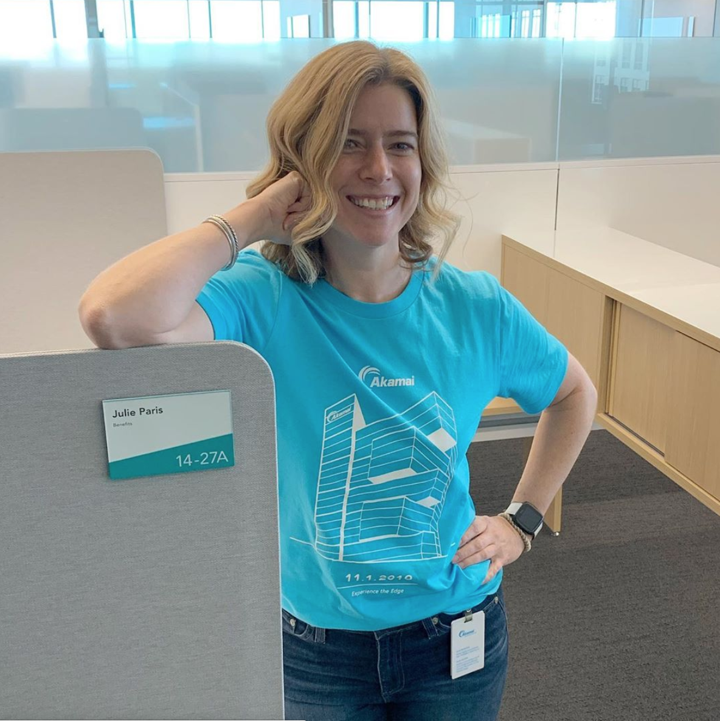 Julie is the personification of "wellness." 
She's known and loved within Akamai for developing powerful programs that help her team be physically and mentally healthy, and she's also a group fitness instructor and health coach in her free time. 
We were lucky enough to connect with Paris to ask her a few questions about her role, how she's helping people navigate COVID, and what she sees for the future.
Let's dig in.
First things first, can you tell us what your responsibilities are as a "Corporate Wellness Program Manager"?
Happy to! I develop, implement, and maintain resources that empower employees to improve their wellbeing.
This might be collaborating with a vendor to deliver a benefit or tool, or working with a presenter to customize a presentation for employees. It entails writing communications and finding other creative ways to promote programming. Alongside the Wellness Program Administrator, I help build a schedule of live events (which includes some fun, unique events we've created on our own!) and find experts to run seminars and classes. And, with our Senior Director of Benefits & HR Operations I strategize and evolve the program, and address immediate needs of the employees which has become especially important with the COVID-19 pandemic.
Sounds like you're busy! And how do you know if you've done your job well?
There are some services we use that deliver metrics and I observe attendance in classes.  Of course, I like to see utilization and engagement grow, but the numbers really just tell me if employees are using the offering.
Most importantly, through feedback is where I can best see the impact of the program. In our wellness survey there are questions around whether the employee feels cared for by the company, if they feel empowered to focus on their wellbeing, and if elements of the program support their productivity. Those questions combined with open responses provide me with exactly the information I need to determine if Akamai Wellness is delivering what we set out to do.


Your employee population is so diverse! Not just generationally but Akamai's people span the globe. How do you craft programs that meet the needs of everyone?  
Each country does have unique needs and my colleagues in the region know what those needs are and program appropriately using our pillars of wellness and mission statement. The pillars are Active, Nourished, Calm, Balanced, and Healthy. Anything created for the program should fall under one or more of the pillars and should align with the Akamai Wellness mission statement. 
The wellness survey that I mentioned before is helpful in understanding what employees are most interested in and what they need to support their wellbeing.
What are some things you look for when developing a new initiative? Are there pillars or guide-posts that help you in your decision-making?  
I can't remember if I've always been someone that searches endlessly for unique "things" or if I've become that way after spending 6 years around colleagues that are definitely that way! When developing a new initiative I look for something that will catch people's eye and make them want to participate. Of course, it needs to align with our pillars and mission statement.  It also needs to be easy to use and not take up much time (as I've learned from past wellness surveys).
Something I love about my job is brainstorming with my colleagues. We come up with such unique ideas and we can sometimes just try things to see if they work!  We've tried a Qigong series, a multi-week sleep improvement program, a scavenger hunt, and pet therapy, to name a few.
What's been your best health-related initiative ever, and can you share some details about what made it a success?
A little over a year ago I set out to find a psychologist that would speak on the topic of burnout. I was hearing the word pop up more and more and often I was hearing "busy" be the response to "How are you?". Through 

Yuri Tomikawa

, the founder of 

Zencare

, I found 

Dr. Alexander Alvarado

, a clinical psychologist with a practice in busy Manhattan. He is known for helping his clients manage work and personal schedules in a healthy way so I knew he would have the expertise to help employees. Starting from scratch, he talked with my colleagues and others in HR to learn what life is like at Akamai so he could truly personalize the presentation to us. We offered the class on a Friday and had 

an overwhelming attendance

! There were so many people that wanted to hear what he had to say. The audience was attentive, asked great questions, and we received positive feedback after the session.
Our Cambridge headquarters has a path (approximately one mile long) with interconnecting stairs that starts in the lobby and ends on the 19th floor. It is meant to serve as a physical connection point connecting everything and everyone. It touches and links every floor, and it's where people can come together to connect with one another. We call it the AkaMile! We regularly hold AkaMile group walks. The turnout has been great with around 20 people showing up each time. Sometimes we give away special edition t-shirts created for the AkaMile or pose for a group picture at the end (a few times we've added in push-ups to the walks). One morning we held the AkaMile Culinary Tour that featured stops at the coffee bar, one of the pantry markets, and the cafeteria! I know personally, my Fitbit stats on stairs climbed and steps taken significantly increased because of the AkaMile and have heard stories of many others that have seen increases in physical activity, too.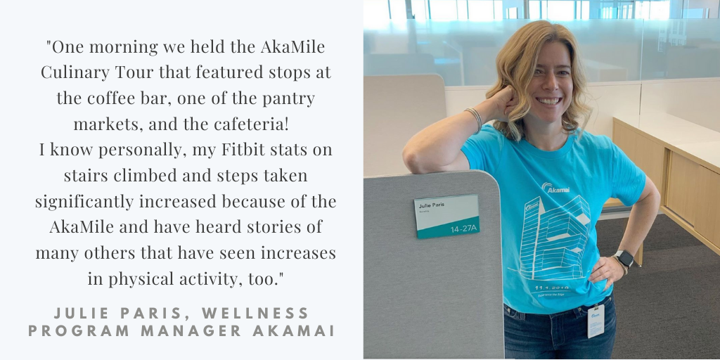 How do you go about deciding what is best for your people? How much do you listen to the market or visible trends? I ask this because you mentioned that while mental health is a top topic in the wellness world,  you noticed your team was more interested in physical activity programs.
I mentioned our wellness survey earlier. We've run that survey every 2-3 years and it's super important in planning programming. We ask employees how they are currently interacting with the wellness program or why they are not interacting, what topics they are interested in and how they would like them delivered (ex. One-on-one support, live webinars, mobile app).  In 2019 when we asked them which pillar of wellness they would like to focus on, in all of our regions "Active" was clearly top of mind. In response to that, so far we have started running a week-long fitness at your desk program each quarter, held a weekly "Living Room Workout" in April, and are preparing to run a virtual summer fitness series featuring different instructors each week leading a variety of fitness classes.
We certainly keep up with the market and regularly meet with vendors to learn about new offerings, but one of my favorite ways to learn about successful programs is through keeping in touch and chatting regularly with other people in the field.
While we're on the topic of mental health, what are your favorite methods (programs, apps, initiatives) that help your team with their mental health?
There is so much out there under mental health! My favorite resource to support mental health is a live person. I've met some wonderful experts that have presented to our employees on the topics of burnout, resilience, and noticing and responding to others facing issues related to mental health. Plus, we have wonderful meditation and yoga teachers regularly leading employees through classes. The benefit to finding people to work with is that they are willing to adapt their content to fit the needs of the audience.  The added benefit that they provide is that they are available to take questions from attendees and provide thoughtful responses.
Mental health might not sound as fun as a physical fitness program but it's a needed component to a wellness program. Almost everyone is working while maintaining relationships and passions outside of work. I'm sure there are times when everyone feels stretched thin or distracted.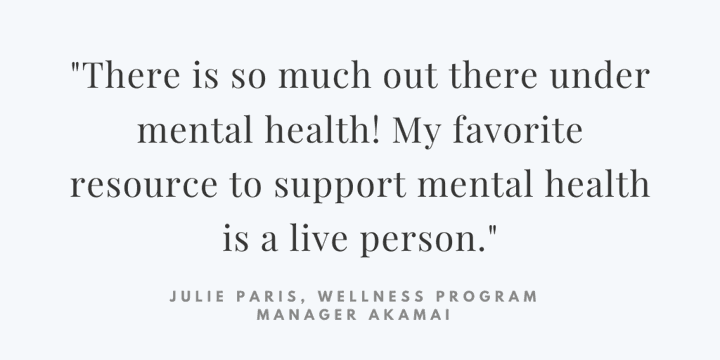 Corporate Wellness mid-COVID
What have been some of the ways you've supported your people mid-COVID?
In early March we organized a Coronavirus educational webinar for all employees globally which led to organizing more globally relevant seminars that provided education specific to the pandemic and the new way of working.  Employees learned from an ergonomist on how to set up their temporary remote workspace and from a licensed psychologist on how to identify and support colleagues that may be facing mental health concerns.
We are just announcing a new mental wellbeing tool that will be accessible to employees and family members.  Meant to be used when experiencing a crisis, it will help the person to understand their reactions and offer coping strategies.  It also includes information on what to do and, just as importantly, what not to do to support others.
Akamai is providing three additional days off over July and August!  The Akamai Wellness Days are unified time off to give us the time off without worry about mounting emails and missed meetings.
What advice do you have for people who are trying to support their people mid-COVID?
Offer chances for employees to get together virtually.  Have a local gym run some virtual fitness classes or have your in-house yoga teacher teach virtually.  Put together a sequence of simple stretches and hold regular stretch breaks over your conference technology.  Encourage people to use their first and last name when signing into the classes to help people get to know names, and encourage them to use video for at least the first few minutes and last few minutes to create a sense of community!
Prediction time! How do you think COVID-19 will impact the employee experience over time?
One of the good things to come out of the temporary work from home setting is that everyone has access to wellness classes. Yoga and meditation were held in Cambridge, but now that our teachers are teaching virtually any employee can hop into class! 
My hope is that there won't be a negative effect on how our physical bodies feel.  Movement and awareness of posture needs to remain in mind while people work from home more often. To help with this, partnering with the Global Real Estate and Workplace Productivity at Akamai, we ran ergonomics at home sessions over the past few months to help employees learn how to best set up what they have and to educate on the importance of walking around and switching from seated work to standing work.
I think we're going to continue to hear of the challenges faced as the line between our home and our office is blurred and may stay that way for a while. It takes some confidence to setup boundaries, and boundaries are different for everyone. Although setting boundaries must be done at the individual level, education coming from the company on how to do it could be extremely beneficial.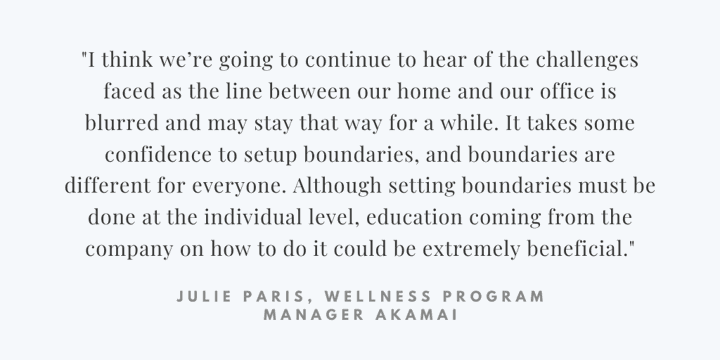 What is one of your favorite places to go to learn online?
I'm a member of The People Ops Society which is an online platform that allows members to share ideas, ask questions, post templates and write articles. Members are responsive to forum posts and resources are regularly created by the founders of the society. It's been a great spot to belong to!
Connect with Julie Paris on LinkedIn or connect with her on Twitter.
---
Compt is the #1 employee stipends platform that gives your people the freedom to choose the lifestyle perks that are best for them and their always evolving needs, even when remote. Interested in learning how Compt might benefit your company? Consult with our team or request a demo.