With the Novel Coronavirus (COVID-19) dominating the news headlines, it has become essential to plan and communicate what this outbreak means for the operations of your organization.
As Coinbase put it in their planning and response document (linked below), "A key outcome we're trying to achieve is the protection of our *community* and the "flattening of the infection curve." Focusing on prevention and the decreasing of the spread is a better response than dealing cure.
Whatever your policy is, it's important to communicate it clearly, quickly, and with empathy. Julie Li, VP of People at Stella Connect who is no stranger to nuance, had this to say in a recent Lattice piece on responding to the coronavirus, ""How do I communicate in a way that is telling people the facts and is reassuring, but not panic-inducing? We need to meet people at their comfort level."
Below are some resources to help you develop and communicate your company's policies around COVID-19:
Examples of companies and their policies, communication plans, and procedures:
Common themes among them include:
If your company has not already instituted a work-from-home policy, then people who are coughing, sneezing, or feeling ill should work from home for 14 days from end of their symptoms.
Banning all company travel until April 4th, or until further communicated. This includes traveling between offices, as well as traveling to conferences or events. 
If someone has taken a flight in the past week, they should be put on self-quarantine for 14 days from their return date. Since flying introduces a new level of risk, this precaution can help prevent further spread.
If team members have a flight coming up, they need to self-quarantine for 14 days after they return.
Update any in-person office meetings with team members or office visits with guests to virtual meetings.
Encourage your team members to avoid large groups of people.
If you have company-wide events such as company meetings, happy hours, or President's Club planned move to virtual meetings, reschedule or or cancel them.
Lastly, if you're still bringing snacks or catered lunch into the office, either cancel them or scale back. 
Additional resources: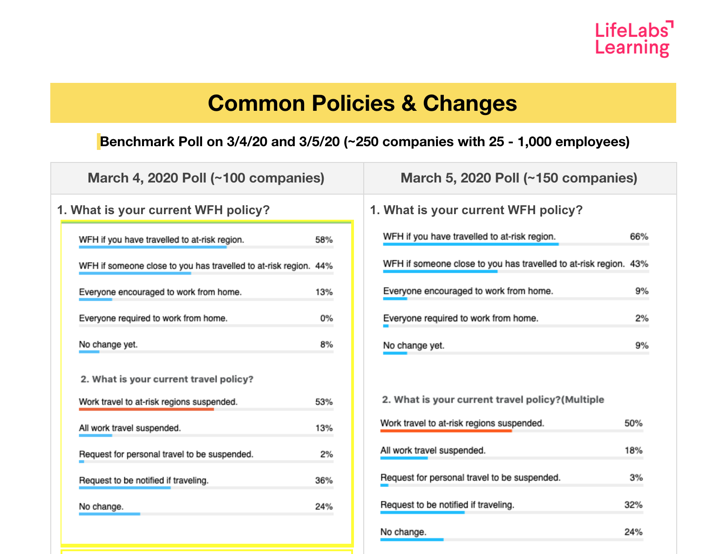 Tools and software to help your team transition to remote work:
If your company has a policy that you'd like to share or you believe there are some additional resources we could add to enhance this post, please reach out. 
---
Compt is the #1 employee stipends platform that gives your people the freedom to choose the lifestyle perks that are best for them and their always evolving needs, even when remote. Interested in learning how Compt might benefit your company? Consult with our team or request a demo.