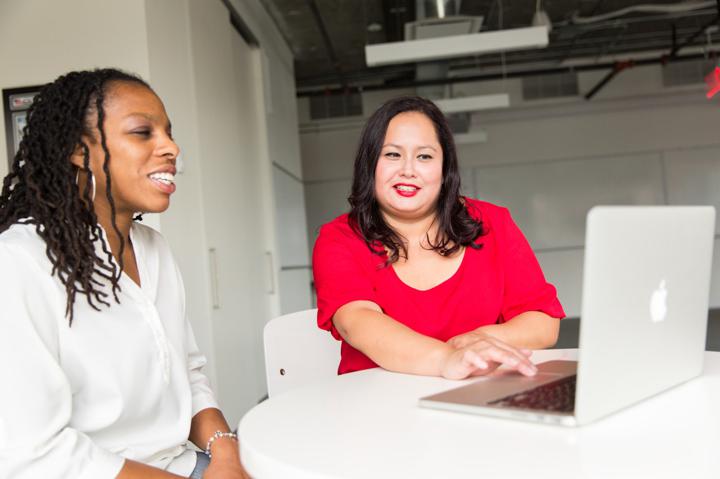 Open enrollment is the time when employees can sign up for benefits, such as health care. It's a way to make sure that your employees are covered and taken care of. It's also a way to make sure that you are not missing out on any opportunities for your company.
There are many different ways to help your employees with open enrollment. Some companies offer incentives, such as gift cards or other prizes, in order to entice their workers into signing up. Others provide information sessions where they can answer any questions they may have about the process.
To help HR teams best support their employees to make the most out of open enrollment, we asked HR managers and business leaders this question for their best insights. From setting up a dedicated coffee break to answer questions to helping employees personalize their benefits package, there are several tips that would guide HR during open enrollment to help employees take full advantage of all the benefits available to them for their needs.
Here are 10 Ways HR teams Can Support Employees During Open Enrollment:
1) Set Up a Dedicated Coffee Break to Answer Questions From Employees
2) Educate Employees on the Benefits Available to Them
3) Don't Leave Education to Automation
4) Offer One-on-One Assistance
5) Hold a Benefits Fair
6) Develop an Effective Communication Plan
7) Create an Open Enrollment Hub on the Company Intranet
8) Get Employees to Appreciate the Full Benefits Package
9) Bring in a Healthcare Agent or Broker for a Q&A Session With Employees
10) Help Employees Personalize Their Benefits Package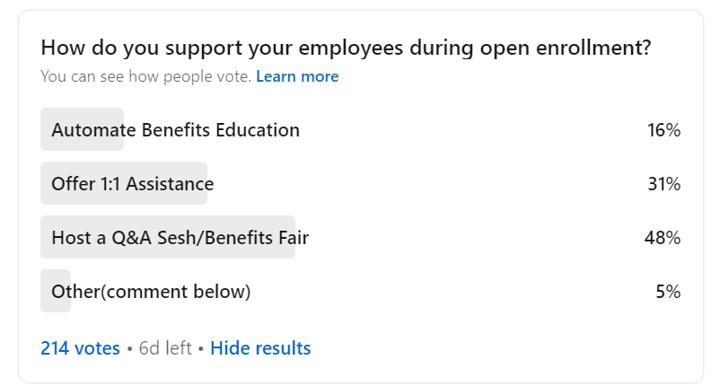 1) Set Up a Dedicated Coffee Break to Entertain Questions From Employees
One of the hardest parts of open enrollment for employees is finding the time to get informed about offered benefits. People are slammed at work and don't have idle time to watch webinars at fixed times or read lengthy emails. John Ross, CEO of Test Prep Insight, says, 
One cool thing I've seen HR teams do is set up dedicated 'coffee breaks' in the break room, where employees can pop by and ask any questions they have during open enrollment. 
During mid-morning and mid-afternoon hours, when people take breaks most frequently, an HR team member can grab a corner spot in the break room and essentially hold open office hours. Employees can pop by 5 minutes while they're having a coffee and ask any lingering questions they might have, or just chat about their options. 
Ross explains, "It's all about accessibility. And there's generally nothing more accessible than an HR team member sitting in the break room next to the coffee machine ready and willing to take questions."
2) Educate Employees on the Benefits Available to Them
Your communication should start with defining what open enrollment is, as new employees may not be familiar with the terminology. From there, share any important information that they need to know, such as the dates open enrollment begins and ends, overviews of benefit packages, any major changes from the previous year, and 'how to' documents that walk employees through the enrollment process. 
Mark Pierce, CEO, Cloud Peak Law Group, says, "When it comes to informing employees about open enrollment, there's no such thing as too much communication nor can it start too early." Send information and reminders multiple times via multiple channels so that employees simply can't miss or ignore it.
3) Don't Leave Education to Automation
Technology platforms can help educate your team about open enrollment options, but don't let these valuable tools be the only ones in your tool belt. Open enrollment is too essential to completely leave to automation, especially for teammates who may not be naturally tech-savvy. Ruben Gamez, Founder & CEO of SignWell, encourages one-on-one conversations and reaches out to each team member individually to book a meeting to discuss their options. Gamez says, 
Walk them through their best solution while you show them how to use the platform. Leave the door open for them and check in with them afterward to help answer any follow-up questions.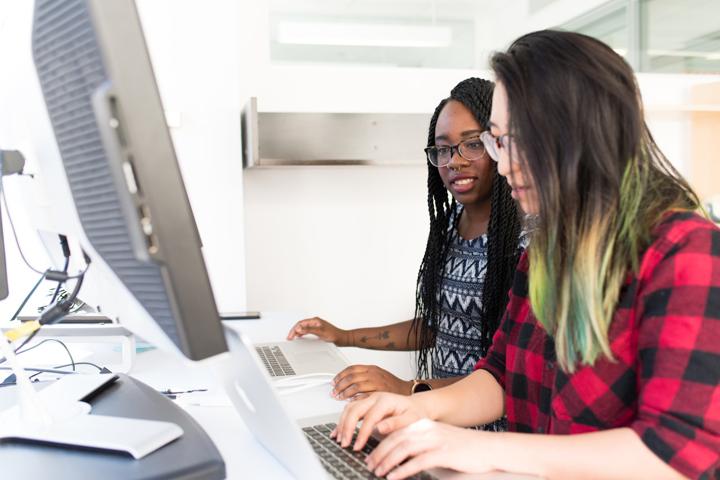 4) Offer One-on-One Assistance
HR teams need to offer a personal touch. Yes, employees are often self-starters who like to be more independent, especially in our remote world.
Karim Hachem, VP of eCommerce of Sunshine79, says, "When it comes to choosing a health plan, it's good for employees to have one-on-one support so they can find the exact plan that fits all their needs. 
For example, studies have shown just over 10% of employees chose a self-service option when setting up their benefits, meaning that nearly 90% of employees would like to have a dedicated person to talk to about their benefits and walk them through the various options. When your HR team offers one-on-one meetings and assistance to help your employees choose the benefits that fit them, you are supporting your employees' best interests and creating a healthy and happy team.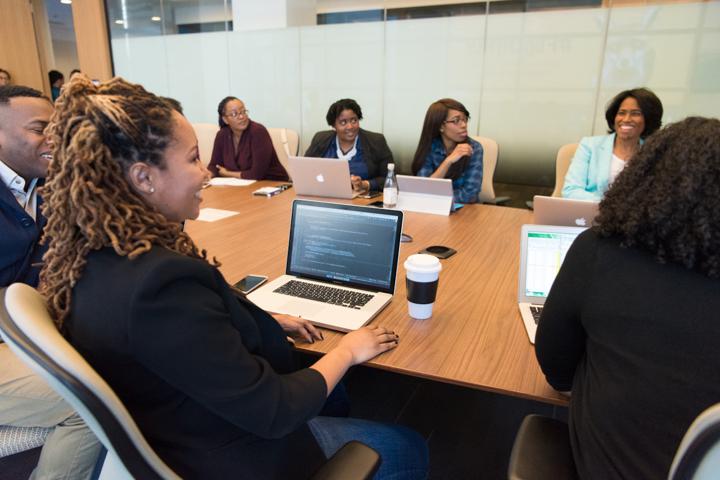 5) Hold a Benefits Fair
One example of how HR teams can support employees during open enrolment is by holding benefit fairs. Wendy Makinson, HR Manager, Joloda Hydraroll, says, "Benefit fairs allow employees to learn about all the different benefits offered and ask questions about them." 
HR teams can also use surveys to collect employee feedback on the benefits offered and make changes accordingly. HR teams can ensure that employees have a positive experience during open enrollment and get the most out of their advantages.
6) Develop an Effective Communication Plan
As open enrollment looms, it's important for HR teams to ensure their communication plans take into consideration the needs of all employees. By doing so, you can help ensure a smooth and stress-free open enrollment process. Nir Leibovich, CEO & Co Founder of GoCo says, "When it comes to developing an effective communication plan, it's important to consider the needs of your employees." 
This means taking into account things like who the primary stakeholders are, clarity of communication, and the best platform for communication like email, SMS, or in person. Tori Rochlen, HR Consultant and GoCoach Holistic Development Coach, finds the most success in diversifying the types of communication explaining, "Everyone learns differently and has different needs."
I always hosted 2-3 live sessions where I presented the changes and left room for Q+A. These sessions were recorded to access later.
For 1:1 assistance, you can have "open benefits office hours" where folks join, ask their (non-confidential) questions, and sign off. Have a couple of office hours a week, and employees are likely to find 5 minutes in their busy schedules to attend.
HR teams should also take the time to listen to employees during open enrollment. This will help them better understand what employees need and want from their benefits package.
7) Create an Open Enrollment Hub on the Company Intranet
To help employees access updates in one place, use an online portal on your company's intranet with recorded trainings, posters, one pagers, and resource links. Rochlen calls it the "OE Hub." This will help employees who are a little more self-sufficient and serves as a place you could send folks after you speak to them directly. 
Tip:

For the recorded sessions, if you have the means to break out the presentation by topic (medical, dental, vision, life + disability, etc.) employees can go straight to that segment, rather than watching the entire recording to find what they are interested in.
8) Get Employees to Appreciate the Full Benefits Package
We often focus on health insurance during the open enrollment, but make sure other benefits are also considered. Employees need to make selections keeping in mind all their benefits. 
Kyle Basett, COO of Altitude Control says, "One of the best ways to reduce rising healthcare costs is to encourage other less-pricey perks or lifestyle benefits that help employees save their hard-earned money." Such benefits are offered to employees who understand the bigger picture and are willing to invest in their overall health, well-being, and financial security.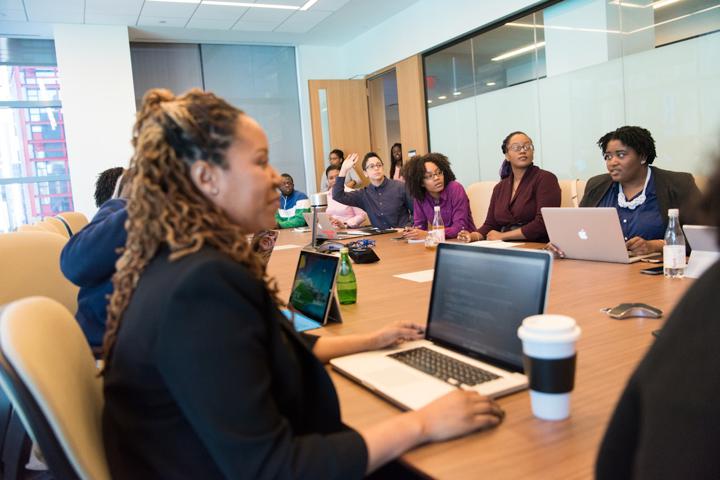 9) Bring in a Healthcare Agent or Broker for a Q&A Session With Employees
During the open enrollment period, Alaina Ross, Co-Founder of Sleep Family recommends bringing in a local healthcare agent or broker for a Q&A session with employees. Ross finds this is the most effective and helpful way to get employees the answers they need regarding healthcare plans. 
In the past, I've tried to put together one-pagers and charts for employees to review, but oftentimes, this just leads to more confusion. However, by bringing in an expert, it allows employees to get direct answers on specific questions that may not be covered in the standard benefit packets that insurance companies provide. 
As a result, employees feel much more confident and comfortable making a decision as to which healthcare plan best suits the needs of themselves and their family.
10) Help Employees Personalize Their Benefits Package
Open enrollment is a great way for employees to make adjustments to their benefits package depending on their needs. They might be more interested in one benefit over another, or might not even know what they need to change at all. This is where HR can be a huge support in guiding employees to discover the importance of each benefit so employees can decide what to prioritize and what to let go.
Alex Mastin, CEO & Founder of Home Grounds, says, "Helping employees through the process of eliminating any unnecessary benefits can help them personalize their benefits package to their own preferences, which can keep them at the company longer because they don't want to give up their specialized benefits package." 
Personalizing benefits to meet the needs of different employees is a helpful way to meet everyone's needs. People have different demands when it comes to health and lifestyle, and acknowledging that one size doesn't fit all is a progressive way for HR to make sure each employee is taken care of and satisfied with their work experience.
Learn how to offer personalized perks to fit your employees' unique needs. Discover the most popular employee benefits in the 2022 Perks Study.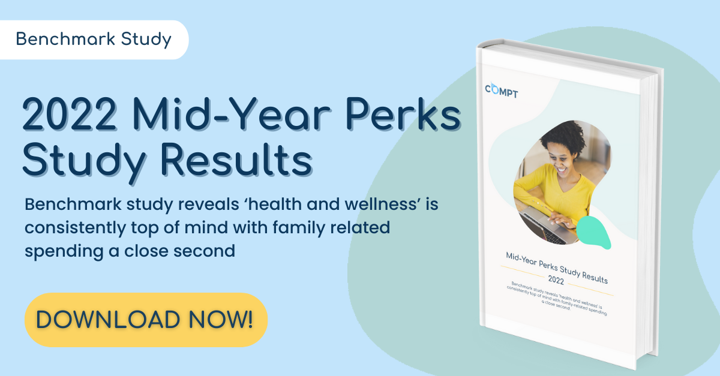 About the author:
Kisha Velazquez is an HR tech content marketing leader and Compt's Senior Content Marketing Manager.