2. Complete a stop, start, continue, change analysis
Free coffee, snacks, happy hours, coffee baristas, and more. Chances are, you already offer some perks to your employees.
Before you add more to the equation, you should review the perks already in place and determine if they're worth continuing, changing, or stopping altogether.
Ever heard of the start, stop, change, or continue framework before? It's a popular change management framework used by companies everywhere who want to complete an analysis of a program or service.
We recommend using this framework for this process. However, we know you might be tempted to use an Employee Engagement Survey instead. While many companies use them, and most often once a year, they're often trying to learn multiple things at once and solve multiple HR goals. If you're developing a perk program from scratch or rebuilding one, we recommend taking a different approach, one that is more targeted to learn usage, determine ROI, and gain feedback directly related to your employees and their wants and needs for their perk program.
Remember, get feedback from employees.
To make this the best program your employees have ever seen, it's best to get the input from as many people as possible.
Think about it; a product manager would never develop a product without talking to their users. A designer wouldn't roll-out completed designs without doing UX research first. A marketer wouldn't create content without talking to prospective customers to identify their problems first. This is the same thing, except your stakeholders or "customers" are your employees.
We know it can be impossible to get input from everyone, but if you do go beyond your immediate HR or People Operations team to gain insights, take it one step further and set a goal for how many people you'll survey and which areas of the organization they're from. Approaching this analysis with purpose and thought will ensure more success in the end.
As Abraham Lincoln once said, "Give me six hours to chop down a tree and I will spend the first four sharpening the ax."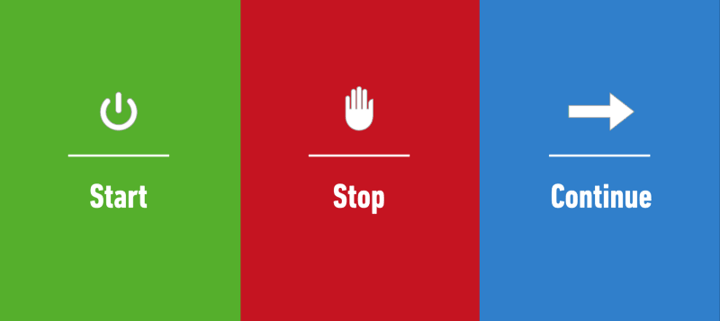 Below are questions to ask yourself, team, and company for the stop, continue, change, start framework:
Stop
What is not currently working in our organization?
What perks no longer serve their original purpose?
What perks no longer align with our company's values, purpose, or goals?
What are perks that we can confidently state are no longer adding value to employees lives?
What are perks which take too much time, money, or energy and have low adoption?
Continue
What is working well in our organization and should be continued? If you aren't surveying others, ask yourself or your team, "How do we know?"
Change
What is working so well that we should consider increasing spend, availability, or find complementary perks?
What's working but not as well, so we should consider decreasing, spend, offering, etc.?
Question directly for HR team: What is something that works but should be adjusted based on feedback, or be repositioned based on new company direction, goals, etc.?
Start
What should we have in place to improve our organization's perks?
What are perks which align with our company's values, purpose, goals, or new focus?
Question directly for HR team: What are perks which our employees have stated they want via previous feedback surveys?
If you want to learn more about completing an analysis like this, here is some helpful reading.
If you are looking for some ideas for new perk programs or company initiatives, check out our Company Culture Index for inspiration.