4. How to select the best company perks
Not all company perks are created equal.
That's why we've created the 4Cs and 1P framework.
It's a tool that HR managers use to ensure their employee perks are being approached thoughtfully and proactively. 
Our goal is to help companies everywhere be more balanced and inclusive with their perks. We talked with many HR professionals about their perks programs, and from these conversations, we noticed four distinct methods for thinking about perks and how to select the best ones for an organization.
The first thing to consider when offering perks are their purpose.
1. First, consider the perk's role or purpose
Each perk has a purpose associated with it -- i.e., the reason it's being implemented at an organization.
Reflect on the difference between offering your employees catered lunches versus conference allowances.
The purposes of perks can be broken into five distinct categories, what we refer to as the 4C and 1P:  Convenience, Career/Continuing Education, Community, Personal/home-life, and Contribution.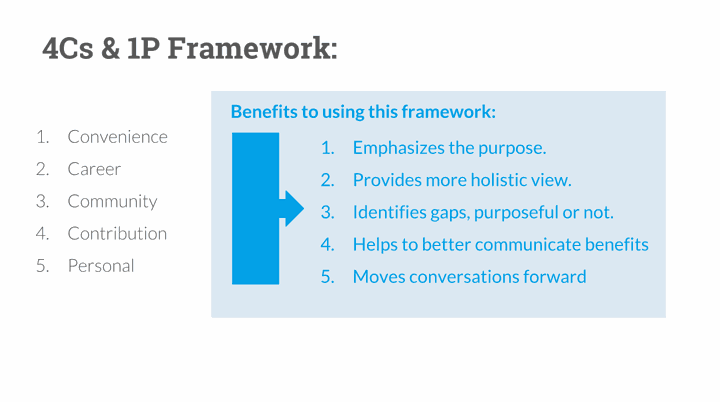 Convenience
Convenience perks are all about adding a level of comfort to an employee's life. Not having to leave work to accomplish some essential errands can be a huge time saver. There are two types of convenience perks - ones that employees pay for and the ones they don't.
Perks like in-office dry cleaning, car washing, and manicures are brought into the office to save the employee's travel-time or organizing, but they're still often paid for by the employee.
The other category is the convenience where companies pay for them and include perks such as coffee, snacks, catered lunches, and beer.
Continuous education/career
The goal with continuing education perks is to assist employees in developing further mastery with their craft. When employees learn more, they're more intrinsically motivated, more productive, happier, and that positivity flows throughout all of their work. If they're a leader or a person who leads without the title, this positivity can be contagious and permeate other employees and their work as well.
Perks like conferences, books programs, paid online training or seminars, and professional organizations all educate employees and can all meet this perk need.
Community
Organizational Behavior expert, Adam Grant, recently released new research on what employees care about, and it's these three things: career, community, and contribution. While most people don't realize it, the perks offered at a company can increase the community element tremendously.
Community is a sense of connection and belonging. Community is feeling respected and cared about.
Perks like in-office yoga or meditation sessions, company-sponsored Toastmasters memberships, extracurricular sporting teams, or happy hour lead to increased community and personal growth.
Personal/home-life
Personal or home-life perks apply to the perks that they'll use outside of the office and can be used to make them more balanced, fulfilled, and whole which will have an impact on their work. This includes health & wellness perks like discounts on gyms or health & wellness perk allowances. It also includes perks such as tuition assistance, pet insurance, daycare support, or egg-freezing.
Contribution
Defined as supporting employees in their contributions to helping causes.
Contribution-categorized perks are creating a policy around volunteer-days, running a company-wide charity like bringing in canned foods for the hungry or school supplies for needy children, and even offer matching programs for charitable giving.
If perks were a pyramid similar to Maslow's Hierarchy of Needs, contribution would be at the peak.
Those are the main purposes that most perks have, though some might not fit squarely into a particular category. Often there's overlap, which is excellent. If you can find perks that fulfill multiple purposes, you'll be able to offer more value to your employees and give them the best possible experience.
Though the purpose is an important idea to keep in mind when selecting perks, it's not the only one. There's still cost, employee use, and impact that still have to be considered.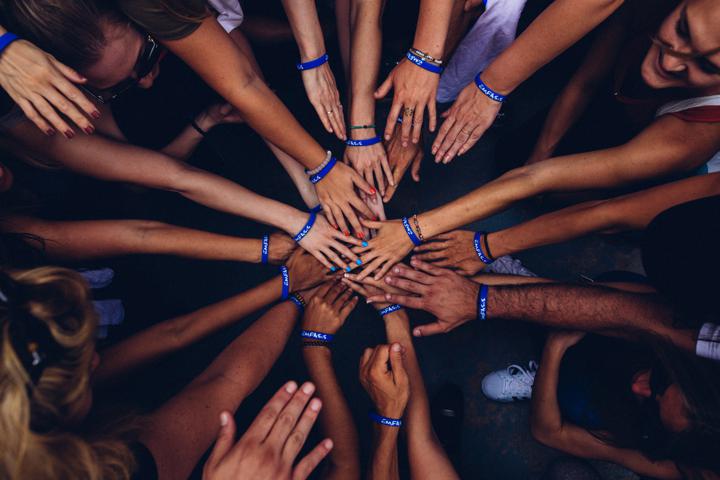 2. Next, think about how much perks cost
Perks can range anywhere from free to thousands of dollars per employee.
While we believe company culture shouldn't be about the size of your wallet but the size of your heart, it's true that companies with bigger pockets can offer more expensive and specialized perks.
That's why large organizations can afford to cover tuition reimbursement, egg freezing, and gender-affirming surgeries.
If you're an organization with a tight budget, company perks are not out of reach. However, they might require more creativity and come in the form of a company culture initiative.
Instead of offering gym passes or installing an on-site gym, develop a free "100 Push Up Club," create a company-wide 30-day challenge where everyone picks their own goal or develop a fitness contest where the winner receives a prize like a Fitbit, a pass for a free massage, or whatever else might be related to the contest.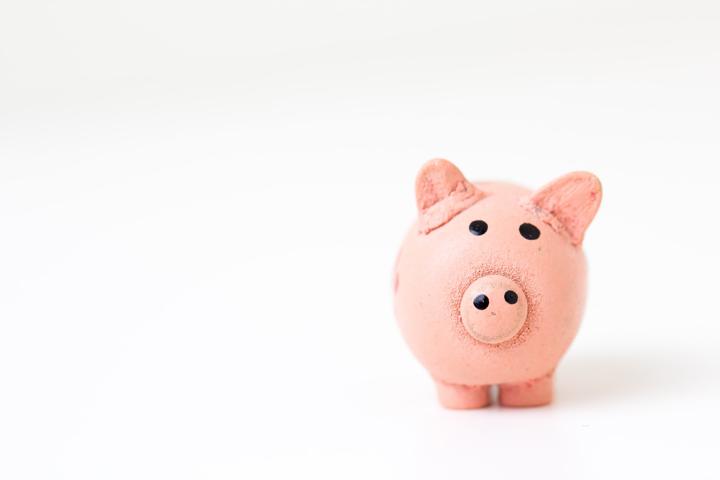 3. Consider how many employees they'll support 
Thinking that all perks will apply to everyone is an outdated line of thinking.
When perks were brand new and everyone was happy to have something extra in their office, people were appreciative of everything and anything. Nowadays as more companies offer more perks and the employee experience is becoming increasingly personalized - employees want perks that are customized to them and their needs.
Take providing beer for example. While beer used to be an excellent starting point for offering perks, there is rarely an office where everyone drinks beer. Either some people are gluten-free, prefer wine, are new parents, and would prefer some other investment with that perk money, or are remote employees who cannot enjoy this perk at all.
Apply this line of thinking to all of the perks you offer and you can quickly see how lopsided your perks offering can become.
When thinking about your perks, be sure to give an honest assessment to how many people and who they'll apply to. Remember to consider your remote team too.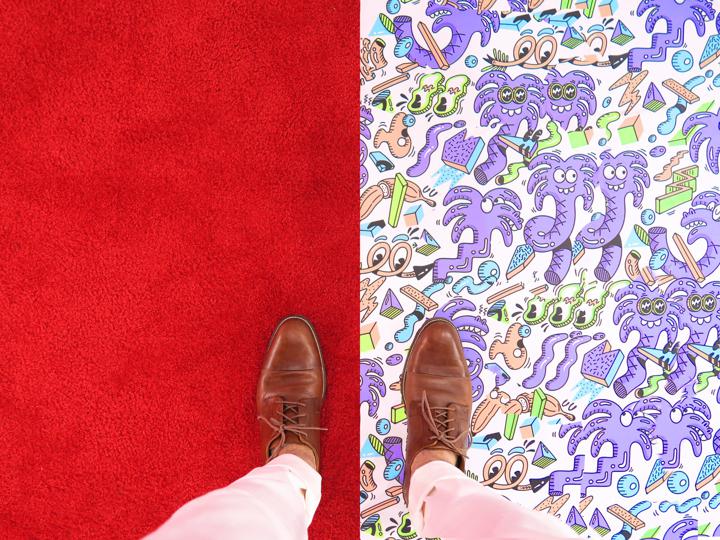 4. Lastly, consider the impact they'll deliver to an individual and the organization
Perks have different types of impact, as well as varying levels of impact.
With company perks, often there are two approaches to impact: proactive and reactive.
Proactive perks are ones that are offered because the company is proactively trying to align with new company values or industry trends.
Reactive is when companies are offering perks in response to their competitors or the industry, or they're realizing that there is something they need to address within their company.
An example of the latter type of reactive perks is a company noticing that the team isn't staying up on their craft anymore, so a company might institute a book program, a book club, or even give everyone a couple of hours of "learning time" per week for them to better hone their skills.
There you have it.
Those were the 4 top things to think about before you add a new perk. 
Some of the other considerations addressed less often when it comes to picking a perk are:
how easy it is to implement
the time it takes to manage
and how it will scale as the company grows.
Ultimately, before deciding on your company's new office perk, it's important to have an idea of what goal you're trying to accomplish, and where it falls on a spectrum of money, employee application, and impact.
If you want to read more to decide which perks would be best for your team, check out The 7 Best Employee Perks for 2021.