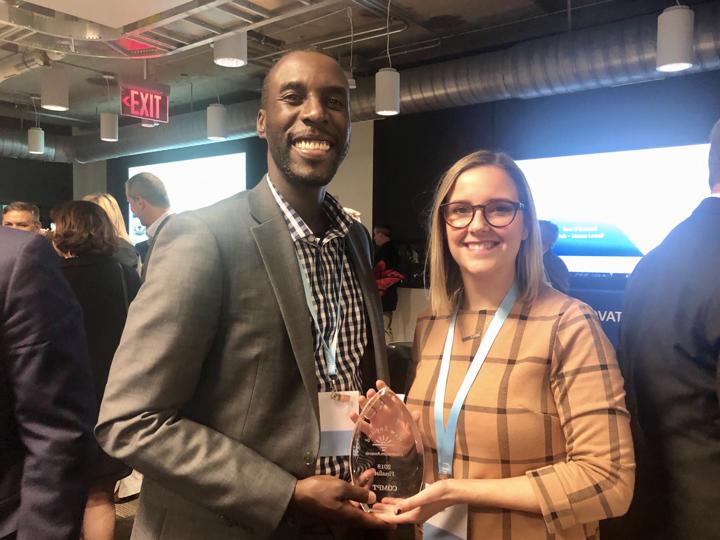 After pitching Compt earlier this year, we found out we were selected as finalists for a prestigious New England Innovation Award. Last night, we attended NEBA's 2019 New England Innovations Awards ceremony to celebrate the finalists, and find out the winners for 2019.
When I first heard we were finalists, I was honored.
Then when I met with Sophia Kambanis, it began to sink in, the magnitude and just how big of an honor being selected as a finalist is. When she told us about the other finalists one brought tears to my eyes (CareAlign) and another gave me chills (Pong Robotics). These innovations were not just cool, they were wildly advanced and making meaningful differences for so many people. To be selected as a finalist is really something special.
Now I know when we talk about perks, everyone thinks something different. Some people think of growth and support and others think about entitlement. Some think beer and ping pong and others think of gym memberships and onsite dry-cleaning.
At Compt, we believe that if the world was to build perks from the ground up today, we wouldn't build the system that we have in place. We'd build something where people can be given access to what they truly want and need which will have a genuine, measurable impact on their life. For example, giving the person the chance to splurge on an online course so they can master their craft and get a deserved promotion. Or letting someone comfortably spend $30/month no questions asked on a mental health app so they can meditate after work to be more present with their family. Or maybe taking the stress off of an employee's back by helping them pay down their student loans.
The system that I'm talking about that should be built, is what we're building at Compt.
Our customers are using various stipends to achieve this depth of connection with and for their team members every day. In just the health and wellness spending category alone, we've seen someone buy a half-marathon race ticket to run their first-ever half, someone else purchased a massage to improve their posture after breastfeeding their firstborn (me!), a third bought hiking boots because he and his wife love to hike together, and thousands of other personalized purchases just like these that help people meet their goal of becoming and staying healthy.
We're all different and have different needs and we think when perks account for that, the contribution and value to the employee isn't just beer or catered lunches, it can become so much more.
We believe we're currently barely scratching the surface of what perks can achieve for employees and employers alike.
Thank you Kathleen Harrison for nominating us, Sophia for your hard work on managing this massive undertaking of the New England Innovation Awards, our customers and the Compt team for dedicating their hearts and minds to helping people achieve their life goals through perks, and for everyone else who champions and supports us in our mission.
It's an honor and a privilege to be alongside so many other remarkable companies (shown in the photo below) who have been finalists and winners of this same award when they were getting started.
Thank you again.