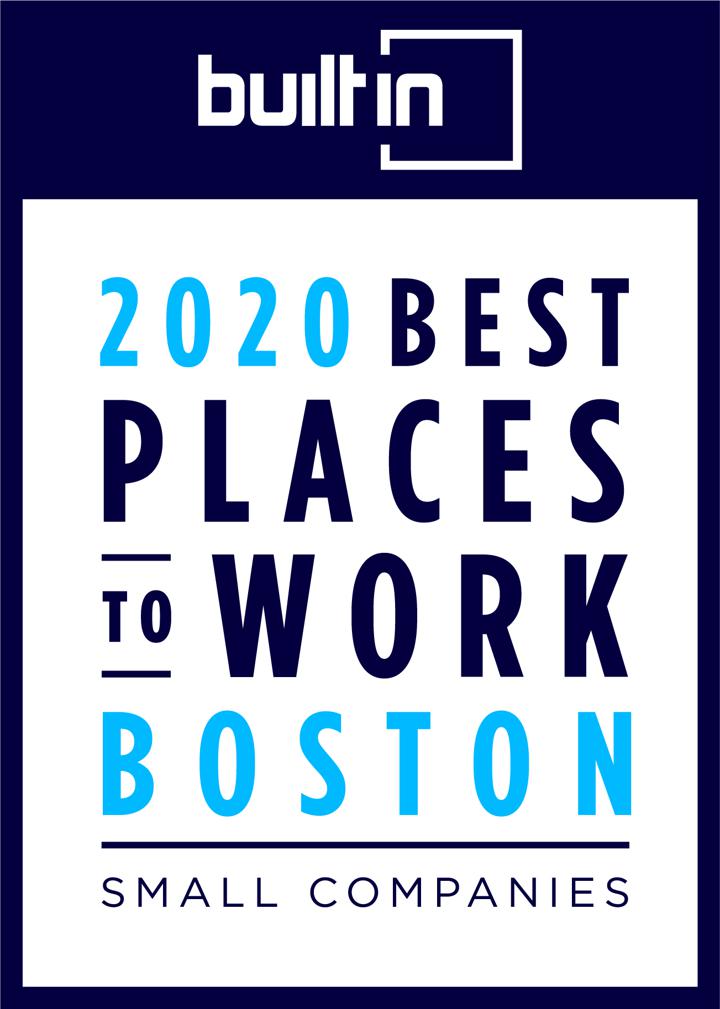 Boston, MA [1/13/2020] — Today we are thrilled to announce that we were included on Built In Boston's list of Best Small Companies to Work for in 2020. Companies are selected based on data submitted by companies and their employees.
In response to being selected, Compt CEO, Amy Spurling had this to say:
"We are honored to be nominated for such a meaningful award. We may still be a small organization, but we make doing right by every member of our team a priority. As a company, we believe that people should not have to negotiate to receive the compensation they deserve. When people are paid what they're worth and we remove the stress of compensation conversations from the equation, people can focus on doing their best work."
Maria Christopoulos Katris, CEO and Co-Founder of Built In, said: "We extend our heartfelt congratulations to our 2020 honorees. Built In aims to change lives by connecting talented tech professionals with jobs they were born to do. These companies have become part of that mission because they stand for more than just the work they're doing. They stand for their people and purpose." 
She added: "We also extend our gratitude. These companies exemplify what it means to be an employer of choice for today's purpose-driven tech workforce. Writing about them inspires us daily and, in terms of our offering, gives us total confidence that the professionals who visit our websites will find work that gives them a strong sense of professional and personal meaning." 
To see the other companies selected, you can view the list here. 
We'd also like to recognize and give a virtual high-five to the Compt customers who also made this year's list: LoseIt and Evolv Technology!
ABOUT COMPT:
Compt helps companies build, scale, and measure their perk stipends so that the individual needs of their team members are supported which means everyone is happier, more engaged, and every company dollar is tracked and well-spent.
ABOUT BUILT IN
Working in tech is a way of life. Built In helps people live it with purpose. Across the most vibrant tech hubs in the US, Built In helps tech professionals stay on top of tech news and trends, expand their networks and carve out futures at companies they believe in. Built In attracts a niche audience of 1 million tech professionals every month and, in 2019, the company hit a milestone, serving 1,100 companies annually. Built In recently launched BuiltIn.com, a national hub for tech trend coverage and resources to help professionals grow in their careers.
National Site: BuiltIn.com
Local Sites: BuiltInChicago.com | BuiltInLA.com | BuiltInColorado.com | BuiltInAustin.com | BuiltInNYC.com | BuiltInBoston.com | BuiltInSeattle.com | BuiltInSF.com
BEST PLACES TO WORK: METHODOLOGY
Built In's "Best Small Companies" list rates companies with less than 100 employees algorithmically based on compensation data and employer benefits. Rank is determined by combining a company's score in each of these categories.