The holiday season is rapidly approaching, and for HR leaders at people-first companies, it's time to consider how best to show appreciation to the amazing people who keep your company running smoothly all year round.
Finding the perfect corporate holiday gifts can be a challenging task, especially when aiming to be thoughtful and stay on budget, but don't worry! We've curated a list of unique and thoughtful gift ideas that will have employees bragging at holiday gatherings.
Musts for Picking the Perfect Corporate Holiday Gifts:
Personalization is Paramount:

A gift that feels tailored to the individual will always have a bigger impact. Whether it's by adding their name, choosing something aligned with their interests, or writing a personalized note – the extra effort goes a long way.

Quality Over Quantity

: A well-chosen, high-quality gift will always be more appreciated than numerous smaller, less thoughtful items. Aim for longevity and usability in your gift choices.

Align with Company Values:

Ensure that your corporate holiday gifts align with the company's values and mission. This not only reinforces the company culture but also resonates deeper with the employees.
1. Personalized Desk Accessories
Every desk can use a touch of personalization. Consider gifting sleek nameplates, mousepads, or even elegant desk organizers. This not only adds a personal touch but also helps in promoting a tidy workspace. A personalized touch shows thoughtfulness, which is always well received.
For remote workers, consider offering a remote work stipend so employees can personalize their workspace.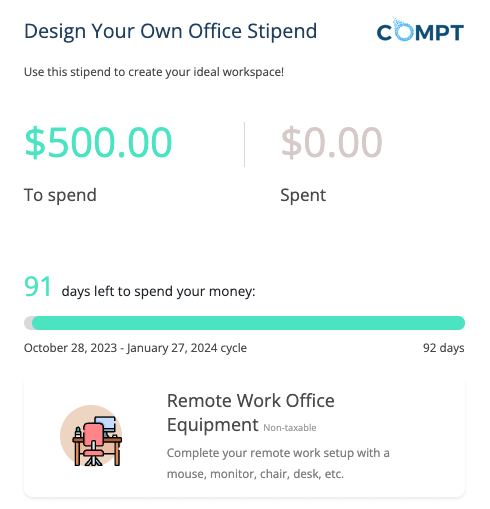 2. Professional Development Books
Empower your employees with knowledge. A handpicked selection of the latest bestsellers or timeless classics in leadership, personal development, or industry-specific themes can be both motivational and enriching. For a personal touch, write a short note inside explaining why you chose that particular book.
With Compt, you can offer employees a professional development stipend so they can get the resources they need to grow in their roles.
3. Health and Wellness Kits
With the growing importance of mental and physical health in the workplace, gifting a wellness kit is a thoughtful choice. This could include items like a yoga mat, resistance bands, essential oils, or even a subscription to a meditation app.
4. Tech Gadgets
Who doesn't love a new piece of tech? Consider headphones, wireless chargers, or even a high-quality webcam for those remote work calls. Tech gifts are both practical and exciting, ensuring they'll be used and appreciated.
5. Custom Company Merchandise
From elegant company-branded pens to cozy sweatshirts, branded merchandise is a great way to promote company pride. Ensure that the items are of high quality – this demonstrates that you value both the employee and the company brand.
6. Experience-based Gifts
Sometimes, the best gifts aren't tangible. Consider gifting experiences, such as tickets to a local show, workshops, or even a weekend getaway. An experience is memorable and offers a well-deserved break from the routine.
7. Subscription Boxes
Subscription boxes have risen in popularity in recent years. From gourmet coffee to monthly book clubs, there's a subscription box for nearly every interest. This is a gift that keeps on giving, reminding your employees every month of your appreciation.
8. Gourmet Food and Drink Baskets
A basket filled with gourmet chocolates, cheeses, wines, or even exotic teas can be a delightful gift for any foodie. It's a classic choice that rarely goes unappreciated.
9. Charitable Donations
For companies that prioritize giving back, making a charitable donation in the name of your employees can be deeply meaningful. Perhaps even let them choose the charity, ensuring that the cause resonates with them.
By the way, you can do this easily with Compt's charitable giving stipend.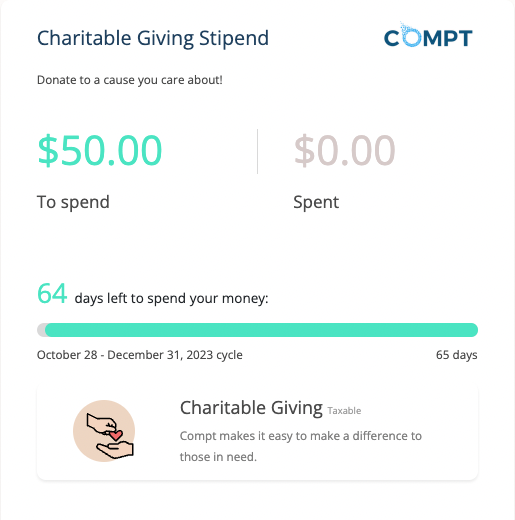 10. Virtual Classes or Workshops
With many employees still working remotely, virtual classes or workshops can be a unique gift. Whether it's a cooking class, a digital marketing course, or a pottery workshop, there's something for everyone.
Lifestyle Spending Accounts and Spot Bonuses: The Modern Corporate Holiday Gifts
In an age where flexibility and personal choice are highly valued, companies are exploring newer avenues to show appreciation to their employees. Enter lifestyle spending accounts (LSAs) and spot bonuses – modern approaches to corporate gifting that empower employees to make choices aligned with their unique needs and desires.
Lifestyle Spending Accounts (LSAs)
An LSA is a predetermined allowance given to employees to spend on specific lifestyle and wellness-related activities or products. This can range from gym memberships to art classes, from spa treatments to online courses. The beauty of an LSA is the freedom it offers: employees can choose what genuinely resonates with their lifestyle and purchase that item or service from their preferred vendor.
Why it's a great corporate holiday gift
LSAs demonstrate trust, giving employees the autonomy to choose how they want to enrich their lives. For HR leaders, it sends a strong message: "We care about your well-being and want you to choose what's best for you." Similarly, a professional development stipend is a tangible way of saying, "We believe in you and your growth."
Spot Bonuses
Spot bonuses are one-time bonuses given to employees for outstanding performance, or in this context, as a holiday gift. They are monetary rewards that can be used however the employee sees fit.
Why it's a great corporate holiday gift
Spot bonuses are a direct and immediate way to reward employees. For many, a year-end monetary bonus is a much-appreciated gesture that can help with holiday expenses or be saved for future needs. Lifestyle spending accounts and spot bonuses reflect a modern, flexible approach to corporate holiday gifts. They're not just about the monetary value but the empowerment and trust they signify. By allowing employees to choose or by directly contributing to their personal or professional growth, you're reinforcing the idea that as a people-first company, you recognize, respect, and reward individuality.
Incorporating LSAs into your corporate holiday gifting strategy can set you apart, ensuring your employees feel genuinely appreciated and valued.
Final thoughts
Selecting the perfect corporate holiday gifts is an opportunity to reinforce your company's commitment to its most valuable asset: its people. The key is to be thoughtful, genuine, and attentive to the individual needs and preferences of your employees. This season, go beyond the generic and gift something that genuinely shows your appreciation. Your employees will thank you, and so will your company culture.
Compt is the #1 employee stipend software, helping companies offer personalized benefits in a 100% tax-compliant manner. Schedule a demo to learn more about how we can help your organization attract and retain the best talent.