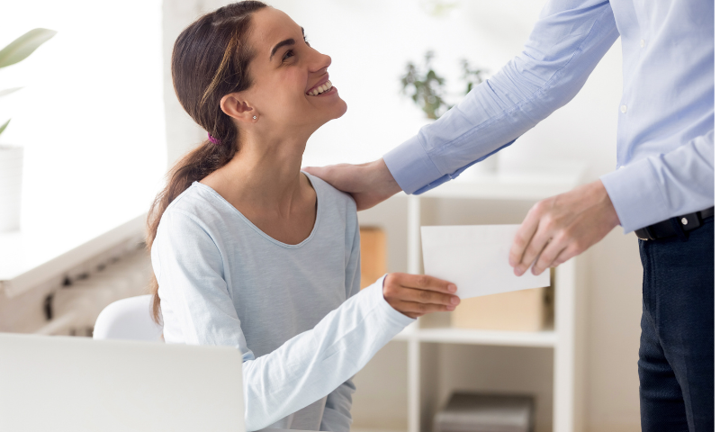 As the relationship between employers and employees continues to evolve, so do rewards and recognition.
Back in the day, a paycheck was considered a sufficient pat on the back. And after 35 or 40 years of service, an employee may have received a golden watch as a retirement gift, if they were lucky.
Expectations have since changed. As a result, workers are demanding higher pay, more benefits, unprecedented flexibility, and increased recognition for their contributions to to their employer.
While a pay raise isn't always feasible, HR leaders can still show appreciation for an employee's outstanding performance by giving out a spot bonus incentive.
In this post, we'll cover:
What are Spot Bonuses?
Benefits of Spot Bonuses
Other Types of Bonuses
How to Implement a Spot Bonus Program
What are Spot Bonuses?
Spot bonuses are spontaneous rewards that honor either team performance or an individual employee's performance. Generally decided by upper-level management, these "on-the-spot" bonuses are variable pay that typically range anywhere from $50 to $1,000 or more. However, some companies also encourage peer-to-peer recognition, in which one employee can nominate other employees to receive spot rewards.
As part of recognition programs, spot awards often come in the form of monetary rewards. But these employee bonuses can also be perks of the same value, such as:
gift certificates
digital gift cards
custom swag
gift boxes filled with sweet treats
extra paid time off (PTO)
a weekend getaway
Benefits of Spot Bonuses
If you want to attract top-tier talent, rewards and recognition should be a staple of your recruitment strategy. In this highly competitive labor market, instant rewards, such as spot bonuses, can be the difference maker that wins over job candidates.
When surveying key considerations for job seekers across different age groups, the Boston Consulting Group found that "appreciation for your work" rose in importance over time: potential employees aged 41-50 ranked it sixth, those aged 51-60 ranked it fourth, and those 60 and older said only "impactful and meaningful work" was more important. Interestingly, Gen Z (people aged 21 and under) also held employee appreciation in high regard, ranking it fourth.
In addition to boosting talent acquisition, spot bonus programs increase employee engagement, employee morale, and ultimately, employee retention.
Case in point: 2022 was a historic year for turnover, and it's no coincidence that 81% of senior leaders (that same year) admitted recognition wasn't a major strategic priority for their organization, according to a Gallup poll.
By prioritizing employee recognition, Gallup estimates that a large company (having 10,000 employees or more) with an already engaged workforce can save more than $16 million in attrition costs per year. That's because employees satisfied with the recognition they receive are 56% less likely to be looking for job opportunities, 5x as likely to see career growth potential at their current employer, and 4x as likely to be engaged, according to the poll.
Let's face it, top performers expect rewards and recognition. Employees feel appreciated when their manager or the top brass acknowledges them for going above and beyond. HR leaders can strengthen team members' dedication to the company by implementing spot bonus programs that reward employees and celebrate team achievements. After all, a spot bonus program motivates employees with a monetary incentive to exude positive behavior and company values while putting forth more effort in delivering better customer service.
Although a spot bonus program carries a price tag, it's actually a very low-cost initiative. Instead of having to adjust the budget to give star performers base-pay increases, employers can devote just 1% of payroll to spot bonus incentives, bestowing them upon a quarter of eligible employees on an annual basis. Because the spot awards aren't expected, employees won't feel slighted by receiving an amount that's less than their traditional year-end bonus.
Other Types of Bonuses
In addition to spot bonuses, there are other employee bonus programs HR leaders can implement to make employees feel appreciated. Of course, a company's financial position, specifically, whether there's room in the budget for such tokens of appreciation, must be factored into these bonus decisions.
By the way, did you know that Employee Appreciation Day has been around for nearly 30 years? Dr. Bob Nelson, a founding member of nonprofit Recognition Professionals International, founded it in 1995. Although the workplace holiday has yet to be universally adopted in the U.S., many employers hand out employee bonuses and other rewards to mark the occasion.
Annual bonuses/year-end bonuses
As the name suggests, an annual bonus or year-end bonus is given at the end of the calendar year to reward individual employees for their hard work. Upper-level management determines these bonuses based on a team member's performance, years of service, position in the company, and base salary.
Holiday bonuses
Holiday bonuses are similar to annual bonuses and year-end bonuses, but aren't always customized. For example, C-suite executives, including the CHRO, may hand out checks with the same lump-sum payment to all employees during the office Christmas party.
Sign-on bonuses
As part of your recruiting efforts, new company hires may receive a sign-on bonus, which could help cover relocation expenses, contribute to a less-than-desired salary, or just fatten the overall employment offer. In 2022, with employers scrambling to fill open roles, one-third of responding companies said they offered sign-on bonuses, according to a Salary.com survey. A weapon in the war for talent, it's often paid out in increments or in full after a certain amount of time to ensure the new hire stays at the company.
Referral bonuses
Another arrow in your talent acquisition quiver, a referral bonus can entice current staffers to suggest candidates for your open positions. Basically, referral bonuses incentivize employees throughout the company to become recruiters, advertising your firm to their network. Like a sign-on bonus, a referral bonus isn't paid out until the candidate is hired or has stayed at the company for a certain time period.
Retention bonuses
Rewarding employee loyalty, a retention bonus is often used to celebrate an employee's anniversary or to thank team members who've remained with the company for a specific amount of time. Because of the red-hot labor market, retention bonuses reached an "all-time high" in 2021, with nearly 60% of companies investing in them, according to a WorldatWork study referenced by Harvard Business Review.
How to Implement a Spot Bonus Program
Interested in rewarding employee performance with spot bonuses? Follow these steps:
Determine metrics for bonus decisions
If you recognize employees for every task they complete, you'll reduce the impact of spot rewards. Employers should hand out spot bonuses sparingly, reserving them for certain achievements or outstanding performance. By determining criteria that warrants a spot award, you'll establish well-defined behaviors that your entire workforce should want to emulate.
Decide on spot bonus type
You can send a physical gift or some employee swag, but we recommend giving employees choices. That's why the Compt platform is vendorless--a manager can decide the spot bonus amount and employees can spend with a vendor of their choice on a product or service they'll actually use.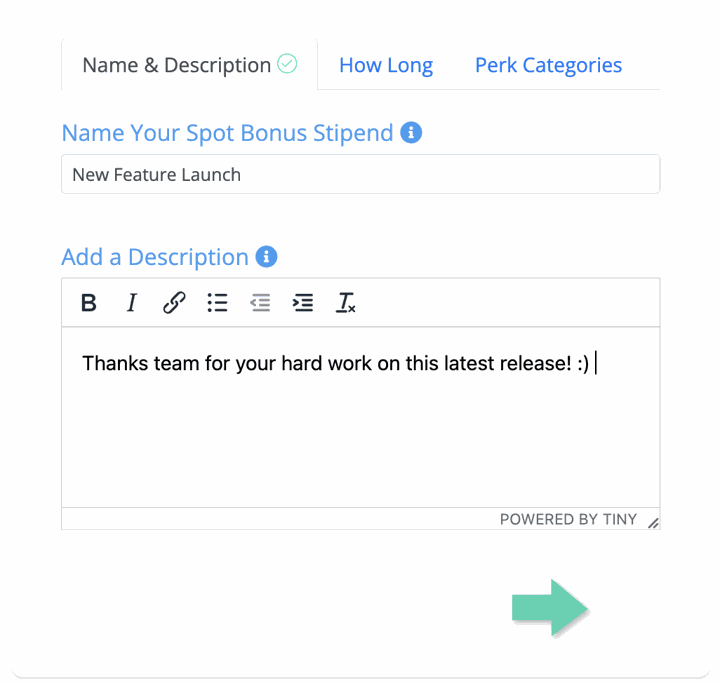 Remain neutral
Having spot bonuses based on that criteria will not only enable you to remain neutral, but also help prevent perceived bias. After all, if your top performers consistently receive spot bonuses, other employees will grow resentful and levy accusations of favoritism. That defeats the point of a spot bonus, which is intended to increase employee engagement and employee morale.
Reward immediately
"On-the-spot" bonuses lose their luster if employees have to wait for a convenient time to collect them. Instant rewards are supposed to be a good morale booster, so don't frustrate your star performers by dilly-dallying. Make sure your hard-working employees receive their spot bonuses ASAP.
Ensure tax compliance
As with any form of compensation for employees, it's important to account for taxes when handing out spot bonus incentives. That's why employers may want to partner with an HR technology provider, such as Compt. The 100% IRS-compliant reimbursement platform helps companies offer inclusive, personalized, and flexible compensation and benefits programs, which include spot bonuses and other rewards.
Compt's platform provides team recognition stipends that facilitate manager-to-employee recognition, as well as peer-to-peer recognition, in which employees can easily send spot bonuses to each other.
Final Thoughts
Recognition programs, which should include a variety of employee bonuses, are table stakes for attracting and retaining top-tier talent. To remain competitive in the modern landscape, employers simply must reward employees for their contributions to the business.
Although there's more than one bonus that can express gratitude to team members for their commitment, a spot bonus has the potential to inspire staffers, particularly new company hires, to exhibit positive behavior that will ultimately result in better customer service.
Plus, considering the return-on-investment (ROI), a spot bonus incentive is a very low-cost initiative. After all, a spot award can improve employee engagement, employee morale, and employee loyalty, which all lead to greater employee retention.
Looking for a spot bonus solution? Schedule your customized demo with Compt today.