Learning & Development Stipends
13. Slack
Tech company slack gives its employees stipends for both personal and professional development.
14. Buffer
Buffer, a software company, helps companies Build their audience and grow their brand on social media.
Here's the breakdown on what people spend their continued learning stipend on: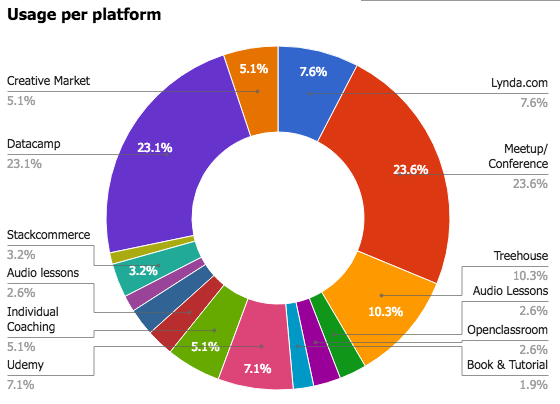 After analyzing their employee's usage of the perk stipend, they noticed that their people were using many different platforms to learn.
15 unique platforms to be exact.
How could HR or People Operations professional create a program that supports this diversity of need?
This is the power of a perk stipend.
15. Wyzant
Tutoring company Wyzant supports its employees with a generous stipend.
16. Help Scout
Tech company Help Scout supports their employees with an annual stipend. 
Learn something stipend: $1,800/year
17. Olark
Olark, the support tech company, gives its employees a stipend to use on their development however they choose.
Personal development budget: $2,000/year
18. Balsamiq
Design tech company Balsamiq, gives their employees a generous learning stipend to use as they choose. 
19. Smartsheet
Tech company Smartsheet gives its employees a stipend to use on learning-related items.
20. Relativity
Relativity, a software company in chicago, offers an annual stipend for continued learning. 
Continuing education stipend: $3,000 annually
21. Black Spectacles
Black Spectacles, an ecommerce & edtech company in Chicago, offers its employees a stipend for continued learning.
Continued education stipend: Unknown
22. Galvanize
Galvanize, a software development bootcamp company, offers its employees an annual stipend to put towards learning.
Education course stipend: $1,000/year
23. The Engine is Red
Creative agency, The Engine is Red, gives their employees an annual educational stipend.
Educational stipend: $400/year 
24. Indico
Indico, a software company, offers its employees a stipend from its learning and development fund.
25. Webflow
Webflow is a web-based platform for building, launching, and growing responsive websites visually. Their mission is to empower everyone to build websites and apps without code.
Continued learning: $1,000/year
26. LinkedIn
The professional social network LinkedIn may exist to help people improve their careers, but they're all about helping their employees live a holistic life, both in and out of the office.
Education stipend: $5,000/year