Organizational strategy is integral for any business, whether it is a startup or even a well-established multinational organization. Strategic planning involves some of the key business requirements including but not limited to resource allocation. This allows businesses to prepare a well-defined roadmap for the future. This roadmap and a clear set of criteria help all stakeholders work toward a single strategic business goal.
Some of the most successful organizational strategies are designed around a company's 'Vision, Mission, and Values.' These points must be indigenous to the organization for it to be really helpful in the development of a solid business strategy.
In this article, we will explore what an organizational strategy is along with the types and benefits of an organizational strategy. 
What is Organizational Strategy?
An organizational strategy includes a sustainable approach that enables your company to plan and leverage resources to achieve business objectives. It acts as a guide for how a business can achieve its goals. Businesses can use different types of organizational strategies to fulfill their business goals and create a strategic roadmap. 
More often than not, organizational strategies outline overall business objectives that need to be achieved. An organization strategy is the best possible way to build credibility and trust with your customers. For example, a cloud-based US phone number is an ideal way to build trust and easily connect with your customers, and you can include this in your organizational strategy.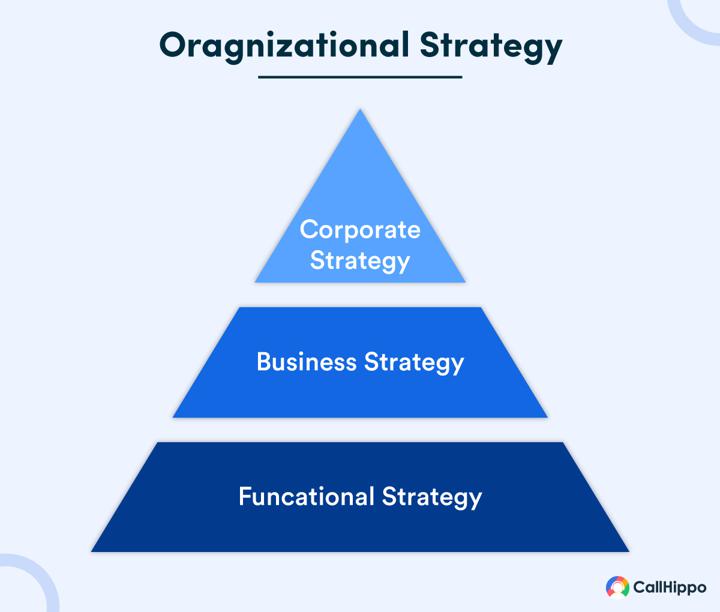 A sustainable organizational strategy can be divided into three distinct segments including:
Corporate Level Strategy

Business Level Strategy

Functional Strategy
Each of these three types has a significant role to play in the development of a holistic organizational strategy. Let us try to understand all three strategies in brief.
Types of Organizational Strategies
Corporate Level Strategy
Corporate-level strategy is the cornerstone of your business. It helps you determine your business objectives and impacts other business-critical strategies.
Some of the most commonly used corporate-level strategies revolve around:
Growth

Stability

Setbacks

Combination
For instance, if you are looking to penetrate a new market, you are focused on growth. The rest of your business strategies will revolve around business growth.
Business Level Strategy
A business-level strategy can be defined as a clear outline that integrates an organization's goals, policies, and actions with the focus on offering maximum value to customers. This needs to be done while maintaining a competitive advantage in the market.
A well-defined business-level strategy will establish your position in the industry along with maximizing profits. Moreover, it will also impact the effectiveness of how well you are able to serve your customers. An ideal approach is to incorporate different types of business-level strategies like:
Targeting a new market

Identifying what your target audience values

Considering competitive advantage 

Rebranding
Functional Level Strategy
A functional level strategy is a defined action plan to meet short-term, daily business objectives to support the corporate and business level strategies. In a nutshell, a functional level strategy allows your business to manage operational activities on a daily basis. 
It includes multiple functional areas like marketing, HR, sales, etc. Additionally, each department will have its own functional level strategy. 
What makes a functional level strategy stand out:
Optimum use of available resources

Focus on the corporate and business level objectives

Integration between multiple functional areas to achieve business goals
Key Elements of an Organizational Strategy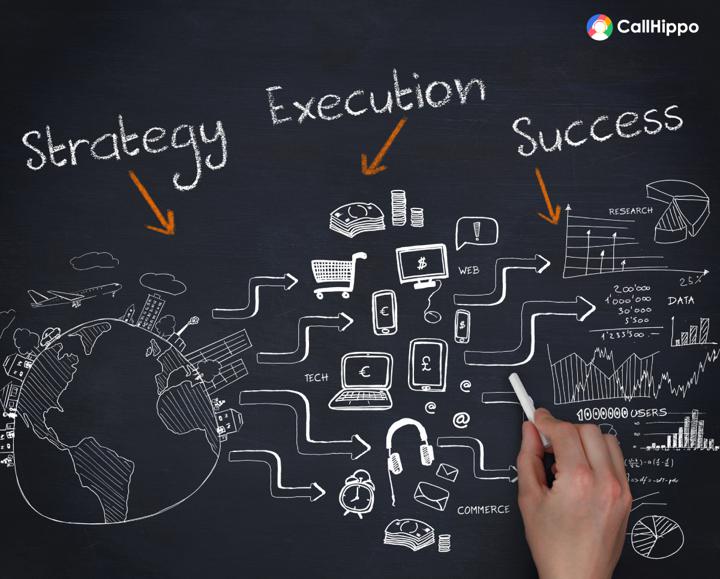 Vision
Setting the organization's direction - vision, mission, and business values - is the main idea of this element. It has become an increasingly critical part of an organizational strategy. Businesses must plan for three to five years down the line and include key stakeholders in this process to nurture a higher level of commitment and teamwork.
Concise Goals
Strategic goals are the ultimate goals for an organization. These goals determine the company's plans to meet the objectives. Having concise, measurable objectives enables a business to effectively evaluate its progress. These objectives must be communicated well to all the teams to ensure everyone is on the same page.
Resources
This element refers to the decisions which concern the most effective allocation of human and capital resources. Resource allocation includes planning, managing, and appointing resources in a way that allows the business to reach its strategic goals.  
Priorities
Setting priorities is a challenge for any organization. It is not always feasible to take advantage of all possible opportunities. This is because business decisions always come with an element of risk; organizations need to consider these factors into account to arrive at an optimum strategic mix. 
Benefits of an Organizational Strategy for your Business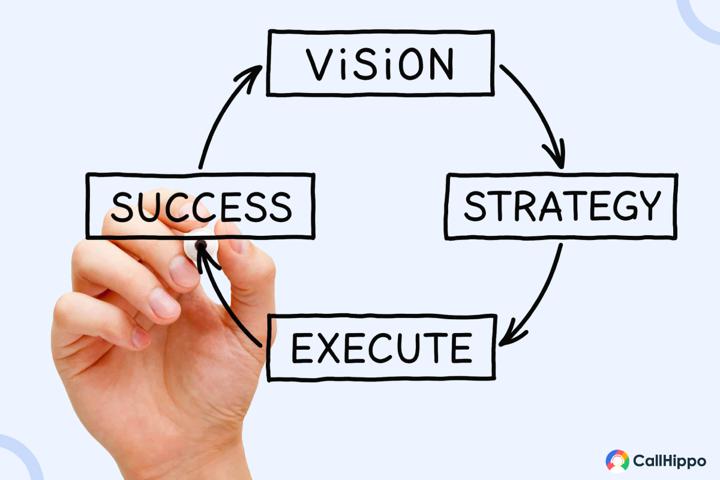 Organizational strategies may be overwhelming to develop, but it is crucial to lay the proper groundwork for your business as it can offer you some amazing benefits to grow. 
Determine Direction
A large part of developing an organizational strategy is thinking about your ultimate business goals and the steps required to meet them. It can help you set priorities and drive your business in a particular direction. By determining the direction, your teams can identify the steps that need to be taken to meet the functional level strategy. 
Decision Making
Once you have a well-thought-out plan for your organizational strategy, you won't need a lengthy decision-making process to achieve business objectives. The action plan has been defined already, which will help ease and expedite the process.
Adaptability
After the main decisions are taken care of, it is simple to adapt to any problems that may arise going forward. The organizational plan is intended to drive you forward and alter the strategy accordingly to meet the goals.
Teamwork
An important element of any organizational strategy is teamwork, which is directly dependent on all the stakeholders doing their part to meet the business goals. Working together toward a common goal produces byproducts like enhanced organizational processes and positive company culture. 
Robust Communication
When you have a clear organizational strategy, it can help you effectively communicate your plans to all the employees in the company. Without a proper organizational strategy, projects can become overwhelming for the employees due to the lack of clarity about their roles. By offering a general direction to the team members, you can help them fulfill their individual goals, which will be a huge plus for the organization. 
Steps To Create An Organizational Strategy for your business 
Here are some simple steps to create a long-term organizational strategy for your business.
Current Standing
Before you develop a killer organizational strategy, try to understand your current situation. It includes but is not limited to scheduling internal and external audits to get a clear picture of your customers and the industry. Moreover, it gives you a better understanding of your competitors to gain a competitive advantage. 
Chalk out the Important Values
Determine the objectives that you wish to achieve going forward so you can set measurable goals and work on them as a team. With established and well-known company core values, it becomes easy to assess if your activities align with those values, thus helping you thrive in a competitive market.
Business Transparency
It is easy to break down your organizational strategy into manageable steps and assign specific roles to individuals or teams. This includes communicating with internal teams about their tasks and goals frequently.
Cultural Aspect
A very important step in your organizational strategy is building a great corporate culture. Beyond creating a diverse, equitable, and inclusive workplace, it is important for everyone to be aligned with the brand. This includes having a consistent brand voice and tone when interacting with customers, in marketing materials, and in all other deliverables. For this to happen, you need to teach employees to be great brand ambassadors.
Periodic Review
Once you develop a great organizational strategy, it is important to conduct periodic checks to ensure everything is working according to plan. It is equally important to review parts of the business that are doing exceptionally well as well as areas in need of improvement. Frequent team meetings with the management team are crucial to discuss the organization's goals and ways to fulfill them. 
Examples of Common Organizational Strategies
Finally, we are going to take a look at some examples of commonly used organizational strategies in business. 
Business Growth
When you think about a growth strategy for your business, some examples include:
Diversifying and increasing your products/services

Increasing the sales of your current products

Expanding to serve different locations

Acquiring a competitor
Growth strategies can be expensive, hence why it is best to consider all possible options before you take a leap of faith. 
Rationalization
At times, adhering too strictly to a growth strategy can be detrimental to other areas of the business. Rationalization to increase operating efficiency is sometimes more valuable than firmly sticking to the original plan. Here, the idea is to restructure the teams, decrease the number of physical stores, and make the business process seamless to generate more profit. 
Bonus Strategy - HR Organizational Strategies
Establish Policies and Procedures: Create policies, procedures, and standard operating guidelines that define the roles and responsibilities of HR staff and management within an organization. These should include hiring, recruitment, onboarding/orientation, compensation/benefits administration, employee relations/engagement, performance management/evaluation, compliance with labor, safety, and financial regulations, and more.

Design a Recruiting Plan: Develop a comprehensive recruiting plan that will ensure the organization is able to attract top talent from within the community or industry. This should include strategies for networking with colleges, universities, and professional organizations, as well as utilizing job boards and other technologies to identify potential candidates.

Develop and Implement Policies: Establish policies and procedures that align with the organization's mission, vision, and values. These should include guidelines for hiring and firing, employee relations, performance management, training/development, diversity/inclusion initiatives, and other aspects of human resources administration.

Manage Day-to-Day HR Tasks: Oversee the daily operations of the human resources team, including staffing, payroll, employee benefits, and records management. Ensure that all paperwork is properly completed and filed in a timely manner.

Develop Benefit Strategies: Research and implement benefits programs for employees, such as health insurance, retirement plans, and vacation and sick leave policies, and

lifestyle spending accounts

, that are cost-effective and compliant with applicable laws and regulations. Monitor trends in employee benefits to ensure the organization remains competitive in the industry. Ensure compliance with any relevant governmental regulations related to employee benefits.
Final Thoughts
Creating a solid organizational strategy is the first step to pushing your operations in the right direction and ensuring that your business achieves all the important objectives. While developing your organizational strategy, it is imperative to include proper corporate level strategy, business level strategy, and core functional level strategy. 
Most importantly, always review your organizational strategy from time to time so you can ensure that your organization is set up for success.