Employee engagement can generate a 21% higher profitability for companies, and just a 10% increase in employee engagement metrics can increase profits by $2.4k per employee, per year. Engaged employees not only make for a healthier working environment, but they can clearly generate more revenue for a business. 
However, keeping employees engaged can be one of the most challenging tasks for any human resources team, especially when they're working remotely.
In this short article, we'll explore five ways to keep your workers motivated and productive using engagement tactics. 
5 ways to increase employee engagement in the workplace
1. Initiate employee recognition programs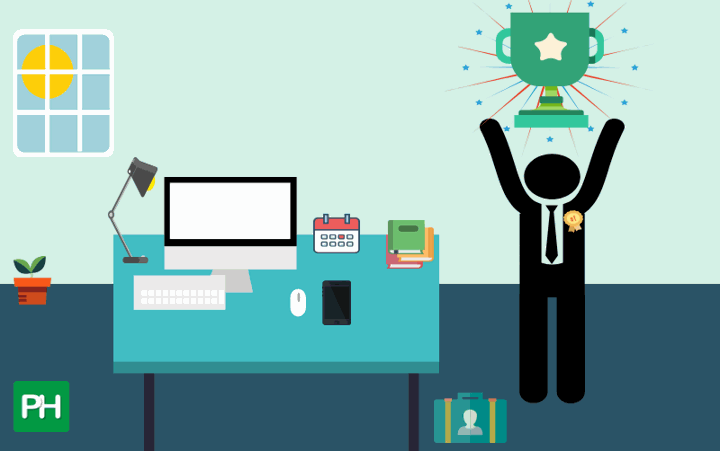 An astonishing 58% of employees say employee recognition is how leaders can increase employee engagement. Recognition is so important if you're looking to build a happy and engaged workforce. There are a few ways of recognizing and rewarding employee behavior and work ethic that you can try.
Bonuses: Not every business is in a financial position to offer bonuses, but if you are, they can be a substantial motivating factor. Be clear about bonuses as part of your compensation strategy. There's no point being vague here; people need to visualize their goals. 
Perks: A great alternative if you're not able to offer financial benefits. Tier perks depending on employee performance, a way to keep employees motivated and strive to perform better. 
Values Recognition: Celebrating those employees that are living your company's values in your monthly town halls or quarterly all-hands meetings. Who is leading the way toward your mission and should be exemplified? 
This will not only encourage that particular employee to keep living the value but also pave the path for others. 
2. Send employee feedback surveys
We're not referring to giving employee feedback here. This point is about allowing employees to give the business and business leaders their feedback. What's more, it is taking that feedback on board and showing employees that leaders are listening and acting on it.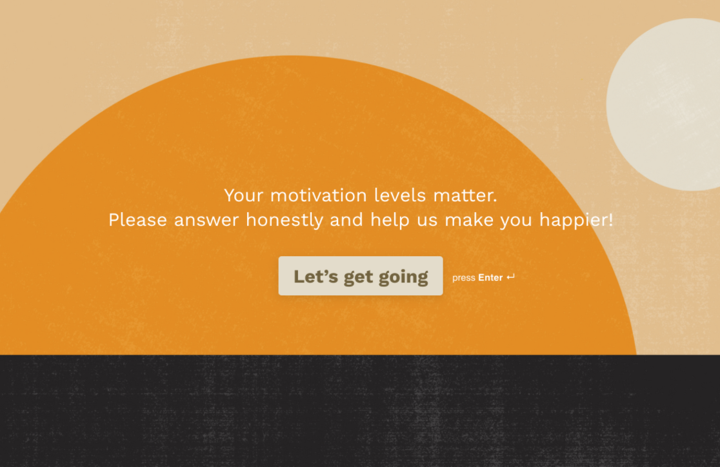 Employee motivation & engagement survey
Manage this process easily using anonymous employee feedback surveys. Give employees the opportunity to be honest, listened to, and see change within the business. You'll begin to see an increase in employee engagement if leadership is making an effort to engage as well.  
 3. Provide support for professional growth 
Huge for employee motivation. Invest time in your people, and they'll do the same in return. Codility found that, for developers, salary was not at the top of everyone's list for what they look for in a dream employer. Sitting above salary is professional growth opportunity.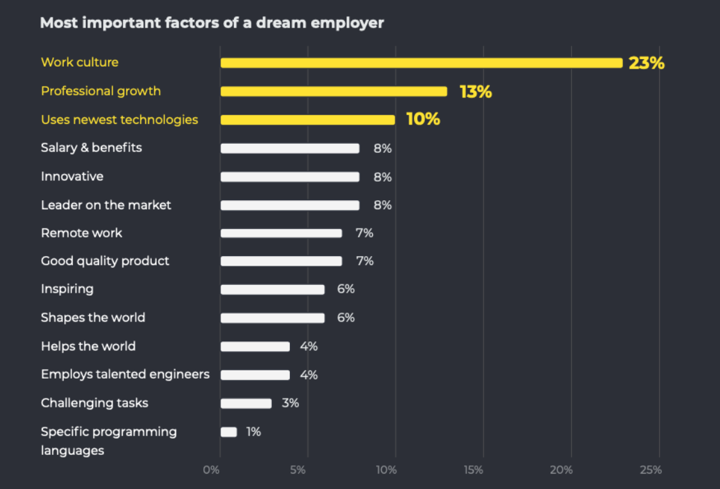 Engaging developers at work report
A few professional growth tactics you can implement in your engagement strategy are: 
Employees are continually looking for ways they can grow in their career, or shift their career entirely. However, just because an employee is looking for change doesn't necessarily mean they need to leave your business.
Develop an L&D plan that enables employees to learn with your company, no matter what direction. 
Or offer them a Learning & Development stipend for them to invest in the best educational tools (books, virtual conferences, coaching, etc.) for where they're at right now. 
If you want to keep employees motivated and productive, be clear about the potential career growth they can have with your business. It can be so disheartening for employees to reach a glass ceiling or feel like they can't progress, and you'll lose their engagement because of it. 
Turn this around and show them a clear potential path if they remain productive in creating great things with you.   
4. Try flexible work options 
2020 taught businesses that workplaces need to be flexible to stay afloat. However, it's not just in times of crisis that we need to adopt different working styles. Flexible work options can be hugely gratifying for employees and help keep them engaged with work. 
Home office: Let employees stay home a couple of days a week. You can save them time and money on a commute and 77% of remote employees say they're more productive when working from home. 
Work-from-any-where options: 99% of all employees said they want to work remotely, at least some time in their career. Allow employees to take a remote working holiday, letting them see the world while staying productive. 
Coworking spaces (post-COVID): Give a distributed team access to a coworking space in their area. If they're not able to be surrounded by your staff productivity, let them be surrounded by other inspiring people. 
Hot-desking in offices (post-COVID): As traditional workspaces begin to shift, hot-desking eradicates the idea of a fixed desk. Let employees float around your office and find a space that inspires them most. Hot-desking will also encourage cross-team collaboration and an overall more engaging culture.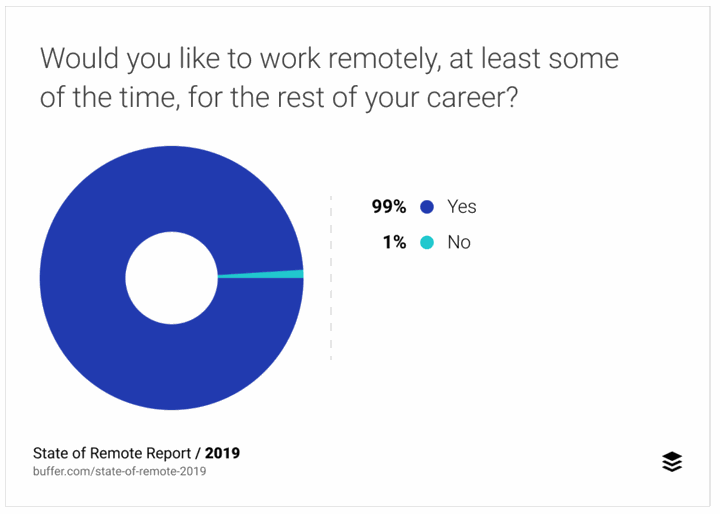 5. Create the culture you need
If your human resources team is serious about employee engagement, they need to turn to culture and lead by example. Starting with an employee's onboarding, your engagement culture, ethics, values, and mission need to be embedded into work ethic.  
Creativity. A creative culture can come with physical aids like art and breakout areas in the office. It can also come via team meetings, creativity tools & apps, and work style changes. 
Gamification. If you want your workforce to stay motivated and productive, then consider gamifying their efforts. What fun engagement goals can employees achieve in their week?
Health & Wellbeing. Such an essential workplace necessity today. Employees care about their mental health, and it's an employer's responsibility to help care for it.  Find ways to initiate a healthier lifestyle with your employees. Consider well-being workshops, nutrition classes, yoga & meditation practices, gym passes, healthy lunches, the list goes on. 
Transparent leadership. Let your leadership team set the ultimate engagement examples. Have them host "open office" hours to create a transparent and safe space for staff to communicate concerns, ideas, or just say hello.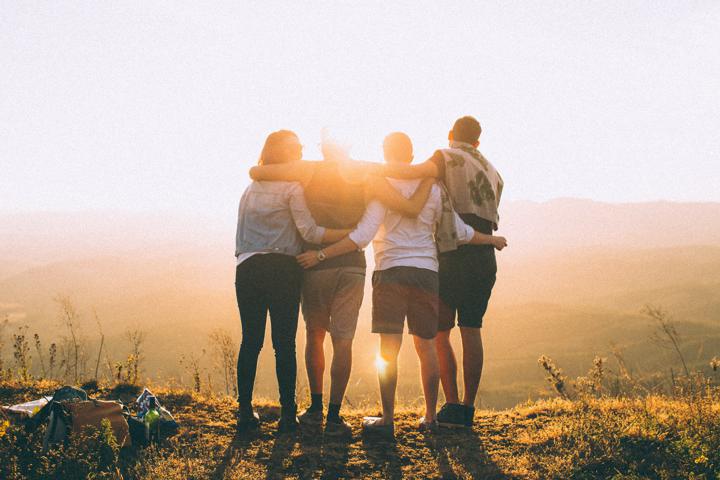 Wrapping up on building employee engagement
There are many more ways you can build employee engagement than those listed above. Although, the five points discussed here can certainly get you started. Every organization is different, and what may work for some can't work for everyone. 
Identify employee engagement tactics that resonate with your brand and vision. Plus, if you're ever stuck for ideas, ask your employees what would motivate them and work from there. 
Employee engagement takes time and resources to implement. However, once the practice and routines are set out, it becomes ingrained in company culture and partially runs itself. The effort is well worth the reward. 
---
Contributor bio:
Ray Slater Berry is the director at DSLX—a B2B SaaS content agency. He has been working in content marketing and social media for a decade and specializes in the tech, innovation, and travel sectors. Ray is a published novelist with his first book, Golden Boy. You can find him on Twitter. 
---
Compt is the #1 employee stipends platform that gives your people the freedom to choose the lifestyle perks that are best for them and their always evolving needs, even when remote. Interested in learning how Compt might benefit your company? Consult with our team or request a demo.