Naming a conference room is not an easy task.
On the surface, you're just attaching a name to a room. But if you peel back the layers, what you're really doing is developing hyper-visible cultural-symbols throughout your office.
These meeting room names will serve as conversation starters for your company's visitors, investors, customers, and potential partners. For your employees, they'll set the tone for the many meetings that will take place in there; the 1:1s, weekly team meetings, feedback sessions, strategy sessions, and more.
Since the room names are sherpas of your company's culture, pick names that everyone can be proud of and rally around. Not sure where to start? We're here to help.
Our Ideas Include: 
Business stakeholders
Anything related to the office's location
Projects, values, anything else related to what you do
Anything Fun!
Ideas for naming conference rooms:
1) Business stakeholders:
Tone you're setting: Appreciative, inspiring, motivational.
Potential stakeholders to name your conference or meeting rooms after:
Customers: This can be people who have an especially moving story, helped you to hit an impressive milestone (first customer, 100th customer, etc.), or potentially are your biggest advocates.
Partners: If your company has a partner program, consider naming your offices after their company or individuals. Like above it can be because they have a touching story related to your business, helped you meet significant company milestones, or have partnered with your organization in meaningful ways.
Employees: Sales team members can work hard toward being picked for Presidents Club, this could be another honor that people look forward to being selected for.
Keep in mind, just because you gave a conference room a name, doesn't mean it's required to be the same forever. While you don't want to switch up your conference room names too often as it can lead to confusion for employees when they're trying to find a room, having strategic sections or floors of your office that are known to swap out every year can be a great way to inject variety and fun.
A great example of this in practice might be to name the conference rooms that surround your lobby after customers and change it up every year. Then at the same company meeting every year, announce the new customers that company meeting rooms are named after. If your company is the type to go the extra mile, consider inviting your customers to that company meeting and sharing the great news with them and provide how they were picked.
2) Anything related to the office's location:
The tone you're setting: Light-hearted, prudent, informative, and fun.
Landmarks around your city.
If you're from Boston, it could be TD Garden, Charles River, Citgo Sign, the Pru
SF landmarks: the golden gate, painted ladies, Alcatraz
Local stars: historical figures, athletes, sporting teams, and famous residents
Local innovations, movies, bands, or events in history.
3) Projects, values, anything else related to what you do:
The tone you're setting: focused, behavior-shaping, engaged.
Use conference or meeting room names related to what you do. Some examples of this include:
Fashion-related company, name them after different types of fabrics; gingham, poplin, silk, tweed,
If you're a travel company? Include names of the most, or least, popular travel destinations.
4) Anything Fun!
The tone you're setting: fun
Inside jokes that can help you hone culture
Pop culture references from books, movies, or tv shows.
We connected with Brendan O'Neil, team member at the leading conference room-scheduling software, Robin, to get his thoughts on naming conference rooms. He had this to say:
"With tens of thousands of meeting rooms in the Robin platform, we've seen a lot of names. I enjoy when companies take an abstract set of names -- local restaurants, for example - and make subtle design connections between the name and the physical room they label. Those hints, or easter eggs, become fun facts for employees to discover and show off to visitors."
[What better way to utilize this newly named room than to run an efficient meeting that POPPPS? If you don't know what POPPP means, read about this insanely game-changing technique to running meetings that make you look incredible by clicking here.]
Additional considerations to consider when naming conference rooms:
Below we've highlighted some conventions when naming your company's meeting rooms, share some ideas, and even include some suggestions as to steps to take to go through the process from beginning to end.
Starting with suggestions and things to keep in mind when developing naming conventions:
1) Determine the tone you'd like to set.
As we stated above, the names you set for the meeting rooms will be constant, symbolic reminders of what matters to your organization. Determine if you want to create an environment and tone of inspiration, innovation, empowerment, seriousness, fun, or something else altogether. There are a lot of directions you can take this including multiple moods at once, but it's most important to begin the process being intentional with your desired tone.
2) Names should be relevant.
There's nothing worse than trying to connect the dots between two things which aren't meant to be connected. Unless you want to be answering the "What's the significance of X room name?" with "Nothing" -- make sure you go for relevance.
3) Regardless of what topics, themes, or people you select, be sure to double-check for balance.
There's nothing less inspiring to women and minorities than a slew of conference rooms named after business icons and visionaries, all of whom are male. In many cases, it's not that it's about who is showcased, but rather about who isn't. The absence of people who have overcome similar challenges to your employees can be disenfranchising.
4) Research each name to make sure there weren't any controversies.
Fortunately, when naming conference rooms, they don't need to be set in stone. However, you can prevent any social faux pas by researching the potential room names beforehand.
5) Lastly, and most importantly, ask your stakeholders for ideas before the project kicks off, and feedback along the way.
As HR transitions into People Ops, more and more of the work becomes proactive and strategic instead of reactive and tactical.
Part of being an excellent strategic partner to the business is to be able to create important change, manage expectations, get buy-in, and many other project management-related skills.
Before you come up with a list of names and begin adding them to your Robin conference naming and scheduling system, you'll want to get the opinions of the most important assets at your company -- your employees. Letting them know you're embarking on this project and asking for suggestions at the onset, and circling back as you have a more refined list to let them pick from is a perfect way to help get everyone's insight without it becoming overwhelming or a runaway train.
Want to expand on your HR knowledge? Click to our comprehensive list of the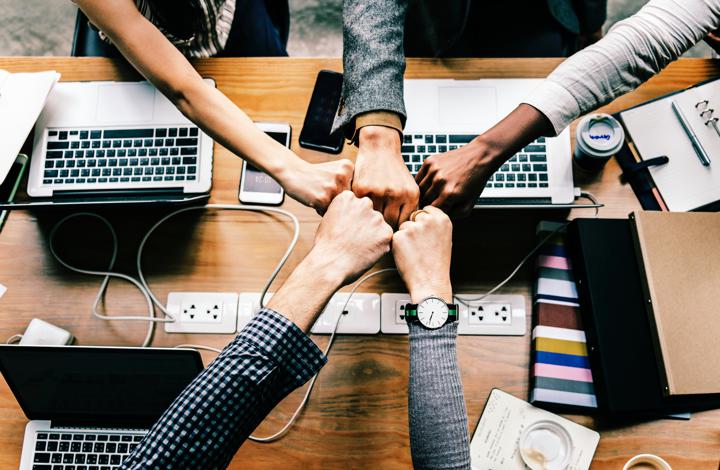 Compt is changing company culture through employee perks. 
If you found this content helpful, share it with a colleague!
---
Compt is the #1 employee stipends platform that gives your people the freedom to choose the lifestyle perks that are best for them and their always evolving needs, even when remote. Interested in learning how Compt might benefit your company? Consult with our team or request a demo.