As more content gets pushed our way, it's hard to keep up with the hottest and most effective trends in HR. It's even harder to keep jumping between articles and newsletters to obtain meaningful information that can make you gain valuable insights to apply in your organization.
What better way to start your morning than with a warm cup of coffee and an easy read that will keep you informed, knowledgeable, and passionate about your field of study? That's why we have crawled the internet to give you a list of the best HR newsletters out there.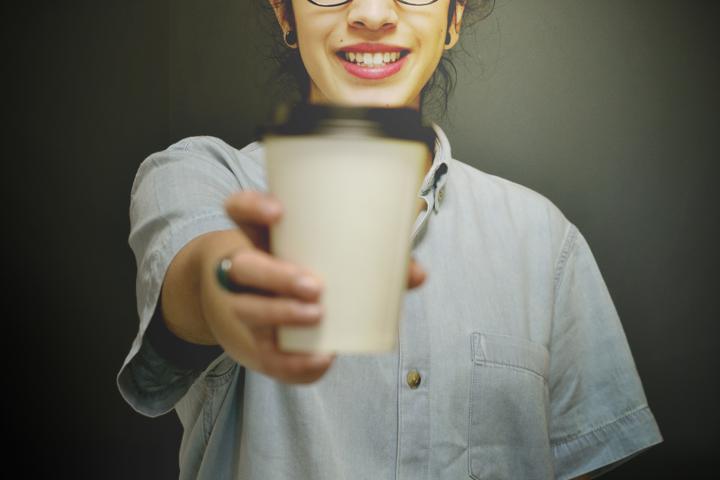 From top recruiting advice to the latest HR trends, here is a list (in alphabetical order) of the best HR newsletters that will help you become the best HR professional you can be:
Editor/Primary Writer: Compt
About The Newsletter: A short, yet direct take on the latest data, products, communities to follow, must-read articles, and events in the HR industry, delivered the first day of every month.
Favorite Recent News: "New Year!" As the 2020 kicks off, experts have predicted that the rate of change we've experienced throughout the last decade will continue to increase in the future. Expectations from employees will increase, markets will shift and shift again, and the only constant is change.
Join hundred of other People Leaders and subscribe to our People First newsletter to receive the most important HR information delivered to your inbox once a month.
Editor/Primary Writer: Sharlyn Lauby, Human Resources professional
About The Newsletter: HR Bartender focuses on topics that relate to the workplace, not just human resources. Some of its most popular subjects deal with how to be a better supervisor and leader, employee engagement and career advice. An email with fresh and easy-read content 3-4 times a week.
Favorite Recent News: "The Top 5 Soft Skills That Employers Should Look For": As HR professionals are aware that 2019 will be the most challenging market for recruiters in years. This article emphasizes the five soft skills that many employers should care about, such as conscientiousness, project management, and detail orientation.
Editor/Primary Writer: HR Dive
About The Newsletter: From recruitment marketing to diversity, this weekly edition of HR Dive covers the latest news & trends in talent acquisition, get weekly recruiting intel.
Favorite Recent News: "Should L&D be a brand element?": With today's emphasis on learning, and the resultant investment employers are making, learning may have the potential to be a brand element that can attract and retain talent.
Editor/Primary Writer: HR Exchange Network
About The Newsletter: HR Exchange Network is a trusted onlinews news source for more than 270,000 Human Resources professionals and thought leaders. Their newsletter provides insights from the world's foremost thought leaders delivered to your inbox.
Favorite Recent News: "Talent Acquisition Strategy: Hiring Smarter": A talent acquisition strategy is more than just a strategy. It's about a talent acquisition strategy framework that helps hire smarter. This doesn't only include hiring talent that best fits a company's needs, but also considering the needs of the prospective employee.
Editor/Primary Writer: Steve Browne, HR Net
About The Newsletter: A short, fun and informative on the top HR resources for you and your team. Through podcast recommendations, HR-versions of rock songs, and a comprehensive list of discussion topics on engaged forums, this newsletter will keep you informed on the HR industry and put a smile on your face.
Favorite Recent News: "Key Steps for Designing or Refining Your 2019 Pay-for-Performance Plan": Important and valuable information on a webcast that will help you improve sales, productivity, customer satisfaction and achieving corporate growth goals. Some of the steps are identifying key behaviors that your plan needs to reinforce, deciding who are the right employees to include in the plan, and roll out a robust compensation communication plan.
Editor/Primary Writer: Human Times
About The Newsletter:  Get industry-related news on management, technology, workforce, legal, training and development, diversity, international, and other hot stories.
Sample newsletter from 12/9/2019: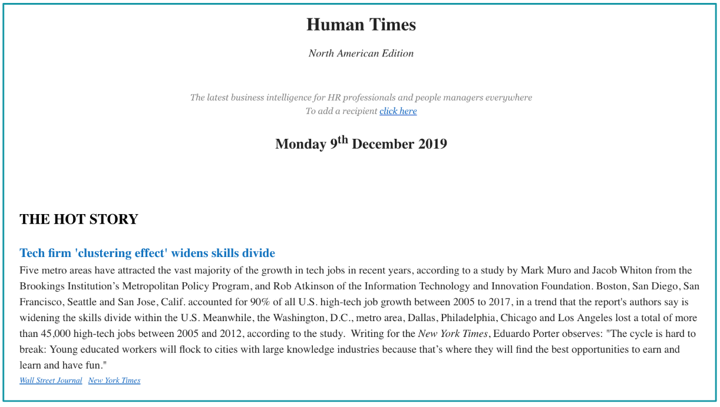 Editor/Primary Writer: Hung Lee, CEO at Workshape.io
About The Newsletter: Recruiting Brainfood is a vendor neutral community with a mission to help recruiters (agency & inhouse alike) and HR professionals get better by sharing great recruiting and HR content from lesser known sources in a once-a-week email!
Favorite Recent News: "A Glimpse Into The Future of Recruiting" (Podcast!): This newsletter connects you with great HR podcasts! If you find yourself in a long commute or battling morning traffic, give this a try and start your morning with the latest recruiting trends at the top of your mind.
Editor/Primary Writer: RecTech Media
About The Newsletter: This daily email gives you a day-today snapshot of ALL the headlines from our industry. Includes popular recruiting blogs and news sites. Delivered to your inbox at 5pm each evening, Monday-Friday.
Favorite Recent News: "How to Properly Reject Candidates" (Another podcast!): In this episode, RecTech Media gives you tech tools and a set of guidelines so that your company can easily improve the rejection process. At the end of the day, every company wants to avoid rants on their Glassdoor profile.
Editor/Primary Writer: Society for Human Resource Management
About The Newsletter: A round-up of the week's HR news and a look ahead at what's coming in the next week, delivered each Sunday evening.
Favorite Recent News: "7 steps to Running Better Meetings": This short and sweet article emphasizes how to have an effective meeting through preparing, limiting the number of participants, following up, and more!
Editor/Primary Writer: SmartBrief
About The Newsletter: A daily snapshot of essential reading for HR professionals with news from ERE.net, Bloomberg Businessweek and other leading sources. Summaries of what matters to you, written by expert editors to save you time and keep you informed and prepared.
Favorite Recent News: "More colleges consider 3-year bachelor's programs": A report shows that more colleges and universities are looking to join the 32 current institutions that offer three-year bachelor's degree programs. Read about key strategies for successful programs, including eliminating unnecessary electives and giving more credit for advanced high-school courses.
Editor/Primary Writer: Talent Management & HR
About The Newsletter: It has a clean, easy-to-follow look to it. Information is highlighted nicely, plus, we've added links to the previous week's newsletters, and a list of the writers and contributors, delivered bright and daily.
Favorite Recent News: "Unconscious Bias Is Hidden In Your Software": This article explores an interesting idea: With the IT industry dominated by men, how can anyone be confident that all the current recruitment software on the market is free of bias?
Editor/Primary Writer: Asana
About The Newsletter: Wavelength is a newsletter for teams who aspire to do great things together through a mindful, purposeful approach. You'll read about how to reduce chaos at work and bring clarity, accountability, and ultimately, better results.
Favorite Recent News: "Inclusion starts on day one: 10 ways to build an inclusive onboarding experience": This article gives you great advice on how to make a new hire feel comfortable and less intimidated about navigating their new environment. Tips like preparing your team, contextualizing their experience, and adding a personal touch are key. (And if you're especially keen to learn about onboarding, this resource on the details of employee orientation vs onboarding is extremely helpful.)
Editor/Primary Writer: Workology
About The Newsletter: Get the skinny on leading trends and resources for HR, recruiting and leadership. You'll receive a variety of valuable workplace resources no more than 3x a month that you can access quickly from all across the web and everywhere in-between.
Favorite Recent News: "The Recruitment Process is Broken: Where Do We Go From Here?": The world of recruitment has transformed. Technology that was supposed to streamline the process has become a cumbersome, much-hated impediment. If you're a recruiter or hiring manager, rebuild relationships and build bridges to fix your recruitment process with some of these tactics.
---
Want to expand on your HR knowledge? Click to our comprehensive list of the top HR conferences or HR podcasts.
We hope this comprehensive list of newsletter encourages you to keep up with the latest HR trends and headlines. Remember that to be a great HR professional and bring value to people in your organization, you have to be constantly absorbing information.
---
If you found this content helpful, share it with a colleague!