As more content gets pushed our way, it's hard to keep up with the most effective trends in HR. It can also be challenging to know who is credible and worth listening to as their guidance has the potential to shape a lot of the work that you and your HR team do.
If you want to start your day then with a useful read that will keep you informed, knowledgeable, and at the top of your industry -- we've got you.
We've searched the internet far and wide to build you a list of the best HR newsletters out there.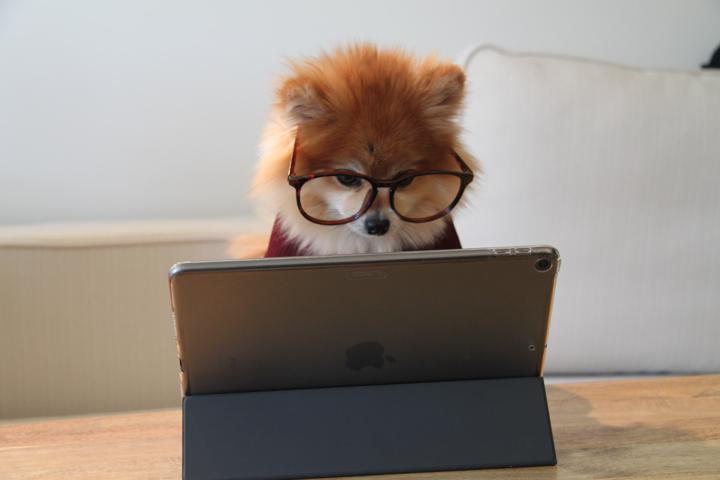 From navigating the new workplace of 2021 to the latest HR trends, here is a list of the best HR newsletters that will help you become the best HR professional you can be:
People First

by Compt

Granted

by Adam Grant

I <3 Humans

by Lattice

Wavelength

by Asana

The Three Questions
Editor/Primary Writer: Compt
About the Newsletter: This employee perks platform offers a short and direct take on the latest data (like employee benefits statistics), products, communities to follow, must-read articles, tips on how to conduct an employee benefits survey, remote work communication best practices, and events in the HR industry, delivered the first business day of every month.
Join hundreds of other People Leaders and subscribe to our People First newsletter to receive the most important HR information delivered to your inbox once a month.
Editor/Primary Writer: Adam Grant
About the newsletter: Adam Grant is an organizational psychologist, professor at Wharton, and authored four New York Times bestselling books including Give and Take, Originals, Option B, and Power Moves. He now brings new ideas and evidence about work and psychology to his newsletter.
Favorite Recent Newsletter: "Who's enjoying remote work and how to strengthen our connections"
Editor/Primary Writer: HR Dive
About the Newsletter: From recruitment marketing to diversity, this weekly edition of HR Dive covers the latest news & trends in talent acquisition (like remote work perks to attract candidates), get weekly recruiting intel.
Favorite Recent News: "Google to open offices in September 2021, pilot 'hybrid' work model"
Editor/Primary Writer: Human Resources Executive
About the Newsletter: HR Executive offers daily HR news, analysis, and strategic insights. Their newsletter is always jam-packed with incredible timely news and this past year has been no different. They covered how significant world news like COVID and employee engagement ideas for remote workers, the election, and WFH trends impacted organizations and the HR function.
Favorite Recent News: "These are HR's priorities for 2021"
Editor/Primary Writer: SuccessFuel
About the Newsletter: Get access to the HRMorning newsletter where they provide insights, dish out strategies, and cover all things human resources.
Favorite Recent News: "The future of work: The workplace in 2021"
Editor/Primary Writer: Human Times
About the Newsletter:  Get industry-related news on management, technology, workforce, legal, training and development, diversity, international, and other hot stories.
Sample newsletter from 11/24/2020: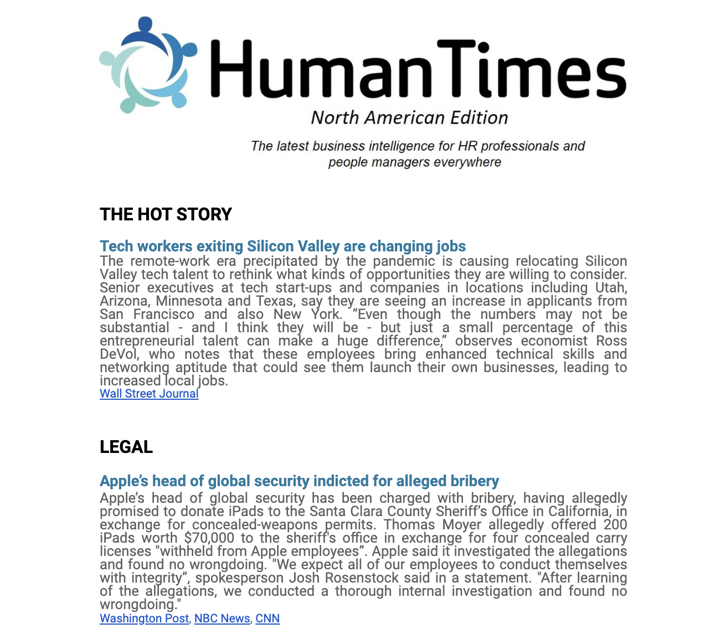 Editor/Primary Writer: Lattice
About the Newsletter: Get must-read HR stories from Lattice and other trusted sources as well as profiles and insights from members of Resources for Humans delivered weekly.
Favorite Recent Newsletter: "Mastering the HR Interview" Here's a snippet of what they included among many other tidbits like HR jobs, events, and a featured question in their RfH Slack community:
This week, we wanted to share 

the four questions experts said you should be prepared to answer

 when you sit down for your next interview for a role in HR. Also, check out our stories about 

how to design an effective compensation strategy

, 

how to mitigate recency bias during performance reviews

, and 

some community tips for celebrating the holidays virtually

.
Editor/Primary Writer: Hung Lee, CEO at Workshape.io
About the Newsletter: Recruiting Brainfood is a vendor-neutral community with a mission to help recruiters (agency & in-house alike) and HR professionals get better by sharing great recruiting and HR content from lesser-known sources in a once-a-week email!
Favorite Recent News: "A Glimpse Into The Future of Recruiting" (Podcast!): This newsletter connects you with great HR podcasts! If you find yourself in a long commute or battling morning traffic, give this a try and start your morning with the latest recruiting trends at the top of your mind.
Editor/Primary Writer: Society for Human Resource Management
About the Newsletter: A round-up of the week's HR news and a look ahead at what's coming in the next week, delivered each Sunday evening. We've found this weekly newsletter to be the most impactful for our time, however, they also offer daily, breaking news, HR technology, compensation and best employee benefits, workplace compliance newsletters, and more. Check out all of their newsletter subscriptions here.
Favorite Recent News: "7 Steps to Running Better Meetings": This short and sweet article emphasizes how to have an effective meeting through preparing, limiting the number of participants, following up, and more!
Editor/Primary Writer: SmartBrief
About the Newsletter: A daily snapshot of essential reading for HR professionals with news from ERE.net, Bloomberg Businessweek, and other leading sources. Summaries of what matters to you, written by expert editors to save you time and keep you informed and prepared.
Favorite Recent News: "More colleges consider 3-year bachelor's programs" A report shows that more colleges and universities are looking to join the 32 current institutions that offer three-year bachelor's degree programs. Read about key strategies for successful programs, including eliminating unnecessary electives and giving more credit for advanced high-school courses.
Editor/Primary Writer: Talent Management & HR
About the Newsletter: It has a clean, easy-to-follow look to it. Information is highlighted nicely, plus, we've added links to the previous week's newsletters, and a list of the writers and contributors, delivered bright and daily.
Favorite Recent News: "Unconscious Bias Is Hidden In Your Software" This article explores an interesting idea: With the IT industry dominated by men, how can anyone be confident that all the current recruitment software on the market is free of bias?
Editor/Primary Writer: Asana
About the Newsletter: Wavelength is a newsletter for teams who aspire to do great things together through a mindful, purposeful approach. You'll read about how to reduce chaos at work and bring clarity, accountability, and ultimately, better results.
Favorite Recent News: "Inclusion starts on day one: 10 ways to build an inclusive onboarding experience" This article gives you great advice on how to make a new hire feel comfortable and less intimidated about navigating their new environment. Tips like preparing your team, contextualizing their experience, and adding a personal touch are key. (And if you're especially keen to learn about onboarding, this resource on the details of employee orientation vs onboarding is extremely helpful.)
Editor/Primary Writer: Jessica Miller-Merrel
About the Newsletter: Get the skinny on leading trends and resources for HR, recruiting and leadership. You'll receive a variety of valuable workplace resources no more than 3x a month that you can access quickly from all across the web and everywhere in-between.
Favorite Recent News: "2021 HR Technology Trends from #HRAnalystDay"
14. The Three Questions
Editor/Primary Writer: Leo Capelossi
About the Newsletter: The Three Questions is an easy read delivered weekly on LinkedIn. Each edition is full of quick, actionable advice from three questions asked to a talent leader in the recruiting community. The team will also add their own perspective or industry news at the top of each issue. It's a fantastic, snackable resource for recruiting teams with good lessons for compensation and benefit managers as well. It was started by Leo Capelossi, founder of The Sales Gang, which helps recruit top performing sales talent for global teams.
Favorite Recent News: The Three Questions #8 - Kyle Gatlin - US Leaders
---
We hope this comprehensive list of newsletter encourages you to keep up with the latest HR trends and headlines. Remember that to be a great HR professional and bring value to people in your organization, you have to be constantly absorbing information.
Want to learn more about the top employee perks companies are offering? Click from the list below to learn more about each topic:
---
Compt is the #1 employee stipends platform that gives your people the freedom to choose the lifestyle perks that are best for them and their always evolving needs, even when remote. Interested in learning how Compt might benefit your company? Consult with our team or request a demo.