by Josh Brown
It's no secret that the coronavirus pandemic led to some major changes in the business world.
While some were meant to be temporary fixes to a (hopefully) temporary problem, many will persist long after global shutdowns have ended. Truth be told, certain parts of the "new normal" have proven to be better for business in any case — pandemic or not.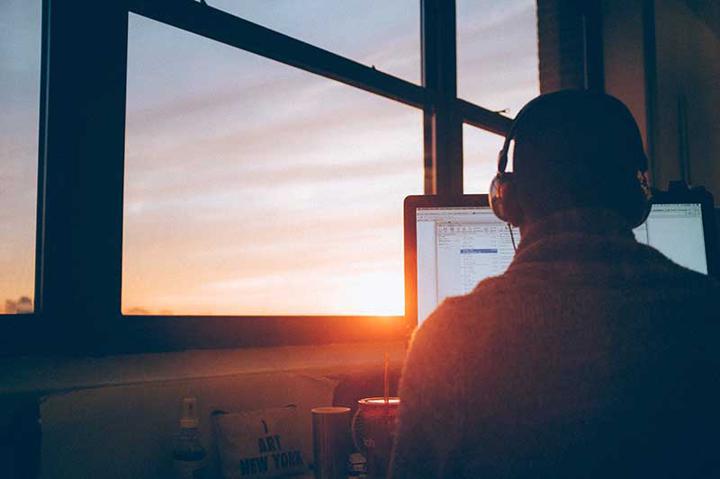 As discussed on this recent article about employee engagement trends, many businesses plan to continue allowing their employees to work remotely in at least some capacity moving forward.
To be sure, the concept of remote work had been around long before 2020. 
In fact, many companies have been realizing the benefits of remote operations for some time now:
Nearly 80% of employees working remotely report higher levels of productivity
70% of highly-skilled job candidates view remote work capabilities as an "extremely important" factor when applying for a position
More than eight in ten employees say the ability to work from home paints their company in a positive light — and makes them more likely to remain loyal
The financial benefits of operating remotely have been long understood by major corporations, as well. Back in 2016, Dell reported having saved $12 million annually in real estate savings alone — while Ctrip was able to cut expenses by $1,900 per employee by offering remote work options.
Of course, none of these benefits are guaranteed simply by allowing your employees to work from home. As many organizations have learned in the last year, shifting to remote operations in any capacity requires an intentional and strategic approach across the board.
The good news?
2020 has given us a ton of concrete data as to how to make this shift work for your business.
In this article, we'll look at five overarching things you need to do to iron out your remote operations and continue leading the charge in your industry.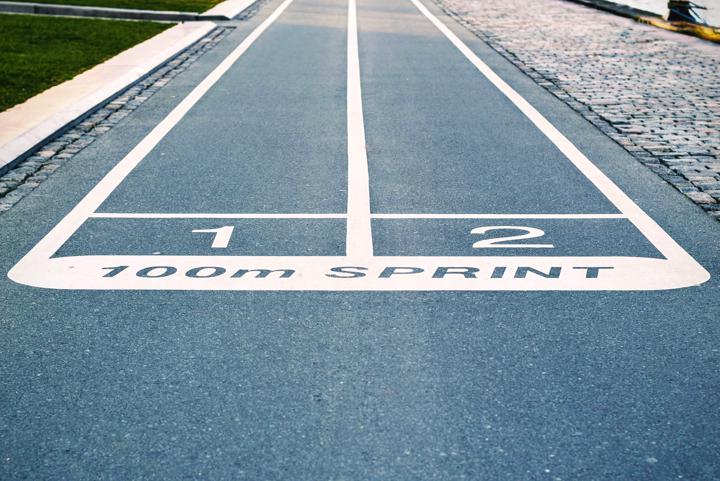 Best Practices for Managing High-Performing Remote Teams
2020 was, for many companies, a trial by fire in terms of operating remotely.
And, well...let's put it this way:
If your company is still operational, you've definitely accomplished a pretty large feat.
Still, if your team had been working completely on-premise before the pandemic, there's a pretty good chance you weren't 100% prepared to make such a rapid shift in your operations.
(Don't worry — you certainly aren't alone.)
That said, 2021 should be the year you formalize your approach to remote work — and make it a viable option for your team moving forward.
Let's take a look at how to do just that.
1. Set Your Expectations in Stone
If your team was all but forced to work remotely in 2020, you really didn't have much time to set expectations for the future.
At the time, many organizations were simply focused on surviving on a day-to-day basis. Unfortunately, this left teams scrambling to merely "do what needed to be done" at any given moment, with the goal of simply making it through the day in as good a shape as possible.
The truth is, most of us didn't know what to expect — so there was really no way for managers to set expectations for their employees. That's not the case anymore.
Now that things have settled down a bit, the time has come for you to make clear just what you expect from your team members when working remotely.
In some cases, you'll simply need to reiterate that which your team already knows — but that has fallen to the wayside over the last year.
Start with your code of conduct
Your organization's code of conduct should never have left the spotlight. Your company still has standards that your employees should be expected to live up to, regardless of where they're working from.
The same goes for your individual employee's duties and responsibilities: Though their work environment may have changed, your team members still need to do what they've been hired to do.
If anything, you'll have items to add to your code of conduct and employee duties as they shift to working remotely.
For example, though your employees should be free to create their own remote work environment to their liking, it should also have an air of professionalism — especially during video calls and client meetings. In this case, you need to make your expectations crystal clear in terms of dress code, background noise, and other such factors.
As we'll discuss a bit later on, while the way in which they complete certain tasks may be a bit different, they'll still be responsible for doing them. To keep everyone on the same page, though, it's important to intentionally revisit these responsibilities when making the shift to remote ops.
Revisit standard working hours
Now, you will likely be making some changes with regard to your employees' working hours. Depending on how your business operates, you might require that your team members be available at certain moments of the day — while allowing for more flexibility in other circumstances.
You should also set parameters for your remote employees in terms of leaving "work mode". In other words, you want to make clear to your team members that you won't be expecting them to answer emails, phone calls, or text messages at all moments of the day — allowing them the downtime they need to recharge for the next day.
As it turns out, when remote workers are given more flexibility in their work hours, they actually end up working more, simply because they enjoy doing so.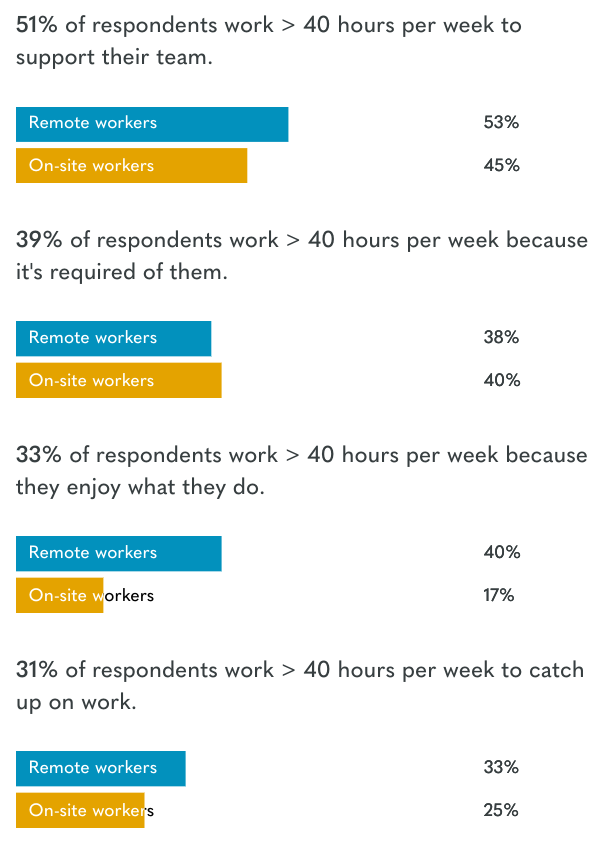 Providing flexibility and freedom to your remote employees is vital to their success. Even creative use of stipends can increase their productivity and job satisfaction.
Finally, it's crucial to regularly reinforce these expectations as time goes on. As explained in a recent article from Forbes:
"Continuous feedback will become essential as managers strive to help employees navigate their job responsibilities and meet performance expectations. Rethinking how goals are set and identifying key performance metrics will be critical to managing remote workers in the new normal."
For your team, operating remotely is the "new normal" — and should be treated as such. 
It's not a passing fad; it's an investment. By setting, keeping, and revisiting your expectations moving forward, your team's remote capabilities will continue to grow in 2021 and beyond.
2. Invest in the Necessary Tools — and Revisit Your Tech Stack
Compt has already gone in-depth into the many possible tools to check out as you shift to working remotely.
The key areas to focus on:
In addition to these tools, knowledge base software is also essential.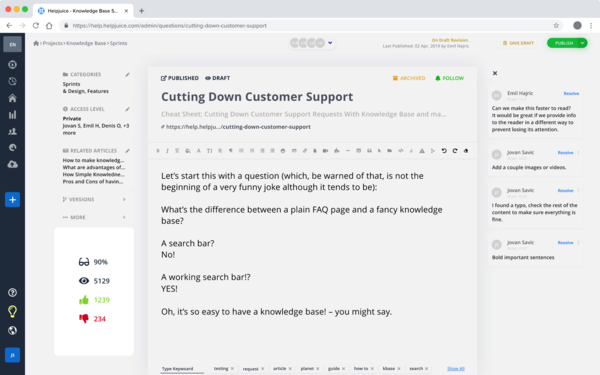 A centralized knowledge base allows you to document, store, and access organizational knowledge and info to all team members and stakeholders whenever they need it. Because your team members will be spread out and working in isolation, this digital hub will enable all members of your organization to stay on the same page at all times.
Don't just add tools, integrate them
It's also important to integrate the various tools in your tech stack, as well. This will ensure the information your team accesses via any channel is always accurate and up-to-date. Moreover, integrating your tools also ensures that a chance made in one area will be reflected on all other channels in question.
With the above in mind, it's worth noting that not every piece of software out there will be the best-fit for your organization. In many cases, the "best of the best" won't be the right tool for your team's current circumstances.
But, in the rush to get your remote operations up and running, you may have simply gone with the first decent solution that presented itself back in 2020. 
While these solutions may have worked "well enough", they also may have caused a number of problems. Some may not have lived up to the hype; others may have been too advanced for your team; still others may have been way too expensive for the value they delivered.
The point is, you've had a year to gain a better understanding of:
Your team's technological needs and capabilities
How well the current tools in your tech stack meet these needs
Where you may be in need of a more robust solution — either now or in the near future
Since things are almost certainly a lot less frantic (and a bit more normalized), now is the time to take stock of your tech stack.
Depending on your situation, you may need to:
Adopt new tools to address previously-unnoticed needs
Upgrade current tools to address your team's evolving needs
Switch to a different tool that better aligns with your team's processes
Though the tools you use now may have helped you get where you currently are, there's no guarantee they'll be as valuable moving forward. As time goes on, be sure to regularly revisit your tech stack — and make changes whenever the need arises.
3. Develop & Strengthen Your Standard Operating Procedures
If you've already made the leap to remote operations (in any capacity), you've likely needed to make some major changes to your overall processes.
Again, these changes may have been made rather quickly, with the focus being on mere survival during such a hectic and uncertain time. And, again: If you've made it thus far, kudos are certainly in order.
But, by now, you should be focused on ironing out your "new normal" processes to ensure that your company continues to thrive well into the future. There are two ways to think about this:
First, think about what hasn't changed with regard to your processes. While you do want to be diligent in uncovering areas in need of improvement, you don't want to change things up just for the sake of doing so.
Then, and this is even more important, you'll want to focus on the areas of your operations that had to be amended as remote work became a necessity for your team. As we've mentioned, this includes changes to your expectations of your employees, your code of conduct, your tech stack, and your organization's overall processes.
Since you'll now have a good year's worth of data at your disposal, it'll be much easier to determine how these changes impacted your team's (and your business') performance. 
On a surface level, you can then identify what worked well, what didn't work, and what you can improve moving forward.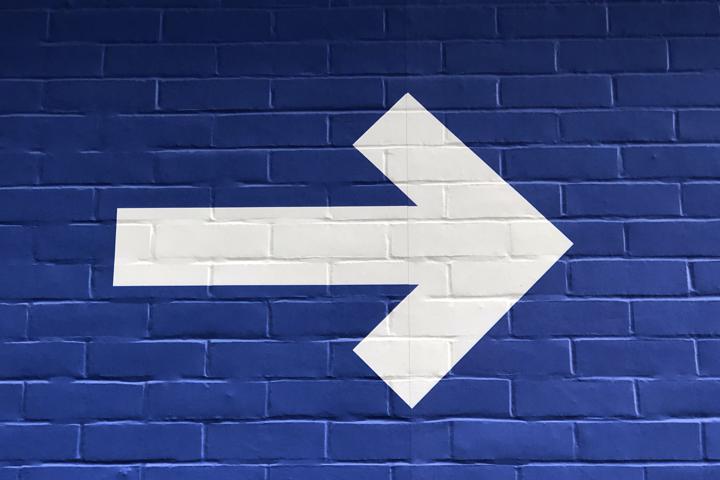 Thinking on all this a bit deeper, you'll want to identify the reasons a certain procedural change had the impact it did on your business outcomes.
This is important for two key reasons:
For one, it will point you toward more systemic and systematic changes to make to your processes. This means less "experimentation", and more focused, strategic action that will likely lead to good things for your company.
Secondly, it will allow the members of your team to understand why you've made certain changes to their workflows — whether these changes specifically relate to remote ops, or to your processes as a whole.
The goal is to allow your employees to understand how the changes will benefit them on a personal and professional level. Ideally, your amended workflows will allow your team members to become more productive than ever before, and will minimize the amount of friction and frustration they encounter throughout their workday.
(This, in turn, will lead to higher levels of employee satisfaction — especially when coupled with your new policies regarding workplace requirements.)
The changes and improvements you make to your workflows should then be solidified within your standard operating procedure documentation. This is a critical part of making remote operations the "new normal" for your business (as opposed to a temporary solution to a temporary problem).
By standardizing your remote workflows, you ensure your employees know what's expected of them at all times — and also ensure they continue to follow the defined best practices over time, as well.
4. Train Your Employees Well — and Hire the Right Talent
Simply putting new and improved workflows in place is just the first step of a much larger process. You'll also need to train your employees accordingly to ensure that they are able to reach their full potential.
(This is especially true if your employees are used to the more traditional, on-premise mode of operation.)
To get started, conduct a training needs analysis on your individual employees, and your team as a whole. This will help you determine where your team might need more hands-on assistance — and where they'll be able to take their professional development into their own hands.
From there, you'll want to figure out the most effective way(s) to deliver the training your employees need.
This is another reason knowledge base software is vital: With your team's collective knowledge presented in one place — and in multiple formats — your employees can easily learn what they need to know about a given process or workflow.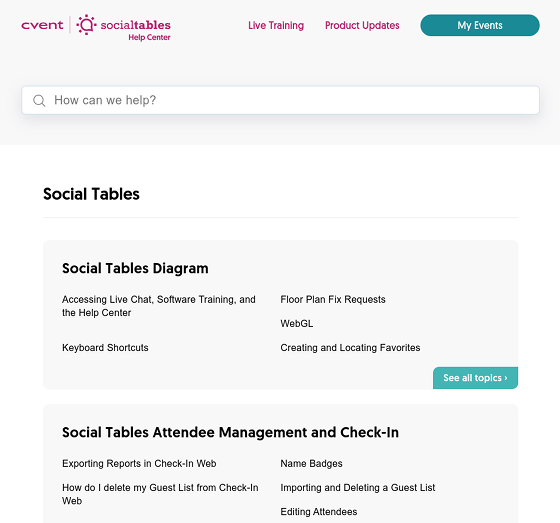 Your team members should also be able to participate in these training sessions (and the accompanying processes) in a no-risk environment. By simulating the new remote processes on their own or with other team members, your employees will gain the experience needed to work productively in a real remote setting.
Your remote employees will also need access to training materials revolving around the new tools you adopt. Ideally, these tools will come with proper onboarding and training documentation — but it will benefit your team for you to create additional resources diving into the specific areas of the tools that matter most to your purposes.
(You might, for example, create exercises for your employees to work through within these tools that match their respective positions within your company.)
Hire with remote in mind
In addition to developing your current employees' skills, you should also refine your qualifications when hiring new employees. In the interest of finding those who are apt to work remotely, there are a few overarching qualities to look out for.
First, look for intrinsically-motivated self-starters. Because the nature of remote work is often flexible and requires that employees work in isolation, you need to have confidence that your new employees can do their work without needing to be supervised.
That said, your new employees also need to be team players — to the point that they actively work to stay connected with other team members, despite not being physically near them. Communication and responsiveness is key, especially when their efforts are needed to move projects forward.
While intrinsic motivation is vital, you might also consider offering a robust development stipend to employees who take it upon themselves to go the extra mile in their duties, as well. For your current employees, it will serve as an extra nudge to continue developing professionally. For newcoming team members, such extrinsic rewards may end up being the reason they choose your company over a competitors' when looking for employment.
5. Automate Your Team's Processes
As we've said, staying in-sync as a team can be pretty difficult when working remotely.
Providing multiple channels and means for your employees to keep in touch is important, as we've discussed. But, you also want to start cutting down on the need to actively communicate with one another whenever possible.
This is where automation comes in. Simply put:
When it comes to any task or activity that happens very frequently and repetitively across your organization: if it can be automated, it should be automated.
There's just no sense in having your team waste precious time going through the motions of manual tasks if technology can do it for them. (This, again, is a key reason to integrate the various tools in your tech stack. Without this step, it'll be impossible to optimally automate your team's processes.)
Some key examples of automation in action:
Scheduling recurring meetings (and sending reminders to regular attendees)
Sending progress notifications to those involved in a given project
Delivering need-to-know information from your knowledge base to appropriate employees
Compt's software can also help your team automate administrative processes, such as managing and delivering stipends and other perks to your employees. With Compt, companies such as Webflow have drastically reduced the time spent on admin processes. 

In spending less time and money on these processes, your team will have more resources on-hand to reinvest into your business. 
And, with technology taking care of the more menial processes involved in running your business, the possibility of human error is essentially taken out of the equation. This, in turn, allows your employees to focus their energy on completing the bigger tasks that lie ahead of them.
Overall, automating as many processes as possible paves the way for business growth as you continue to strengthen your remote operations.
---
Compt is the #1 employee stipends platform that gives your people the freedom to choose the lifestyle perks that are best for them and their always evolving needs, even when remote. Interested in learning how Compt might benefit your company? Consult with our team or request a demo.