The COVID-19 pandemic has forced countless companies to shift the way they do business. And after over a year of working remotely, even companies who used to be adamantly against employees work remotely are seriously considering - or have even already committed to! - some sort of long-term remote working setup. 
Given the same or better productivity levels among their remote employees, as well as several other benefits of adapting to long-term remote work such as access to more diverse talent and work-life balance, 97% of company leaders are planning to allow some degree of remote work post-pandemic. 
This means companies now need to reconsider and reallocate office-centric benefits.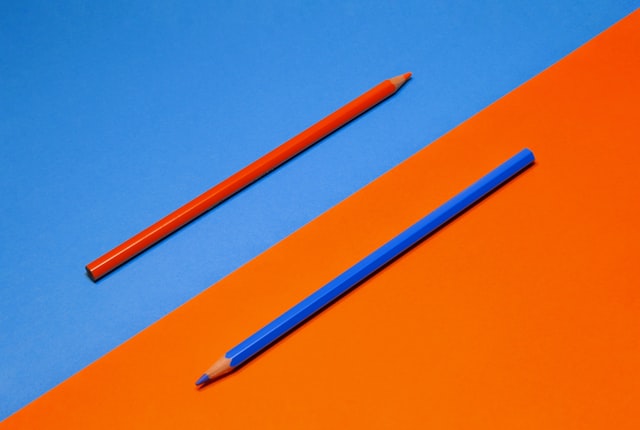 By reimagining how they support employees through remote-friendly perks and benefits, companies can meet employee needs more directly and keep productivity and engagement levels up. Updating your outdated perks and benefits programs can also lead to better employee retention, improved morale and an enhanced corporate culture that's more appealing to job applicants.
So, what are the options for re-allocating your office benefits to a fully or partially remote team? There are a few things to think about:
Which benefits are ok, as-is? 
Which of your current perks and benefits don't need to be reallocated - either because you still have office-based employees to support or because they're basic essentials for every employee? These are things like healthcare, insurance, 401ks and PTO. Set these aside so you can focus on the things that need attention.
What areas of remote employee needs haven't you addressed yet?
What are some benefits that every employee should have, but remote employees are lacking? Everything you might consider an in-office perk falls under this category, such as technology, food and drink, and learning and development. At the same time, some perks become even more important, such as family, technology and health and wellness. Ultimately, for the sake of equity and inclusion, remote employees should be getting the same set of benefits as they would in-office AND they have to be able to actually use it. 
How do you offer the right amount of benefits?
If you're planning for a hybrid work model where you're tasked with supporting employees both in the office setting and remotely, simply doubling your perks and benefits to address both environments wouldn't be the right answer. That unnecessarily stretches your efforts and budget... and it's also not a smart business choice.
And if you're going mainly or 100% remote, bringing your old office perks to each employee's individual homes isn't scalable. Unlimited coffee sent to every employee's house? One gym membership that's only convenient for those in one neighborhood? No thanks!
What's the solution, then? Many companies are solving all of these considerations by offering employee stipends.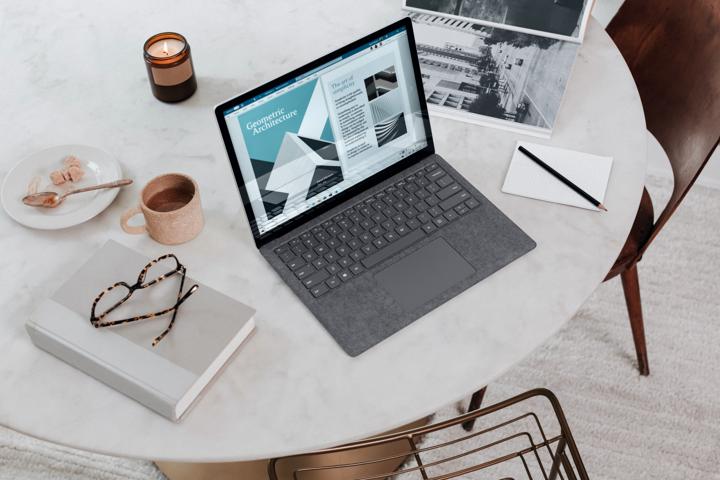 An employee stipend program provides employees with choices in areas that mean the most to them, wherever they're working from. Whether it's improved technology, food and drinks, wellness, feedback and recognition, or family benefits, a flexible stipend program is perfect for supporting your employees' diverse needs while also being easy to manage for your company.
To help get you through this process, here are the five main categories of employee perks and benefits that will make the biggest impact when reallocating office benefits for your remote employees: 
1. Faster and More Reliable Technology
Technology for many companies is top of mind when considering benefits. When you have employees working remotely on a long-term basis, you're going to have to reconcile the difference between the technology they have access to in your office vs. what they have in their home. This includes tech needs like:
Wifi connection
New or upgraded hardware (laptop, cell phone, router) 
Software programs or licenses
Wireless keyboards or mouses
A printer or scanner
Headphones and webcams
Second monitors
To ensure your employees have support for all of these tech needs, your company could provide a recurring monthly remote stipend or like many companies did at the start of the pandemic, you could consider a one-time home office setup stipend for new employees (or ones who will be transitioning to a remote arrangement going forward).
A one-time stipend could be anywhere from $100-$1000 to cover the equipment expenses listed above, as well as a a work desk, an office chair or other ergonomic office items.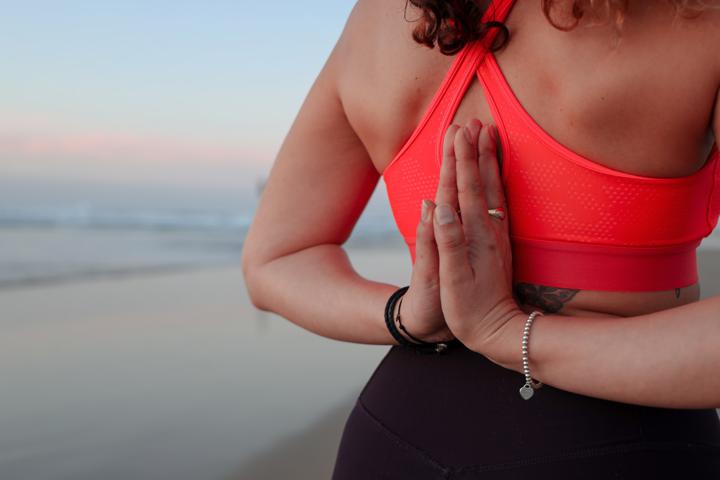 2. Wellness Programs
During the pandemic, all aspects of health - physical, emotional, and mental – have been top of mind for all of us.
Wellness programs have long been a part of standard employee benefits packages, but now that remote work has introduced higher levels of employee burnout while blurring the line between the stresses of home and family life, this is one area of employee benefits that you really can't ignore. 
First thing's first: how do you make your in-office wellness program work for your remote employees? More specifically, how will you give remote employee access to fitness classes, gym memberships, healthy snack options, and wellness counselors?
One approach is finding a virtual version for each of those wellness perks through a vendor, such as a mediation app in place of wellness counselors, memberships to virtual fitness classes in place of in-person ones, and food delivery in place of healthy snacks in the office. While this is a viable (and popular!) approach, it's not very scalable and not every personalized to the employee.  
An even better option would be to offer a health and wellness stipend, where you can offer an unlimited number of options - and employees can decide for themselves.
For example, with one flexible employees reimbursement, you can support your employees' choice of local gym memberships or classes, payments for weight management programs, monthly subscriptions to mindfulness apps, and even home gym equipment and apparel that helps support their healthy lifestyle.
Here is just a snapshot of what Webflow employees spent their health and wellness stipend on using Compt: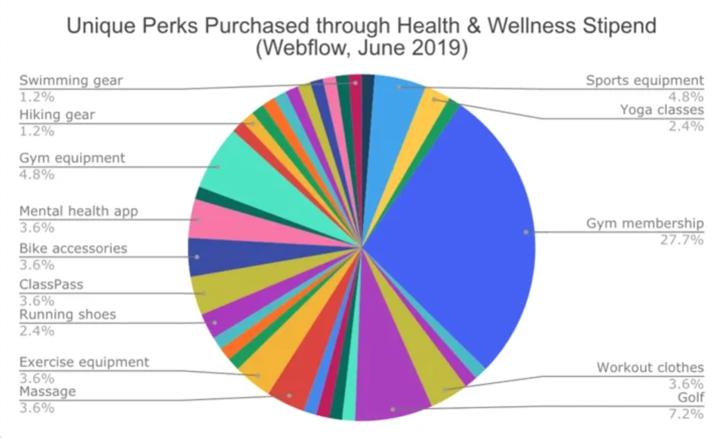 The key is flexibility in reallocating the resources your company is spending now on on-premises benefits programs.
3. Food and Drink
People are spending less on working lunches and coffee breaks and turning to their own kitchens to feed and caffeinate themselves while working.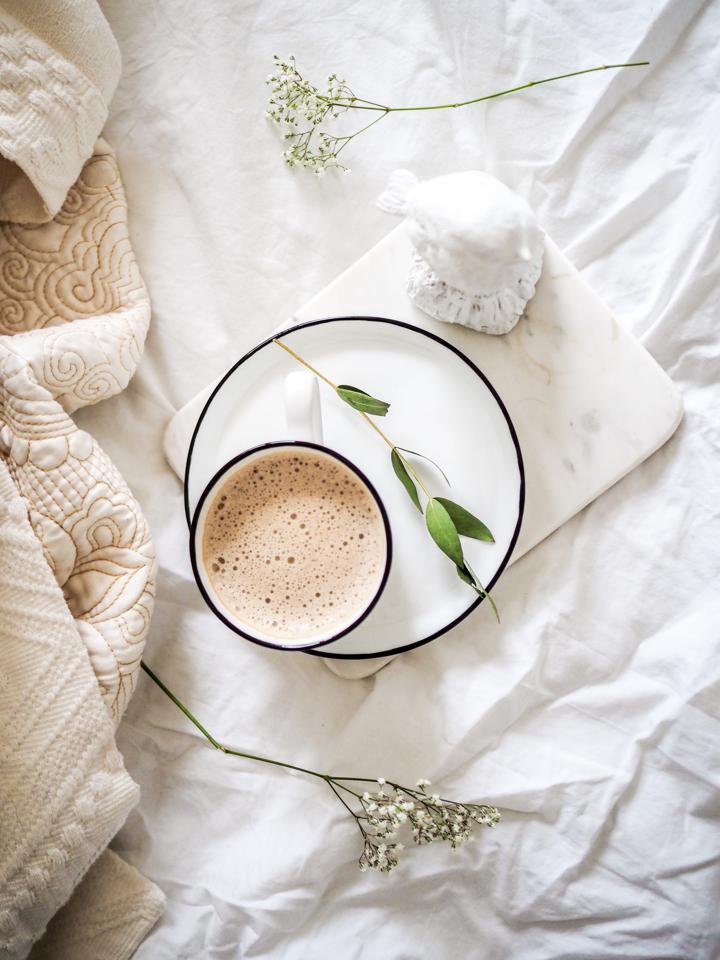 To adapt in-office food perks to be remote-friendly, one option is to send food care packages to each of your employees. Whether it's for snacks, sweet treats, drinks, or an actual meal, these are thoughtful gestures employees appreciate while being a great way to reallocate the monies that would have otherwise gone to keeping the office kitchen fully stocked. You could even encourage employees to hold virtual lunches together with fellow stay-at-home workers and / or those who are working onsite, using the food you've sent to their homes.
Another choice that is both more flexible for employees and less work for your HR team is offering your employees a recurring meal stipend. 
The great thing about meal stipends is that it allows employees to choose whether to spend money on delivered meals or groceries, snacks or beverages, and to do so when it's convenient for them. It also allows employees to spend the dollars on what makes sense for their own lives, rather than a preselected list of drinks and food. It also offers equity for employees who may have food allergies, religious requirements or dietary needs not always met in office meal settings and more restrictive food offerings.
4. Feedback and Recognition
Feedback on performance is a powerful motivator and a huge part of how employees view the perks and benefits of working at their company. For that reason, many companies have shifted away from annual performance evaluations as the sole measure of performance and instead on giving employees more immediate feedback on their work. Feedback is especially essential in remote work situations, as employees may feel isolated and unsure of where they stand.
There are multiple options for shifting your feedback and rewards approach so that remote employees feel heard:
Introduce an employee recognition app that allow for peers and supervisors to provide feedback and recognition to each other using a points system, like Bonusly.
Using spot bonuses for recognition, from sign-on to anniversaries to performance. Offering spot bonuses that are cash-based, such as with Compt, affirms the value of employees' good work in a tangible way that all employees can appreciate no matter where they are.  
Consider shifting to a virtual recognition program, such as Kudos, that's more focused on company values and reinforcing your culture through markers like badges, certificates and peer to peer connection. 
Remember that feedback and recognition should be encouraged in real conversations too. Do this by creating a welcoming environment for your employees to provide feedback on work processes, procedures, strategies, customers and other elements of your business, such as during regular 1v1 meetings. This communication is essential in remote working environments and can be positioned as a key aspect of your corporate culture.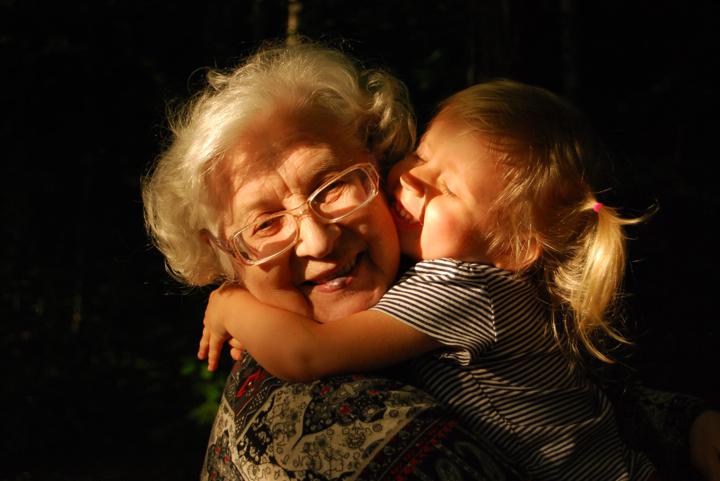 5. Family
Beyond standard parental leave, family benefits haven't historically gotten a lot of attention in company benefits packages. With some exceptions like Salesforce who has always offered flexibility family care including backup care and senior care support, and Workday who offers their employees the same, plus on-site family perks, pet care and housekeeping, employee benefits package design simply doesn't prioritize family life. That's finally starting to change.
Remote work has put a spotlight on the challenges of full-time working parents, so now there's (thankfully!) no way to avoid offering better family benefits to support your employees. 
The approaches to offering remote-friendly family benefits are similar to other categories: either pick a couple of areas to focus on and manage them manually, like a childcare provider partnership or an adoption assistance fund, or offer a flexible family stipend that allows employees to decide what's meaningful for them. The latter allows you to cover all family needs, whether it's childcare, senior care, fertility, adoption, surrogacy, or anything else your employees may need for their family life. 
---
Compt is the #1 employee stipends platform that gives your people the freedom to choose the lifestyle perks that are best for them and their always evolving needs, even when remote. Interested in learning how Compt might benefit your company? Consult with our team or request a demo.