We hear all different sorts of terms when discussing company culture and the overall well-being of the workplace, and one such term we hear over and over again is employee engagement.
What is employee engagement?
It means essentially what it sounds like: The rate at which employees are engaging with each other, their teams, and the company as a whole, on both a quantitative and qualitative level.
Employee engagement doesn't only pertain to how active employees are in their hired roles but socially with their teammates and coworkers as well.
Employee engagement in the age of remote work (due to COVID)
In the "before times," before COVID-19 was learned about and the majority of workplaces sent to work from home, there were many opportunities for employees to engage with each other. 
Meetings could happen face-to-face; coffee and breakfast could be shared; teams could challenge each other with trivia or pub quizzes in large groups; coworkers could compete against each other at company softball. 
Now, companies have spent the greater part of a year working virtually. And despite what happens in the future regarding the COVID19 vaccine, many executives are making longer-term virtual plans. According to a study by Gartner, 74% of leaders plan to shift teams from in-person to virtual. 
That's bound to have an impact on a company's employee engagement.
But how can you ensure that the impact is more positive than negative? How can you address impacts of COVID like with burnout and remote work, while also ensuring inclusivity in your organization?
Below, we're getting into creative ways to connect and engage with your employees on different levels.
41 innovative ideas, activities, initiatives, & tools to boost employee engagement while working remotely
As Vivek Murthy explains in his book, Together, the three types of connection are:
Emotional: A close confidant or partner
Relational or Social: The quality friendships, social companionship and support
Collective: The hunger for a network of community of people who share your sense of purpose and interest
Companies can help their people by fostering the last two the most.
Fortunately, having the access to virtual connection has opened up a world of possibilities for connection, learning, and socialization.
Check out these ideas below and if you try any with your team, we'd love to know what you think!
Engage each other
Hosting weekly "Coffee Chats" for people to jump into a Zoom and connect with colleagues. Depending on the size of your company and the number of attendees, consider breaking people into random Zoom meeting rooms.
2. Use Donut to randomly pair people up to be connected for virtual coffee, peer learning, and more.
3. Create a pen pal program where people can opt in to sending each other notes and cards. 
4. Establish a book group and allow members to choose the books on a rotating basis. People connect well with others when they feel mentally well themselves. Invest in your employees mental health with a mental wellness program like the ones provided by Unmind. 
5. Begin a weekly photo share with different themes such as "favorite childhood photo," "favorite trip taken," "best memory at work," and more. 
6. Create a recipe swap and bake-along. After swapping recipes, team members can carve out an evening to cook or bake together on Zoom. Trello had an interesting take on this with a Remote Team Cooking Challenge.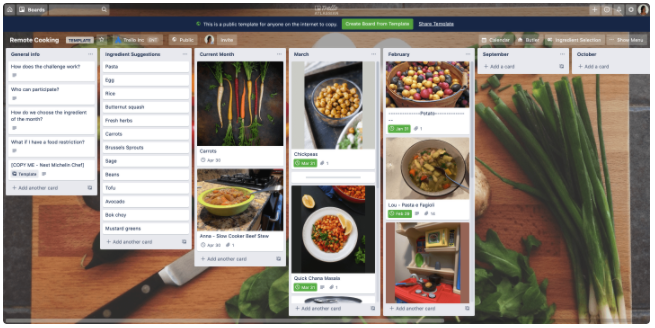 7. Video fatigue is real. Host meetings where employees are invited to keep their cameras off, or maybe experiment with meeting via chat, such as in Slack, instead. If you're not sure if you need a meeting, here's a handy guide.
Learn together
8. Ask-me-anything (AMA) meetings with the founder and/or executive teams. Host these virtual sessions so your employees have the opportunity to get to know the company leaders on a personal level. Here's a great guide from Slack to get you started.
9. Conduct employee engagement surveys to learn how things are going.
10. Participate in a type of insights program (like Team Insights) to delve deeper into everyone's strengths and areas for improvement. 
11. Encourage employees to take part in online courses related to their roles and debrief about what they've learned after-the-fact. You can effortlessly support this initiative with a learning and development stipend.
12. Invite an expert to speak on a topic of interest, either related to company culture, a specific team, or a general shared interest. 
13. Host a hack day. These aren't just for developers! Carve out a day where team members have the opportunity to set aside usual tasks to work on an innovative project that will benefit their team. Here's a handy guide to get started.
Recognize people
14. Create a "You-are-awesome" Slack channel for people to share kudos for one another. 
15. Celebrate a person or an occasion with a virtual Kudoboard. Team members upload photos, videos, or text notes to a board for all to see. Check out their sample boards here.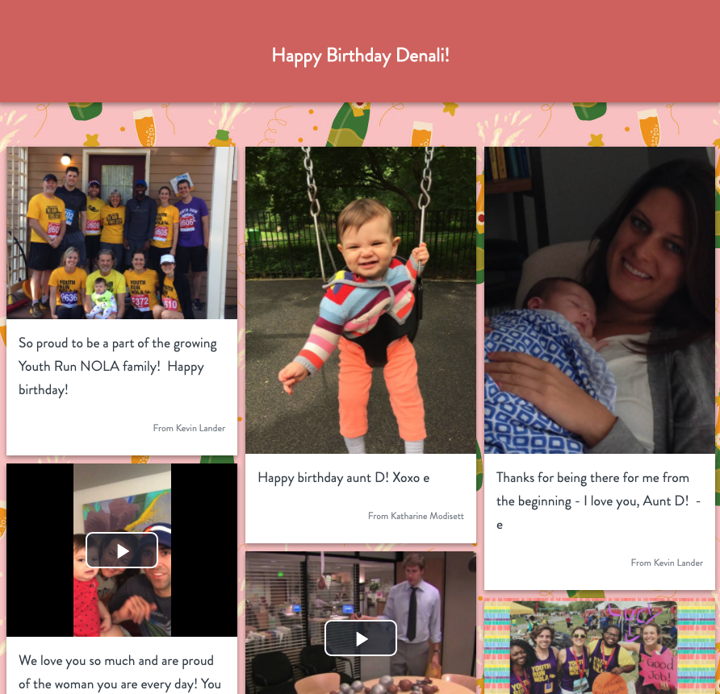 16. Host a weekly "Team Delight & Wins" meeting for people to give shout-outs for one another, as well as highlight their week's big wins. We just started this at Compt, and it's been a powerful way for everyone to take a moment to recognize a highlight of the week (focusing their brain on more positivity), as well as celebrate one another.
17. Recognize your peoples' birthdays, work-anniversaries, or for a job well-done with a rewards and recognition software like Compt.
18. Set up a points program like Kudosh where your employees can reward each other for a job well done with points that translate to real-world prizes.
19. Recognize people for not just what they've done, but who they are being as well. Take a note from a coach, as to how to acknowledge your people.
Promote well-being
20. Bring in an ergonomist. In our People Operations Spotlight interview with Julie Paris from Akamai, she shared that they hosted a virtual wellness session with an ergonomist to help people set-up their home offices and workspaces with their health in mind.
21. Introduce flexibility: Since no two employees are alike, create a process for employees to time-shift their working hours to accommodate their unique situations, preferences, and needs.
22. Use My Virtual Mission to create a virtual fitness challenge and track movement through steps, biking, and other metrics together.
23. Bring in career and/or personal coaches. Therapy is often a staple for mental health services, but coaching offers a whole new perspective on well-being. A coach can help people create certainty where there might not appear to be any (even more important in today's COVID-world) and boost clarity and confidence. Check out Ace-Up, Bravely, and BetterUp.
24. Offer your people a Health & Wellness Stipend through Compt to let them pick the best health and wellness initiatives for themselves. From meditation apps (Calm, Headspace, 10 Percent Happier) to home-gym equipment, paying for therapy/coaching, fitness apps and more, you can make everyone's health needs possible.
25. Foster charitable giving. Research shows that people gain a powerful boost of dopamine, serotonin, and oxytocin all at once when contributing to meaningful causes. You can set up a single charity, rotating one, or let people pick their own with a charitable giving stipend.
Have more fun together
26. Begin every meeting with a five-minute game, icebreaker question, riddle, or some other element of fun. Facilitate richer connections and fun at the same time.
27. Start the week off strong or end it strong by sending out a fun trivia quiz. Check out Water Cooler Trivia to automate trivia and send to your virtual team at the same time each week. 
28. Create a virtual space for people to teach their colleagues about something they may not know related to their roles, such as: what goes into stakeholder management, HTML for beginners, how paid media works, or more. 
29. Play online team-building games:
30. Murder a little too dark? Check out these virtual escape room options for a fun, team building activity!
31. Hire a stand-up comedian. If laughter is the best medicine, then help people fulfill their prescription by hiring a comedian to host your next virtual happy hour. Check out Laugh.Events to book a comic.
Celebrate the approaching holidays
32. Host a fancy happy hour. Invite employees to change out of their sweats and into an outfit of their choice for a Zoom cocktail party.
33.. Host a virtual Secret Santa. Invite those who wish to participate to fill out a form and include their address. Then randomly assign "Santa's" a person to gift (with their address), set a modest budget, and let them send a surprise gift. Take it a step further and set-up a Zoom for people to open their gifts together and connect over the spirit of giving.
34. Celebrate your people. Congratulate them for surviving 2020 and for all their hard work by gifting them a perk stipend to spend on the gift they want. Or send them a SnackMagic snack treat.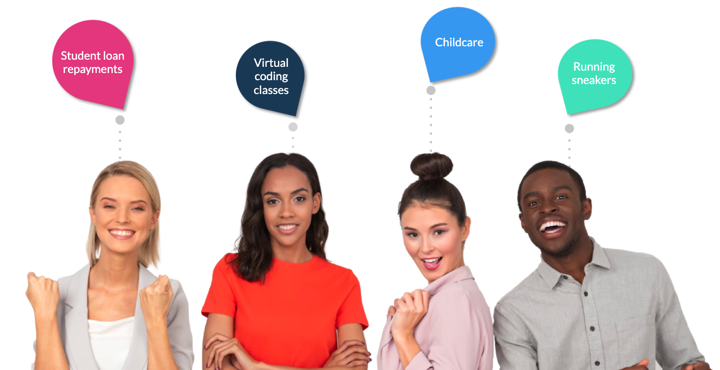 Work experience
35. If you haven't already done so, have your company's mission and values outlined and easily accessible so everyone understands why the company exists, as well as the behavior that rewarded.
36. Write down your team's unwritten rules. A simple list of, "It's okay to…" items is profound as it lets people know what is okay and what isn't okay.
37. Offer relevant and meaningful perks. The days of onsite gyms, catered meals, and group meditation are long gone. Transition onsite perks into remote perks using a remote work perk stipend. A stipend makes it possible for your people to pick the perks that are most relevant and meaningful to them, and continues your support your people in a way that aligns with them and their unique situations.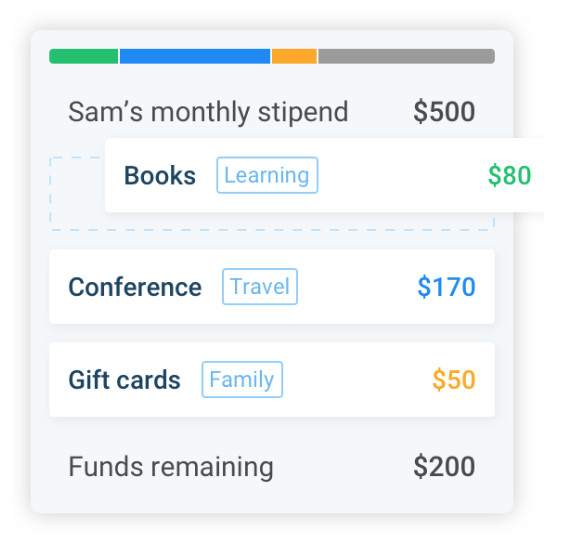 Onboarding ideas
38. Have your new team members fill out an "How to Work With Me" document to share life details, work-quirks, and other important details for their new colleagues to know. Since studies have found that up to 20% of all new hires resign within the first 45 days of their role, this is a great way to acclimate them to the team. Highlight the other documents of their colleagues so everyone can quickly get on the same page as to how to best work together.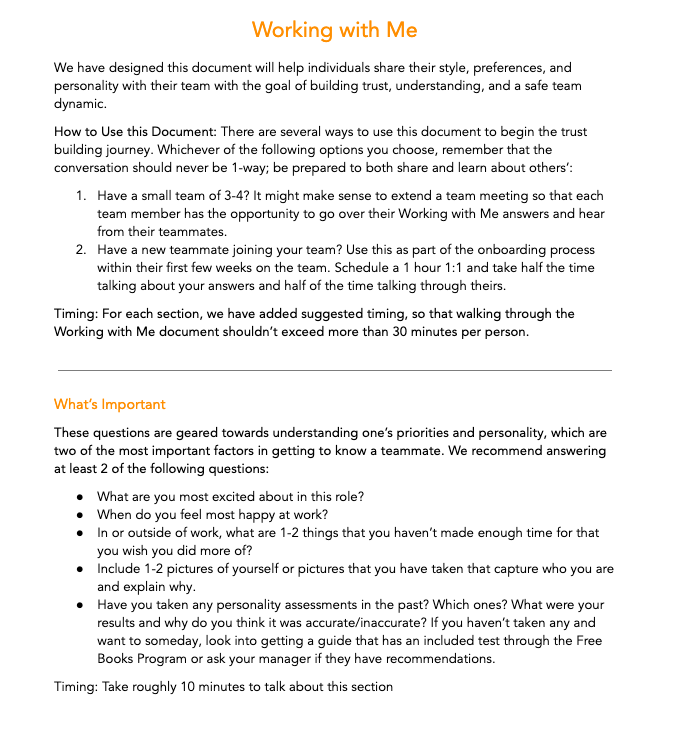 39. Have existing team members set-up 30-minute chats with new team members. All topics are on the table, and this is a great way to deepen connection and develop psychological safety.
40. Set-up a buddy system for new hires. Starting a new company can feel like the first day at a new school. Encourage their connection and success by assigning them a buddy or mentor to help them navigate the ropes.
41. Send them limited edition swag. If you're a small company, send them a branded item with their employee number. And for larger companies, consider adding "Class of January 2021." These don't have to be big or expensive items, coffee mugs, t-shirts, backpacks, and stickers are powerful ways to recognize your new people. 
Virtual employee engagement isn't easy, but it's important
Coordinating the 41 ideas above will range from easy to more complicated, depending on the size of the team or company. But even the more complex engagement ideas are worth the effort. According to a study from Gallup, engaged employees are 21% more productive. 
Just because we aren't face-to-face anymore, doesn't mean that employee engagement has to go out the window. In fact, you should be placing a premium on it now more than ever. 
As Simon Sinek has said:
"When people are financially invested, they want a return. When people are emotionally invested, they want to contribute."
---
Deepen your learning:
---
Compt is the #1 employee stipends platform that gives your people the freedom to choose the lifestyle perks that are best for them and their always evolving needs, even when remote. Interested in learning how Compt might benefit your company? Consult with our team or request a demo.