November 17, 2022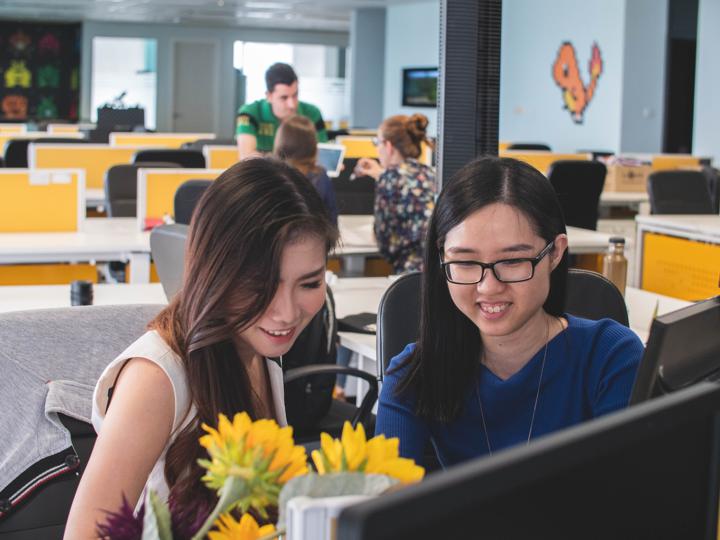 Sourcing talent for is a daunting task. It requires a lot of time and effort to find the best candidates who are perfect for your company. In order to find the right talent, there are several things that need to be considered such as:
Skills required for the job
Location of the person
Experience level of the person
Nowadays, companies are turning to LinkedIn as a channel to find promising candidates.
In today's digital landscape, SEO has become pervasive in marketing, web development, and even talent sourcing strategies. But what exactly is it?
What is Search Engine Optimization(SEO)?
Search Engine Optimization (SEO) is a set of practices intended to improve a website's visibility in search engine results pages (SERPs) to increase organic traffic and conversion rates. 
This can be done through implementing specific keywords for recruitment, optimizing content for mobile devices, monitoring basic on-page metrics, keeping the site updated with fresh content, understanding your users' intents, focusing on user-experience elements like page speed, using social proof elements, and leveraging competitive research to surpass competitors. The list goes on and on.
It's a well-known fact that search engines use specific algorithms to rank search results. They are complex, but ultimately they consider three things: relevance, authority, and popularity. Algorithms are formulas that take inputs, e.g., keywords, provide outputs based on those inputs, and determine if a site is relevant for a given query. Many experts have developed strategies to influence these algorithms, known as search engine optimization.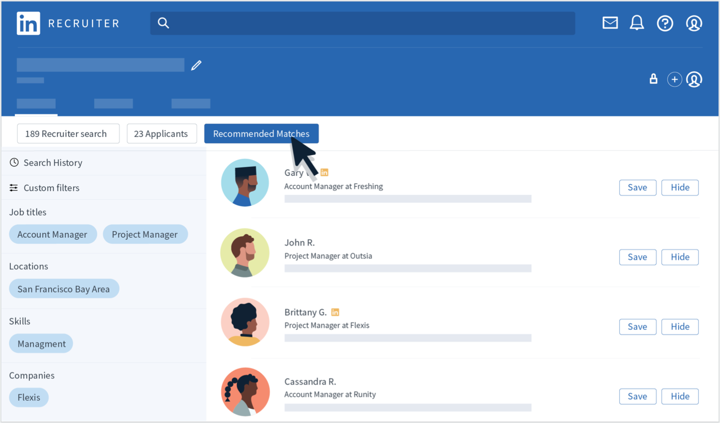 Why Does SEO Matter For Recruiters?
Since SEO is the process of making a website rank high on the SERPs, an employer's website without SEO can be nearly impossible to find, although they do exist online. So, the benefits of recruitment search engine optimization have become more apparent than ever. Let's go over them.
Better Employer Brand Visibility
SEO helps recruiters to stand out in their industry, making it easier for potential candidates to find their way to the company and, in turn, allowing you to reach a wider pool of candidates and improve your brand presence.
Higher Visibility on Google
If you want your website to be found by the right candidate, it needs to be visible in search engines like Google. Recruiter SEO is about increasing your company's search engine ranking and making top talents who are looking for work contact you more often.
Higher Visibility on LinkedIn
Recruiters often rely on LinkedIn as recruitment SEO support to find the right candidates. To make sure your LinkedIn profile has maximum visibility and credibility, it's important to optimize its content for LinkedIn's internal search.
This means using recruiting keywords in your profile and content that will help you show up among millions of other recruiters looking for similar positions.
According to the

Job Seeker Nation Report in 2022

, 39% of applicants are looking for job openings on social media such as LinkedIn or Facebook.
For this reason, having a strong online presence optimized for SEO is essential to attract top talents, keep top candidates engaged, and drive serious job applications.
Simple SEO tips for recruiters that can boost the hiring process
1) Target specialized keywords on your website and LinkedIn profile
Keywords are words or phrases that people type in a search line to look for information on search engines like Google. They help search engines find and rank websites correctly on the SERPs.
This is why, to generate more traffic, you should focus on specialized keywords and use them throughout your website and LinkedIn profile. But how do you determine what keywords are the most relevant?
Keyword research is the answer. Fortunately, there are numerous tools available on the Internet that serve this purpose, including Google's Keyword Planner, SE Ranking, etc. They can help you find specialized keywords, the number of searches per month, your estimated results, how much competition there is for those keywords, and much more. Once you've discovered the keywords, use them on your website and LinkedIn profile. 
Competitors' keywords analysis. Another great way is to analyze your competitors' job listings and keywords. That way, you can judge what keywords other employers are targeting, which will help you determine what types of jobs are being posted and understand where you should focus your efforts to surpass them.
Location-based keywords. In addition, if you want to increase the chances of showing up in candidates' searchers who are looking for jobs nearby, incorporating location-based terms into your keywords will manage it perfectly. 
Thus, you will make it easier for interested candidates to find job offerings relevant to where they live or want to live. Furthermore, it will give you an edge against other recruiters with more generic keywords. Not only that, but it is also a great way to reach potential candidates living in other specific areas, for example, areas with high unemployment rates.
Moreover, consider creating content that deals with a specific region. This could mean producing videos and other visual aids to help candidates get a real feel for what working in that region would be like. Additionally, if your company is looking to recruit individuals from all over the world, don't forget about the translation and localization of your job postings.
2) Build backlinks to your site and LinkedIn page
Backlinks are links from one site to another and are a popular way to receive referral traffic. They tell search engines how important your site is and how related or liked it is by other domains, so having backlinks can help move you up in the SERPs.
This can be achieved through guest blogging, article publishing, and many other ways. However, you should remember that a website with more prominent backlinks will show up higher in the search results than a site with less relevant links. 
Creating backlinks from other websites can provide a powerful boost in organic traffic and help grow your brand awareness and expertise. Backlinks also strengthen your company's online reputation by creating more trust among potential employees. You can build links to your website and LinkedIn profile to help them grow to new heights.
Backlinks show that you are an authority within your industry, which may lead your potential employee to choose you over others when deciding where to apply for a job. 
To achieve this, monitoring your competitors' backlink profiles is a good idea. Seeing where and how many links each competitor has will give you insight into their marketing strategies and show you where you've missed a chance to get links. It will also let you build a stronger link-building strategy to surpass them. 
This is where the backlink tool by SE Ranking comes in handy since you can examine any backlink profile from every possible angle and get all the parameters needed for analysis just by entering a domain name and clicking on the Find backlinks button. 
SE Ranking will provide you with a list of competitors' backlinks, information on their domain, and page quality scores (Domain Trust and Page Trust). 
The point is to sort the most qualitative websites and check for possibilities to place links there. On some websites, you just need to submit your post; on others, you need to contact the site's webmaster to discuss guest posting. In doing so, you'll improve your SEO and brand visibility.
3) Writing high-quality content
If you are a recruiter with a lot of experience in the industry, you might consider starting your blog. Blogging can be beneficial both for your career and job hunting. You should create valuable content to find that one diamond in the rough. One of the advantages of blogging is the ability to get your name out there in a sea of other companies and stand out from the crowd. 
Since search engines and online visitors use content to decide which sites are relevant and valuable and which ones are not, it is worth spending extra time creating high-quality content. This strategy aims to encourage potential candidates to come back for helpful information on your website and, in turn, increase the website's rankings on the SERPs. 
However, if you want to polish your image as a skilled professional, or make yourself sound like the best recruiter in the business, understand one thing — branded SEO recruiting articles are only half the story.
The other half ensures that you engage with potential candidates through social media and blogging, for example, by posting job-hunting advice or general career information. It could be an article informing employees about finding relevant job openings, a step-by-step primer on how they can make an effective job application, or a cover letter.
Some good practices could be publishing surveys and reports showing employee satisfaction with the benefits that have been already implemented in the company.
4) Mobile-friendly website
The older generation used to look for jobs through newspapers, while generations Y and Z have turned to their phones to search for new job offerings or information. That's why mobile-friendly is important to make interaction with your website more comfortable.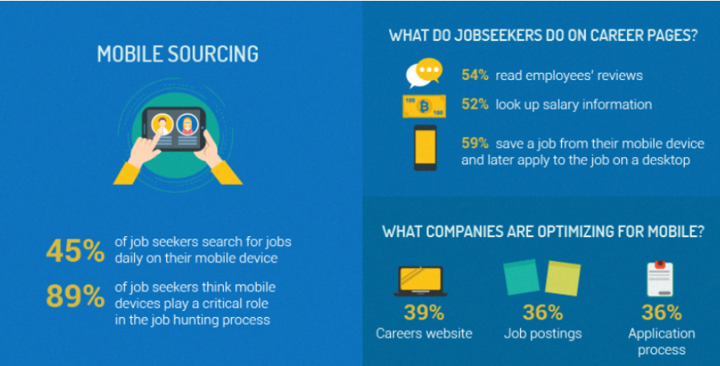 Source: thisway
Search engines also give more importance to mobile-friendly websites. When Google rolled out its mobile-friendly update, there was much talk about whether you should worry about it. While it might seem like an unimportant update, it can significantly impact your search rankings.
Quite simply, there are now two different ways for Google to rank your website — one for mobile and the other for desktop. So, ensure your website is set up in the best way possible to allow users to find you easily on either search engine.
5) Using structured data
One of the current flaws in Google's algorithms is the lack of understanding of the content structure, which has resulted in poor rankings for relevant content. Structured data comes to the rescue in this case. But what exactly is it?
Structured data is simply a way of adding special markup to your HTML page to provide information in a logical and structured way to your search engine. The search engine can use this data to display featured snippets, including social media profiles, images, videos, or your vacancies within search results.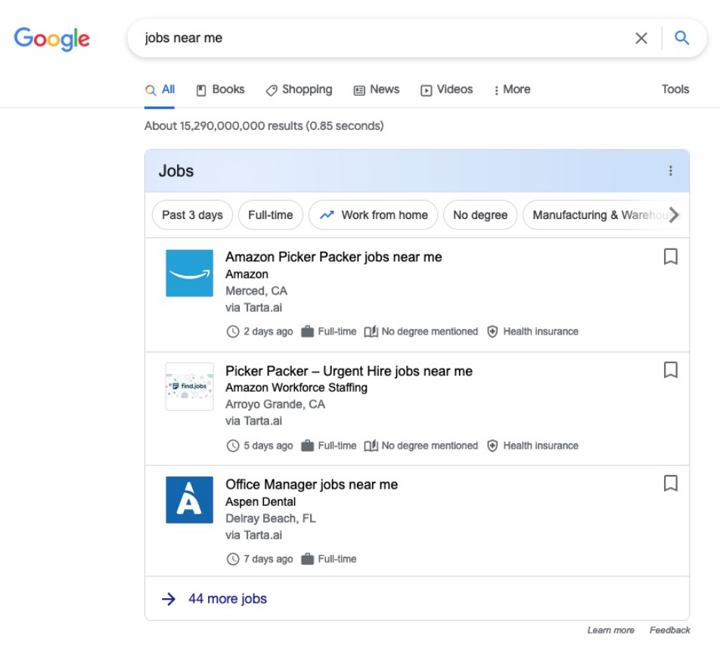 To understand it better, you can view it as an interface that acts as a bridge between search engines and your website. Today, structured data has become a primary source of information for Google while purveying the SERPs. Through structured data, we take a big step toward giving search engines something they can use to answer users' questions. 
In short, it helps Google better understand what your website is about and what you offer, improves Google's ability to pull data from your website and give it back to users, as well as helps push you up in organic search rankings.
6) Include an FAQ page
FAQ stands for "Frequently Asked Questions," and they can be found on almost every company's site. The purpose of an FAQ page is to answer most of the site visitor's frequently asked questions in a concise and clear manner. This will make a good first impression because your site will be easy to navigate, and your visitors will not have to go hunting for answers if they need some help or are uncertain about the information you provide. This prevents candidates from emailing your team to ask any questions they may have or, in the worst-case scenario, abandoning your website and forgetting about its existence.
7) Use social media to boost SEO efforts
Social media is one of the most effective ways to market your employment opportunities actively. Today's recruiters and hiring managers have embraced social media to publicize open positions and encourage applicants. There are numerous social media platforms you can use to make sure that a large number of your candidates get the message.
Facebook, Twitter, and LinkedIn are the most popular among them. They are now the go-to platforms for sharing information of any kind, including employment opportunities, job listings, and company perks for potential employees to pursue. 
A social media strategy is a great way to drive traffic to your site without spending any money. All you need is a bit of imagination and creative flair to write helpful or engaging posts. If you manage to release enticing content on your social media, other websites will check it out and might want to share it. It is known as getting quality inbound links from other sites. This method can lead to more traffic for your company's website and greater visibility in the search results.
Conclusion
Long story short, there are several crucial things for your business's success, such as finding, nurturing, and maintaining a great talent pool. The problem is that finding good workers isn't an easy task. With the increasing competition in the job market and demands for qualified people to fill open positions, it won't be long before you realize that hiring can be a lot more challenging than expected. 
The good news is there is SEO that can positively influence this process, improving your brand visibility on Google and other social media like LinkedIn. However, SEO for recruiters is not as simple as using local directories and job boards. If you want to improve your results and get top talent, you need to think outside the box, for example, build backlinks to your website and LinkedIn profile, write high-quality content, use structured data, target specialized keywords, and more. Follow the tips above and watch how your recruiting campaign lights up with renewed vigor!
Attract top talent by offering competitive perks that fit employees' unique needs. Learn the top 10 perks that employees want in the 2022 Perks Study. Download the FREE benchmark report.