Are you looking for new ways to celebrate and recognize your team's successes now that many (or all) of your team are remote? We hear you and you're not alone. 
We at Compt have felt firsthand and have heard countless times from our customers that fostering a healthy culture of employee recognition is on their priority list. That's why, as of today, Compt is adding new rewards and recognition functionality to our platform with our latest feature, Team Recognition Stipends. 
With Team Recognition Stipends, Compt customers can easily design and launch peer-to-peer and manager-to-employee bonus stipend programs directly on the platform. This feature expands the spot bonus functionality we already offer, and you can find it in the same user-friendly interface that our customers (and their employees) know and love. 
Employees can use these bonus stipends in any of the taxable stipend categories we already support, including:
Food allowances
Health & Wellness
Family
Pets
Work from home equipment stipend ( only if you get to keep ;))
Productivity or Tech 
Travel
Charitable Giving
Why it matters and why it matters now
Compt has always known that employee recognition is critical for employee engagement. After all, as humans we are all wired to crave acknowledgment and appreciation from others for our unique contributions to the world. This is no different in the work setting. 
But what we also know is that creating a culture of recognition is hard. 
Traditionally, promoting employee recognition has been a job left for HR teams or executive leadership to figure out and manage. But giving and receiving recognition is something everyone in your organization can and should feel empowered to do!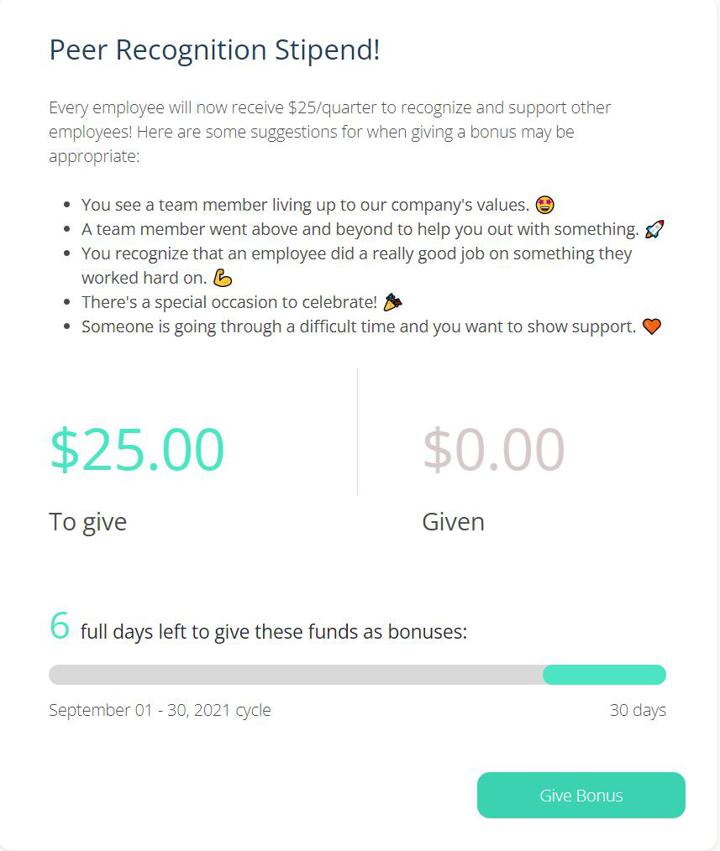 How it works
Like with any stipend you create with Compt, creating a Team Recognition Stipend takes a few simple steps in your admin dashboard. Navigate to the "Stipend" tab and select "Create a Stipend". From there, all you have to do is:
Choose who is eligible to give out bonuses
Choose who is eligible to receive bonuses
Set the budget and timeframe
Confirm the categories to include
And you're ready to launch! Then, depending on the options you've selected, employees can give bonuses to their peers, and / or managers can give bonuses to employees on their team throughout the stipend period.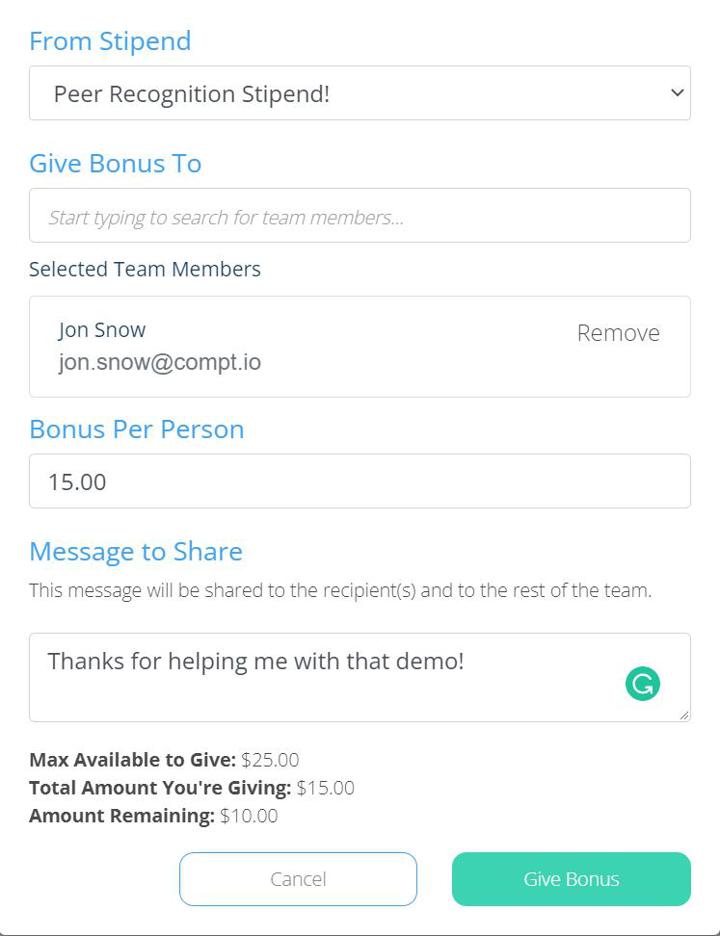 Recognition Activity Feed
For a recognition program to really work, the recognition must be timely, specific, and visible to others. That's why we made sure to include a brand new Activity Feed that appears in the Recognition section in every employee Compt account.

When giving bonuses, users have the option to include a message with the bonus, which is what appears in this Activity Feed that updates in real-time for all to see (and celebrate)! 
Slack integration
If you didn't know already, Compt integrates directly with Slack. Our integration automatically sends Compt updates to the dedicated Compt Slack channel in your team's workspace, creating a sense of excitement and transparency around how your company is supporting employees. 
Here's an example of how our team is using this new feature in Slack: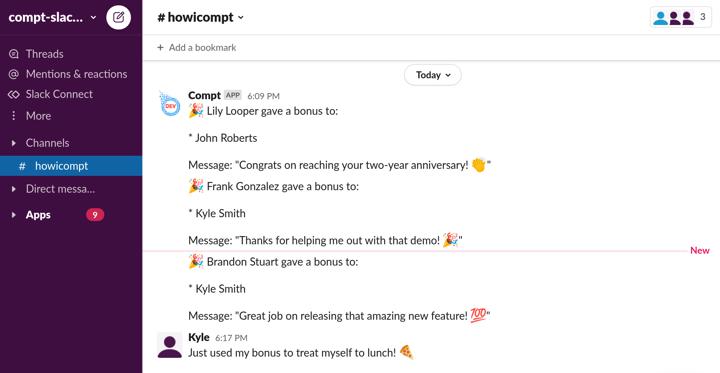 This means that for teams who already use Slack for day-to-day communication, collaboration, and ad hoc team recognition, your Compt Team Recognition Stipend activity shows up where the action is already happening!
Use cases
Peer-to-peer bonuses
Recognizing great work doesn't have to come from a manager. In fact, it often feels even more special to get acknowledgement from your peers. This is one use case that Compt's new Team Recognition Stipend feature is perfect for: peer-to-peer bonuses. 
Rather than just take each other out for (virtual) lunch or coffee—employees can now use their bonus budget to give out bonuses to their peers that they can spend on whatever they want. You can, of course, set your own guidelines for how these bonuses work, while Compt simplifies the process for you and your employees.
Here are some suggestions for when giving a peer bonus works great:
You see a team member living up to our company's values. 🤩
A team member went above and beyond to help you out with something. 🚀
You recognize that an employee did a really good job on something they worked hard on. 💪
There's a special occasion to celebrate! 🎉
Someone is going through a difficult time and you want to show support. 🧡
Manager-to-employee bonuses
Another use case for Compt's new Team Recognition Stipends is manager-to-employee bonuses. As a manager, your job is to guide, motivate and grow your people, and that includes giving feedback and recognition. With this new feature, managers can be given a budget per quarter to reward team members how they see fit. 
This takes the administrative headache out of giving monetary recognition and empowers people managers to regularly recognize team members in a meaningful way. The bonus is tangible and publicly recognized in the Compt Activity Feed and Slack channel, which is essential for a bonus program to make a broad impact on your work environment. 
Here are some suggestions for how to use manager-to-employee bonuses among your teams:
Sales manager is given a budget to recognize quarterly high performers
Engineering manager is given a budget to support a team outing or event
Country managers are given a budget to recognize team members who are living up to company values
Customer support managers are given a budget to recognize team members for doing exemplary work during a busy time
Company award bonus
Creating a value-centric culture might be a goal of yours and giving recognition for embodying company goals is another use case for this new Team Recognition Stipend feature. For example, you could set up a monthly or quarterly award for living up to culture values, and use Compt to give a bonus to a person or multiple people in your organization. 
Are you already a customer looking to implement this functionality? Your customer success rep will share more with you, and you can always drop us a note at support@compt.io
Not a customer yet but want to learn more about Team Recognition Stipends? Contact us or schedule a Compt demo.