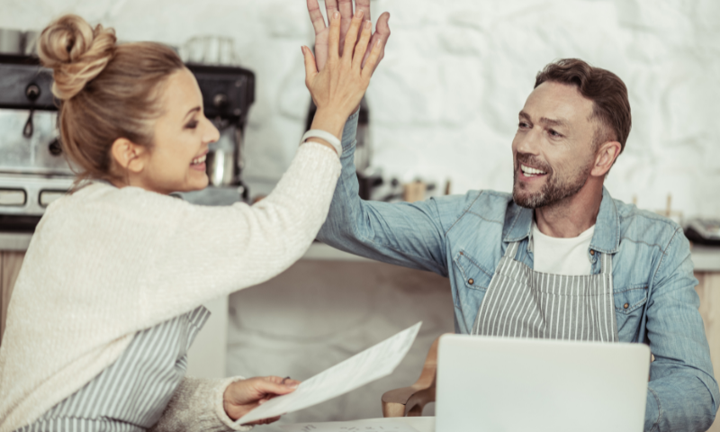 When professional athletes and artists are honored with trophies and awards, they often confess that nothing means more to them than the respect of their peers.
That same mentality applies to the workplace. While every employee wishes to be recognized by company leaders with a raise or promotion, they also want to earn their colleagues' praise. After all, their team members interact with them on a daily basis, witnessing their relentless productivity, how they cultivate trusting relationships with customers, how they exemplify company values, and ultimately, make significant contributions to the organization.
By implementing peer-to-peer recognition programs, human resources leaders can ensure that employees will feel valued by their teams thanks to a top-notch rewards system.
In this post, we'll cover:
What is Peer-to-Peer Recognition?
Why You Should Invest in Peer-to-Peer Recognition
3 Steps for Implementing a Peer-to-Peer Recognition Program
8 Best Practices for Peer-to-Peer Recognition
What is Peer-to-Peer Recognition?
While employee recognition usually comes from managers or company leaders, peer-to-peer recognition is when one team member shows appreciation for another. Coworkers can be recognized for a variety of reasons, such as helping out with a project, going above and beyond for customers, making the workplace fun, or maybe even being a shoulder to cry on while someone deals with personal issues.
With a peer-to-peer recognition program (like one from Compt), employees can recognize and celebrate each other's successes by giving kudos and rewards, which will strengthen their relationships, spur motivation, and drive retention. Because they're given by team members rather than upper management, these tokens of appreciation tend to carry more meaning and leave a greater imprint on recipients' hearts.
Why You Should Invest in Peer-to-Peer Recognition
Even if you believe your employees are satisfied with your current rewards and recognition program, there's always room for improvement. To attract and retain top talent in 2023 and beyond, organizations should be focusing on more recognition, whether it's from the top down or peer to peer.
Brandon Hall Group research indicates that companies investing in employee recognition are 2.5 times more likely to see increased employee engagement and 3 times more likely to see increased employee retention. Furthermore, companies that prioritize employee recognition have employees who are 79% more likely to give their employer brand a high rating.
Although business leaders understand the importance of employee recognition, they may be surprised to learn just how much peer-to-peer recognition programs in particular can benefit organizations. While it's vital that managers and other higher-ups praise departments, teams, and individuals when necessary, employees should also receive recognition from their peers to create a sense of community throughout the company.
Let's face it, employees want to be part of a company culture that effuses appreciation for their hard work and dedication. When team members feel valued, that's not only good for morale, but also leads to heightened collaboration and lower employee turnover. In addition to showcasing top performers, peer-to-peer recognition programs boost employee engagement. Recognized team members become more invested in their job, creating a ripple effect throughout the organization.
A peer-to-peer recognition program can also enhance your diversity, equity, and inclusion (DEI) strategy. Creating a level playing field, the program enables employees across the organization to recognize one another's contributions. Fostering a sense of belonging is especially crucial in the wake of the COVID-19 pandemic, as managers grapple with the challenges of unifying a distributed workforce.
Furthermore, most companies consider leading with empathy to be one of their core values, creating opportunities for coworkers to band together over common issues. One example is employee resource groups (ERGs), which consist of team members who often volunteer their time and effort to champion an inclusive workplace.
A key component of any successful DEI program, ERGs are composed of employees of a similar background – race, ethnicity, sexual orientation, ability, etc. – or shared experience, such as caregiving or having served in the military. With traditional practices like assisting in recruitment and hosting cultural events, ERGs play a major role in boosting organizations' employee engagement.
Of course, people-centric organizations can leverage the goodwill from peer-to-peer recognition programs to improve productivity. Gartner research suggests that peer feedback can enhance performance by as much as 14%. Employees who feel valued will be motivated to not only meet their key performance indicators (KPIs) and other metrics, but also overdeliver for customers.
In fact, peer-to-peer recognition is 35.7% more likely to positively impact financial results than manager-only recognition, according to a study by the Society for Human Resource Management (SHRM) and Globoforce. The study also asserts that 41% of companies that have implemented these programs have seen a rise in customer satisfaction.
3 Steps for Implementing a Peer-to-Peer Recognition Program
While many companies have designated a specific day of the week for shout outs on Slack, Microsoft Teams, or another internal communications platform, that's really only one element of a proper program. If you want to establish an entire system in which team members can engage in significant peer-to-peer recognition, including nominating each other for highly desired rewards, follow these three simple steps:
Gather employee data
As with any internal company initiative, business leaders should gauge employee feedback before investing time, energy, and resources into its creation. Send out a pulse survey asking team members what type of rewards fuel their motivation and how they'd prefer to receive recognition.
After all, not everyone desires the same recognition experience. For example, introverted employees typically shy away from the spotlight, preferring a quiet token of appreciation, such as a "Treat Yourself" stipend, rather than receiving a shout out during an all-hands meeting.
Decide which recognition software to use
Instead of trying to manage a peer-to-peer recognition program manually, you can rely upon a variety of technology solutions that will create and administer an employee recognition program.
For example, Compt's software centers on employee recognition via perk stipends – a sum of money dedicated to lifestyle benefits – and a variety of bonuses to recognize birthdays, work anniversaries, holidays, and other special occasions. Unlike with a gift card model or vendor marketplace dictated by pre-set or limited choices, the 100% IRS-compliant reimbursement platform offers ultimate customization, allowing team members to receive funds to spend on goods or services that they find meaningful.
In addition to manager-driven recognition, the software supports peer-to-peer recognition, in which colleagues can send each other kudos, spot bonuses, and other rewards. Boasting a 90% utilization rate, Compt also provides team recognition stipends to ensure hard-working, remote employees can still receive their flowers. With Slack integration, you can easily notify your team about their new rewards and then let members share how they took advantage of their personalized employee perks.
Launch your peer-to-peer recognition program
After selecting which software you're going to use and polling employees on how to optimize their recognition experience, you're ready to get your peer-to-peer recognition program off the ground. Run a couple tests before rolling out the program, or maybe even conduct a soft launch of the system to work out any kinks.
You'll also want to train managers on how to recognize employees through the platform so they'll be able to relay the information to their direct reports. For instance, the human resources department will be bombarded with questions and concerns, so it'll lighten the load to have managers already equipped with the knowledge to help out employees.
Best Practices for Peer-to-Peer Recognition
Now that you've set everything up, here some best practices for running an effective peer recognition program.
Educate employees about peer-to-peer recognition
Educate your staff on the importance of peer-to-peer recognition, presenting data that shows how commending one another strengthens office relationships and improves employee engagement, productivity, and retention. Then, schedule training sessions for employees to learn how to recognize and praise their peers through the platform.
If team members don't understand how peer-to-peer recognition works, or how it can benefit both them and the company, then the program is doomed.
Lead by example
Although the goal of peer-to-peer recognition is for team members to commend one another, that doesn't mean managers and other company leaders are exempt. In fact, the impetus is on the top brass to lead by example, giving meaningful praise to fellow executives and managers for exhibiting company values. Once employees see their manager expressing gratitude, that will encourage them to follow suit.
It may seem contradictory, but a supportive manager can strongly influence the success of a peer-to-peer recognition program. Think about it: watching someone be recognized for a certain behavior will inspire others to emulate it. And the data backs that notion up, as team members who receive recognition are 2.25 times more likely to give frequent recognition in return, according to Brandon Hall Group research.
Continuously evaluate
If you want to maintain an effective peer recognition program, you can't just "set it and forget it."
You have to consistently measure metrics like activation rate, how many employees are sending peer recognition, how many employees are being recognized, when and how often are employees engaging with the platform, what types of practices and behaviors are being most lauded, etc. By tracking those metrics on a regular basis (perhaps checking in from week to week), you'll be able to determine what's working and what adjustments need to be made.
Additionally, you should analyze the data to find correlations between employee recognition and its effects on the business. For example, what's the retention rate for team members who are recognized at least once a month? If statistics show that they're more likely to stay at the organization longer than someone not being recognized, then you've proven the program's return-on-investment (ROI).
Of course, that's also an indication that more recognition should be given throughout the company. Don't forget that the goal, especially in this highly competitive labor market, is to have as many work anniversaries hit double digits as possible.
Be specific
With each act of recognition, employees should be describing precisely what they're applauding coworkers for. Details matter when it comes to peer-to-peer recognition. For instance, a generic "thank you for your hard work" message will come across flat, empty, and forced.
Instead of people wondering if their coworker relied upon ChatGPT to create a quick, yet soulless note, encourage team members to take the time to write a meaningful, heartfelt acknowledgement, explaining why they're impressed with their peer's effort and how they play a key role in the "big picture" of the organization.
Keep it genuine
Don't fall into the trap of your peer-to-peer recognition program feeling like just another part of the job. Employee recognition is only impactful when it's sincere and has meaning behind it. Rather than treating it like a weekly task that's expected of them, team members should praise their peers because they want to. The best way to keep peer-to-peer recognition genuine is to encourage employees to recognize coworkers or teams immediately after an achievement.
Promote your peer-to-peer recognition program
Remember the iconic, yet perpetually misquoted line from Field of Dreams: "If you build it, he will come?"
Unfortunately, that's not the case with company initiatives. If you want employees to take notice and actually participate, you have to tirelessly promote the peer-to-peer recognition program.
Engage in an all-out media blitz: email blasts, automated text messages, webinars, conference calls, intranet postings, Slack messages, posters around the office, fliers and pamphlets mailed to team members' homes, you name it. Think outside the box and hand out promotional products, such as gold star-shaped sponges and back scratchers, to encourage employee engagement with the program.
This isn't just for internal messaging – promote the peer-to-peer recognition program externally, too. Announce the launch on your company website and social media channels, emphasizing to customers, competitors, and job candidates that you're committed to an employee-centric workplace. The program will certainly aid your talent acquisition strategy, as a company culture built on gratitude and rewards will appeal to potential applicants.
Focus on inclusion
As part of your DEI strategy, you want to recognize employees in every department, of every tenure, and from all backgrounds. Naturally, your top performers should be celebrated, but not to the detriment of the organization. If the same employees are constantly recognized, the rest of your workforce will grow resentful, undermining the entire rewards system. To ensure the peer-to-peer recognition program is truly inclusive, encourage team members to acknowledge all coworkers, especially those whose productivity often goes unnoticed.
Make it fun
We can't stress this enough: a peer-to-peer recognition program should be fun.
Everyone wants to feel valued for their hard work, and sometimes an Amazon gift card just doesn't get the job done. Custom rewards, like Compt offers, make the recognition more personal. You want to install a system that reinforces that the organization (leaders, managers, and staff all included) truly appreciates each employee's commitment.
At the same time, the system should be accessible and easy to use so team members are more likely to participate. After all, describing what you admire about someone shouldn't be a tedious act. It should take only a few clicks, some kind words, and maybe an emoji to make a peer's day. Hopefully, that recognition experience will leave them motivated to follow your example and recognize someone else, perpetuating the cycle.
Don't just highlight work achievements, like meeting sales goals or completing large-scale projects. Encourage team members to recognize personal milestones, too, such as birthdays, work anniversaries, weddings, graduations, retirements, having a first child, buying a new house, adopting a new pet, even completing a marathon. It's all part of providing a holistic employee experience, which has become one of the core values of most companies following the COVID-19 pandemic.
Incorporating out-of-the-office accomplishments into your peer-to-peer recognition program will create greater camaraderie, especially among those working a fully remote schedule. Savvy human resources leaders can then leverage that bond into higher employee engagement.
Final Thoughts
Employee recognition isn't the responsibility of strictly managers anymore – it's a work family affair. In this remote/hybrid world where company leaders are struggling to strengthen connections among a global workforce, peer-to-peer recognition is vital for creating and nurturing esprit de corps. When team members pat each other on the back for a job well done, they're establishing a support system, which people leaders can leverage to grow the company.
Organizations that have implemented these programs can attest to the benefits, such as low employee turnover, high morale, and increased productivity. As long as you follow best practices, consistently track the metrics, and adapt to your employees' needs, your peer-to-peer recognition program will ultimately be your company's greatest weapon in the war for talent.
Looking for a peer to peer recognition solution? Schedule your customized demo with Compt today.