The talent market and the Great Resignation have been relentless on company leaders around the world. 4.5 million workers quit their jobs in November 2021, another record month following several previous record-breaking months in the past year. So much turnover spells trouble for productivity and morale for remaining team members. 
There are significant struggles on the recruiting side as well. Over the course of last year there were 6.4 million jobs added, another all-time record-breaker. With so many new job openings and not enough workers to fill them means for recruiting teams to be able land the hires they want, they must be extremely fast, decisive, and accommodating. That simply isn't possible for many teams who are already spread thin. 
That's the high-level story of the Great Resignation so far—a very difficult talent market for both retention and recruitment. Not all companies are struggling the same, though. 
In fact, some companies are actually thriving and growing. We're here to tell you about them because we know them well—they're our customers! 
Growing during the toughest talent market
Compt's customer base ranges from SMBs to enterprise companies, and spans multiple industries. We decided to take a look into how our customers who were with us back in January 2020 (the start of the pandemic) and see how they fared through these past few years. We selected a sample across various sizes and locations to see how their employee base grew between then and the end of 2021. 
What we found is that Compt customers aren't just growing, but growing significantly, even in the face of constant waves of resignations fueled mainly by employee burnout. 
Based on this selection of companies, Compt customers grew by an average of 147% between January 2020 and the end of 2021. In addition, among those Compt customers:
One company nearly tripled their headcount

Nearly all ten were hiring continuously throughout 2020 and 2021

All of them use Compt to provide

personalized perks

to their people during the pandemic, giving support across different categories including health and wellness, food, learning, family, and more. 
Here's a breakdown of how much those Compt customers grew between January 2020 and the end of 2021: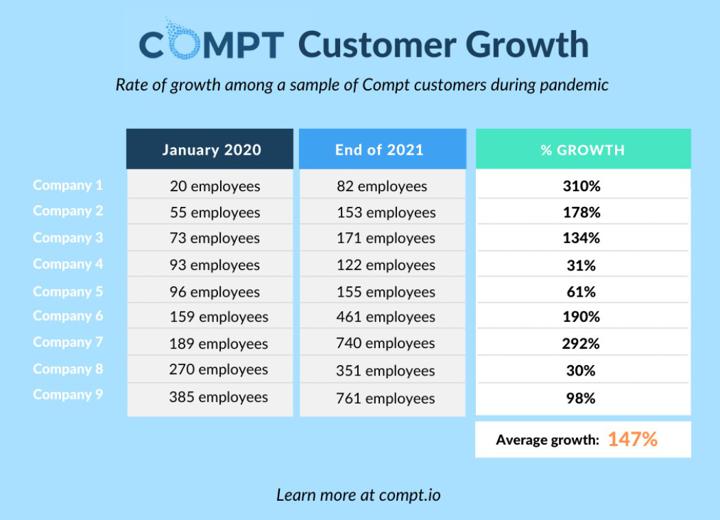 How our customers grew during a so-called "talent shortage"
We know what questions come up next. What makes these companies so special? How have they been able to grow by more than double, while so many other companies are shrinking in headcount, unable to fill positions, and have exhausted team members barely getting by? 
Here are two things we're seeing in the customers who are growing fast, despite the odds:
1. They recognize employee wellness means a variety of things
Employee burnout is on the continuous rise and many caring companies have taken steps to combat it by normalizing the topic of mental health, encouraging (and giving) mental health days off, and reducing the number of Zoom meetings. Some have even introduced employee wellness offerings like a meditation app, fitness classes, or a discounted gym membership. 
What we've noticed is that the Compt customers who have been growing especially fast are doing more than that. 
Instead of assuming what will help all of their employees' personal wellness journeys, these companies are empowering their employees to choose what wellness means to them and supporting those choices through a monthly or quarterly wellness stipend. 
A wellness stipend is inclusive and personalized to employees' individual wellness needs, and virtually all of our successful customers offer some version of it. In turn, this seems to have helped them both retain people and bring in new talent.
2. They prioritize the employee experience 
The past two years have been a forcing function for change within companies. Whether it's where work happens, how and when everyone communicates with each other, rewards and recognition, onboarding routines, and hiring processes, there are countless areas that businesses have had to rethink and redesign in order to operate.
We've noticed that the Compt customers who have been thriving the most are the ones who have used these situations as an opportunity to take feedback from employees and improve their employee experience. 
By actively listening to employee needs in these times of change and quickly finding ways to genuinely support them, they've managed to foster employee experiences—and company cultures—that retain and attract hard-to-get talent. 
Some example ways we're seeing our customers prioritize the employee experience: 
Letting employees have a say in whether—and how—they

return to the office

Taking unused office perks budgets and reallocating them to employee reimbursement programs for family, learning, meals, productivity, and more 

Providing generous all-inclusive monthly stipends to address a vast range of employee lifestyles

Starting a

team bonus program

to build camaraderie and connection, while also promoting rewards and recognition
No company is immune to the impact of the Great Resignation and every leader has struggled in some way to retain and attract talent. However, these Compt customers' impressive growth sets a great example that it is possible for companies to thrive during these times. By recognizing that employee wellness needs more than a single health-related perk, and by prioritizing your employee experience, your organization can benefit from a higher employee engagement, less turnover, and more candidates wanting to work for you. 
Want to replicate the success of these companies?

Schedule a Demo with Compt

: