Meet Rosana Cerna.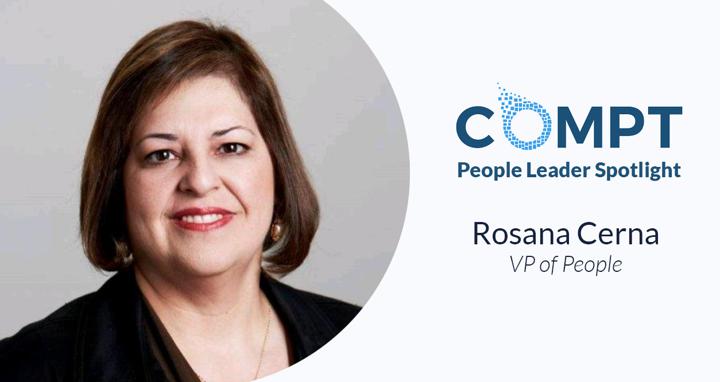 Rosana is an HR executive with 20+ years of deep experience in building cultures, moving organizations forward through different stages of growth, and achieving powerful results that improve employee experience and engagement.
She's seen and done it all.
She's built work environments that are inclusive and aligned with business objectives. She's developed and implemented training, recruiting, succession, compensation, and benefit programs at some of the world's most respected organizations, including Great Place to Work.
Speaking of, we recently sat down with the brilliant Rosana Cerna to ask about her experience bringing in Compt and using it at her last company, Great Place to Work.
"I always want people to feel comfortable bringing their whole selves to work, and part of that meant supporting them in greater ways like by offering relevant, timely, and more meaningful perks that were tailored to their needs." -- Rosana Cerna, HR Executive
How did you hear about Compt and what piqued your interest?
Rosana: A colleague had heard your CEO Amy Spurling speak. At first, I thought "Oh no, not another system." And then when I had my first meeting with you I realized it was so easy to use, intuitive, and I loved the reporting piece. I also loved the fact that you had so many categories for spending, and had every category that we needed. 
I was already bought in and I was so excited to bring it in house, but then you shared the international component and that you offered local currencies and I realized you truly had everything we truly needed to address all the challenges we were having.
What challenges were you having with perks before working with Compt?
Rosana: Before, perks were offered on a case-by-case basis. It was a very manually intense and expensive process.
Even more, we knew that every person on our team was different which meant they had different needs.
While we brought in perks before, they often weren't for everyone, and so we were constantly thinking of all the different groups, all the different scenarios, and what was going on in the lives of our people.


What made you want to change things?
Rosana: It was a lot of coordination. It was very challenging to address on an individual level because, as leaders, we truly wanted to listen to our employees and turn that around quickly. But when you're listening to and coordinating so many needs, it takes time. Then when the time comes, engagement may or may not be there.
Some other challenges I felt were trying to solve the budget and financial aspects of perks -- like how much money the company was spending in their various locations -- as well as how they could ensure there was equity throughout, the confusion which occurs from not having everything in one place, and a lack of reporting insights. 
What did you do with Compt?
Rosana: Develop a generous perk stipend for employees to have choice and control over how their perk investment was spent. 
We build a program that aligned with the business' values that gave employees money to spend in the following perk categories: continuous learning, family, health & wellness, charitable giving, tech, productivity, pets, and travel.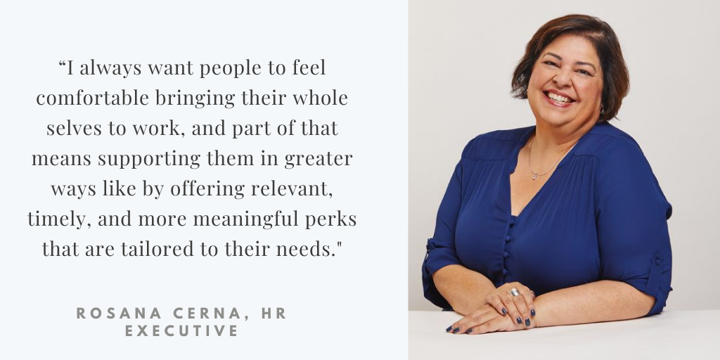 How did Compt help your organization?
Rosana: Compt solved all of the problems we were having. 
It brought in a new way to incentivize and celebrate an employee and have the employee have funds readily available for their urgent life events, take ownership of their perks and use it to what their needs were -- not what we thought they might be.  Our people were empowered to take care of themselves and their needs as they came up.
We were able to solve for our diverse group of people, not just a segment of the employee population. Our stipend ensures our offerings 100% inclusive to everyone, regardless of their age, race, gender, location, or preference.
From a business-side, the process was easy to use from beginning to end. When we implement new processes, it needs to be seamless. 
And I also loved the partnership, it was a true partnership with Compt. We wanted to do some unique things for our people and your team helped to get them set up for us in a reasonable time.
What were your results from Compt?
Rosana: People were able to use their stipend for anything. We saw people use it for everything: food, buying other people food, donating to nonprofits, supporting their own family, developing themselves, and so much more. Oh, and paying off student loans with their funds, which was great because we were able to make sure our business kept up with the local changes.
It helped us to save money. Compt helped GPTW save money because we could offer more perks with less money and at scale.
It aligned with company values. It aligned perfectly with our business goals and values, especially around our value of Care. I set up "Care 4 U" stipends, which allowed our team to spend in almost every category to get what was best for them and their individual situations.
Compt made tax compliance easy. Ensuring perks are tax compliant isn't easy unless you have software that does it for you. Compt's built-in IRS compliance was game-changing.
We experienced a positive ROI. With typical programs I'd put out, there would be such low engagement even if the program seemed great. When we set up Compt, we saw 10x that engagement.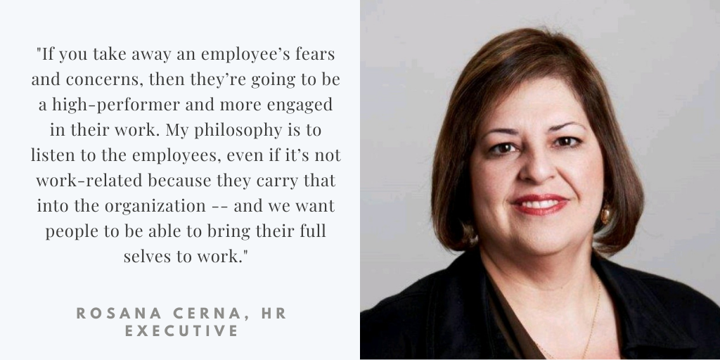 What would you say was the ROI of working with Compt?
Rosana: It saved us money in the long run because when you're trying to bring in all these different perks, it adds up. 
It also really aligned with our values, especially around our value of Care, and the business goals.
And while ROI is hard to quantify, we saw peoples' happiness and workplace contributions increase, and what ROI can you put on that?
What area do you feel like you personally got the most value with Compt?
Rosana: For me personally, the satisfaction, the peace, the knowing that I succeeded not only with aligning the business goals with our culture and values, but also that our employees were empowered to take care of themselves and their needs as it came up.
Where do you feel like your people gained the most value?
Rosana: Our people had peace of mind, were able to follow any passions, and dreams they may have with these additional stipends.
How likely are you to recommend Compt?
Rosana: I'm going to incorporate it into everywhere I go. I think it's a game-changer in this day and age when we're trying to find perks that work for everyone.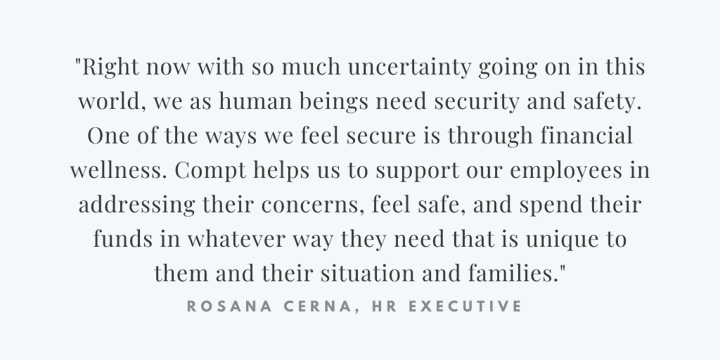 ---
Compt is the #1 employee stipends platform that gives your people the freedom to choose the lifestyle perks that are best for them and their always evolving needs, even when remote. Interested in learning how Compt might benefit your company? Consult with our team or request a demo.